Hands-On Review: Hercules Guitar and Microphone Stands
Stands that deliver!
B. "Buster" LeBlanc
"He who would travel happily must travel light."
— Antoine de Saint-Exupery
I came into this task a bit bewildered as to how much I could possibly say about a guitar stand. But after spending a little time with Hercules' new TravLite mini stands, I find that I've plenty to say. With build quality that easily merits their name, Hercules has thought of everything from stability and protection to remarkable ease of use. These are some of the cleverest devices I've ever encountered and more than worthy of your attention.
"I don't tell no tales about no hot dusty roads, I'm a city boy, and I stay at home."
— Steven Stills
That pretty much sums me up. Even so, I can still find use for the TravLite mini stands. In my studio I have guitars that sit next to my mix position for easy access when recording or composing. The mini stands I presently use—well, up until recently used—always manage to get pulled over by cables. That doesn't happen with the TravLite. One motion opens it (like opening a book), revealing a five-point-star-pattern base that's remarkably stable—and the small footprint is perfect for my crowded control room. I used the TravLite stands to hold a PRS Custom 24, a Takamine EF261SBL with an FXC/Artist body, and a Kramer DMZ 5000 bass. I was particularly interested in how the TravLite GB302B would handle the Kramer, since it has an aluminum/wood neck that outweighs its thin body. Without careful placement, this bad boy will sink rather quickly into the west. Once on the TravLite, I tried knocking it over—not too aggressively mind you—but with more force than if you were to accidentally bump into it. The bass stayed put and didn't require a flight attendant to keep it in its upright and locked position. The same action would have toppled my present stand. Same with the TravLite GB301B acoustic stand, which held the Tak securely and always wanted to right itself when pushed in any direction. Best of all, my tangle of wires couldn't pull the TravLite over; and, for the first time, I felt good about putting my PRS on a mini-stand without all the futzing and worry that I'm accustomed to. Looking at the stand, it occurred to me that the right front support winds up directly in front of where the 1/4" jack on a Fender Stratocaster would be. I was concerned that you might not be able to use the stand with the cable plugged in. Not so. It cleared on my test-Strat every time. No worries about guitars with side-mounted jacks.
I'd recommend the TravLites for gigs where space is an issue, the crowded studio control room, or if you just want to take your guitar with you on a vacation without dragging a big clunky stand around. At 11-4/5" x 9-3/5" and about an inch thick when folded, the 1-4/5 lb. TravLite can fit most anywhere. When it's not supporting your guitar, the TravLite's rear spine is also a carry handle.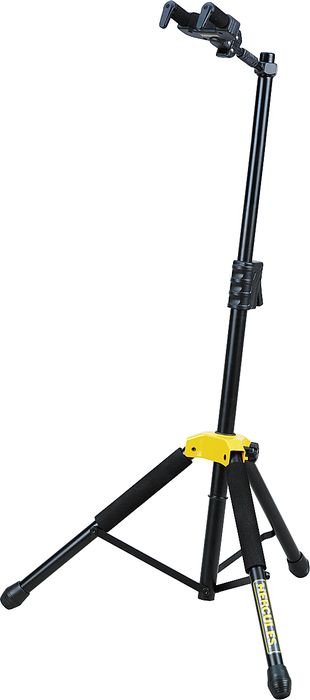 "Now I've got you in my clutches."
— Snidely Whiplash
Hercules also sent along three single-guitar floor stands featuring their patented Auto Grab (AG) system and Specially Formulated Foam (SFF) rubber (a proprietary formula that is safe for any guitar finish). The AG system does exactly as the name suggests. It's a headstock yoke with two SFF-coated bars that move downward due to the guitar's weight, which in turn causes two arms to move upward forming an enclosure around the neck at the nut. All you have to do is put your guitar on the yoke or take it off—the stand does the rest. It's that simple. Overall height adjustment is done by virtue of a sliding shaft with a one-hand activated Quik-N-EZ grip release.
The GS414B is an all-purpose single-guitar stand that works equally well for electrics, bass (any scale length), and acoustics. The guitar's lower bout rests securely against thick SFF-coated front tripod legs. The GS454B is similar, but accommodates the wider headstock of a classical guitar. With the GS412B single-guitar stand, the back of the guitar rests against a height-adjustable SFF-covered "T"-bar. This one's for solidbody electrics. Again, one simple motion does it all and, once in place, your guitar can't be any more secure.
"That won't stand."
— The Dude (from The Big Lebowski)
First rule of choosing mic stands for the studio: Always buy the best you can get. If your stands rattle like a pair of maracas on Cinco de Mayo, forget about recording vocals—or anything else for that matter. Vibrations may be good for the Beach Boys, but they're not so sympathetic when it comes to recording. With that in mind, I set up the MS601B Tripod Microphone Stand and simply kicked the base. No noise—period. This sturdy stand resists vibration and will forgive the toe-tapping singer. As ever, setup and adjustment couldn't be simpler. Next up was the MS401B Tripod Tilt Mic Stand. This stand is designed for stage use. For example, setting up a mic for a singing drummer. The stand tilts forward so you can place it in front of a kit and have enough reach while keeping out of harm's way. The build quality is so solid, I felt quite comfortable using it to hold a very expensive mic—so break out those Neumann KMS 105s and get busy.
Buster's last stand
If you're looking for your first stand, look no further. And even if your present stands seem to be doing the job, I sincerely recommend replacing them with Hercules models. They're quite affordable; and, once part of your kit, you'll never have to worry about replacing stands or fallen gear ever again. Plus, you get instantaneous access to your instrument and superior protection to boot. And don't forget about the joys of noise-free recording either. Me? I've lost my Dr. Evil mini stands and replaced them with TravLites—that are going to stay put.
Features & Specs
TravLite GS301/302B:
Folds flat for easy carrying and packing
Sturdy steel construction
SFF rubber on all contact points
Rear support becomes carry handle
Highly stable 5-point base
Dims: (H) 11-4/5" x (W) 9-3/5"
Wt: 1-4/5 lbs.
Single-Guitar Floor Stands
Auto Grab System yoke
Comfort Grip height-adjustment release
Specially Formulated Foam
Folding backrest (GS412B only)
Wider AGS yoke for classical guitars (GS454B only)
GS412B: Ht: 33-3/5" – 42-3/10", Wt: 3-7/10 lbs.
GS414B: Ht: 37-2/5" – 45-1/5", Wt: 4-1/5 lbs.
GS454B: Ht: 37-2/5" – 46-3/5", Wt: 4-1/5 lbs.
MS601B/ MS401B
Quik-N-EZ Adaptor for instant mic attachment
Quik-N-EZ Height Adjustment Grip
Tripod Base, die cast aluminum (MS601B)
Tilting Base and Level (MS401B only)
MS601B Ht: 40-3/5" – 66-1/10", Wt: 6 lbs.
MS401B Ht: 40-3/5" – 66-1/10", Wt: 8 lbs.
Tags: Microphones Guitar Accessories & Parts Stage Accessories