Hands-On Review: Atlas Sound Microphone Stands
On the front lines of the rock wars
By Steve Taylor
It seems fitting that Atlas Sound is named for the mythical titan that Zeus commanded to take the heavens onto his shoulders. Atlas makes mic stands that take a beating and keep on performing, the reason musicians have been relying on Atlas for fail-safe studio and stage use since the '50s.
Elvis used Atlas mic stands as the pivot point for his gyrations and to keep his microphone safe and sound, the stands accompanied The Beatles during the British invasion, and in the ensuing decades Atlas has continued to supply top artists with essential stands.
And the toughness and durability of Atlas stands are legendary–which is why some of the hardest rocking bands in the business depend on them.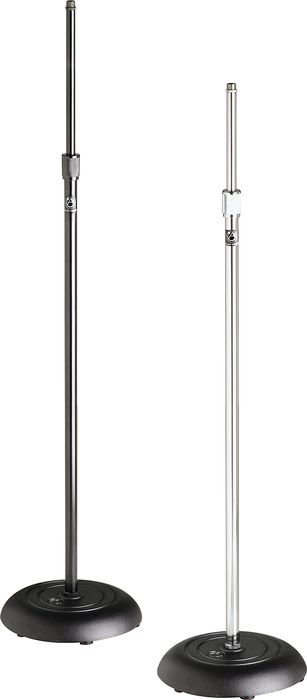 Road rage
Fall Out Boy subjects their microphone stands to a withering assault. The post-punk rockers out of Chicago selected Atlas as their stand of choice for their heavy road tour schedule for reasons that are unarguable. As the band's bassist Pete Wentz put it, "We get onstage and thrash and Atlas mic stands are awesome because they hold up. All summer on the Warped tour, I made my best attempt to break them and they would not break."
The classic MS-10 round base mic stand is the Fall Out Boy's main target of abuse. This incredibly durable and stable stand retains all the features that made it famous: an easily adjustable, three-piece clutch with dependable locking; and the 10" die-cast circular base with edge-concentrated weight distribution and rubber shock-absorbing pads.
William Beckett, vocalist for The Academy Is . . . , another hot new band on the scene renowned for their very physical stage show, remarks " . . . I was breaking a lot of mic stands that belonged to the clubs. The quality of club mic stands is unpredictable and they're totally unstable. I would pick it up and it would fall into three pieces . . . In comparison to the other stands, well, there really is no comparison. We're thrilled to be using Atlas at all our shows." William eventually chose Atlas MS-12 stands for club dates so he didn't have to worry about replacing the clubs' damaged stands after the show. The band goes so far as to carry extra Atlas stands on their tour bus just in case a club is unable to furnish them.
Industry heavies
Leading production companies call on Atlas Sound mic stands for major tours, specifying the Atlas Sound MS20 Series stands for front-line vocals. These extra-heavy-duty models feature enhanced stability and extended 37" to 66" adjustability.
When it comes to miking drums and instrument amplifiers, DMS Series and Performer Series booms are the stands of choice. The combination of either the DMS10E or shorter DMS7E, when paired with a matching PB boom makes a knockout combination for seated performers and close miking of drums, percussion, and instrument amplifiers. PB Series boom arms come in your choice of regular and extended lengths and feature a 3/4-pound counterweight that keeps the stand well balanced even when holding a heavy microphone.
Good kick drum mics are usually large, heavy, and often quite expensive. The last thing you want is to have your prize kick mic dumped onto the floor by a lightweight stand that's not up to the task. The DMS Series stands have an oversized 10" cast base that provides maximum stability and protection for these microphones.
Studio stalwarts
In the recording studio, entrusting valuable equipment like high-end condenser microphones to suspect microphone stands can have catastrophic results. Atlas designed their studio mic stands with this in mind, born of decades of experience.
The MS25 and MS25E stands feature 7/8"-diameter cold-rolled steel construction. The SB11WE and SB36W also feature a heavy-duty, die-cast gyromatic swivel; an adjustable 6-pound counterweight for precise mic placement and orientation; and edge-weighted triangular bases for the ultimate in stability. The SB36W is equipped with silent-motion, ball-bearing swivel casters of hard rubber that make moving the stand a breeze.
Atlas Studio Series stands include the Atlas Air Suspension System, a variable, piston-type air suspension that affords a whole new level of protection for valuable studio mics. Regular stands are apt to jar and otherwise subject delicate condenser microphones to unacceptable levels of trauma–the Air Suspension System provides a shock-absorbing cushion of air to isolate and protect precious studio gear from any possible damage.
Stand by me
The best mic in the world will do you no good if it ends up dashed against the stage or gets accidentally jostled too much in the studio. Atlas stands have proved their worth onstage for over a half-century, working as good as new after taking the worst punishment that rockers can dish out night after night. Your music deserves no less.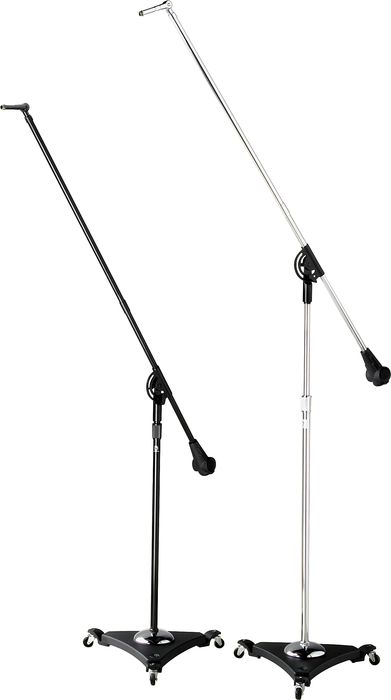 Features & Specs
MS-10:
10" die-cast circular base
3-piece wearproof clutch
5/8" and 7/8" 2-piece tube
Extends from 35"-63"
Chrome or ebony finish
MS-12:
Same as MS-10 with 12" base
MS20:
12" die-cast ebony circular base
3-piece wearproof clutch
7/8" and 1-1/8" 2-piece tube
Extends from 37"-66"
Chrome or ebony finish
MS25:
Heavy-duty 7/8" to 1-1/8" 2-piece tube
15" triangular cast base
Extends from 35"-62"
Chrome or ebony finish
MS25E:
Same as MS25 with Air Suspension System
SB11WE:
Heavy-duty 5/8" to 1-1/8" 2-piece tube
60" boom
3-piece wearproof clutch
15" triangular cast base
Hard-rubber casters
Extends from 43"-68"
Chrome or ebony finish
SB36W:
Heavy-duty 7/8" to 1-1/8" 2-piece tube
3-piece wearproof clutch
15" triangular cast base
Hard-rubber casters
Extends from 43"-68"
Chrome or ebony finish
Tags: Microphones