Product Spotlight: Line 6 Relay Wireless Guitar Systems
The unmatched performance of Line 6 digital wireless systems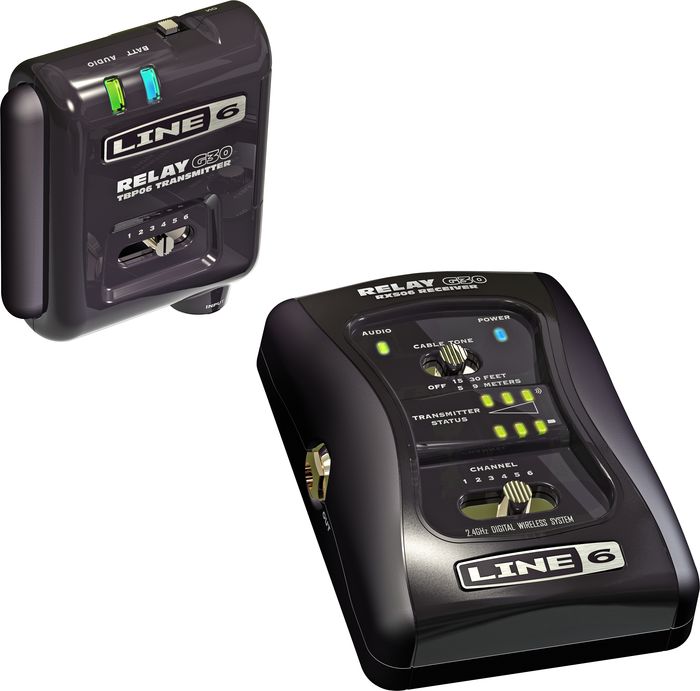 Line 6 Relay G30 Digital Wireless Guitar System
By Marty Jameson
Line 6 Product Specialist
For any musician, the decision to go wireless is a big one. Freedom, as the saying goes, isn't free, and prowling the stage sans cord has typically meant dealing with radio interference, compromised tone, a steep learning curve, and even recent FCC Consumer Alerts. Line 6 digital wireless systems avoid all of the aforementioned bummers and then some.
Guitarists and bassists rejoice
You know Line 6 wouldn't show up to the wireless party without some new goodies in tow, right? The new stompbox-style Relay™ G30 and G50, and the rackmountable G90, sport full-range frequency responses from 10Hz-20kHz, exclusive VWT™ (Virtual Wire Transmission) technology, 24-bit A/D performance, and DCL™ (Digital Channel Lock) technology that locks out all sources of audio interference. Plus, all the channels are available all the time—that means no more mind-numbing channel coordination and searching.
Simple operation
To say that Relay digital guitar wireless systems are easy to use is a profound understatement. Line 6 could probably save a few trees and not even print user manuals for them. It'll take more time to open the box than it will to set up a Relay. In fact, the only "set up" is the installation of the batteries into the sleek and stealthy transmitter, which easily attaches to the strap of your guitar. Within seconds, you're twanging away without any weird radio interference or massive changes to the sonic character of your guitar tone.
No signal compression
Relay digital wireless systems allow every nuance of your pick attack to shine through wonderfully without masking the tactile sensation of your fingers on the strings. Unlike many analog wireless systems, Relay systems don't require signal-squashing companders or boatloads of output gain. That's what you call addition by subtraction!
"I am stunned by how amazing it sounds. Did [Line 6] make a pact with the devil? Because there are systems that cost well over $3,000 that sound nowhere near as good. It is also such a refreshing aspect that it uses a normal 1/4" cable."
— Steve Stevens, legendary guitarist for Billy Idol and others, discussing Relay G30
Cable tone simulation
Another slick feature on all of the Relay systems is the Cable Tone Simulator, which matches the system to the sound of your cable by providing a slight high-end roll-off. Effortlessly switch between Relay and your cable without having to adjust your tone settings.

Line 6 Relay G90 Rackmount Digital Wireless Guitar System
Dig every detail
With 1/4" side-mounted outputs, 9V DC power inputs, and compact cases, the Relay G30 and G50 receivers are equally at home either on top of your amp or mounted to your pedalboard. G50 and G90 even include a tuner pass-thru jack. Relay G30's coolest feature, however, may be its internally mounted antennas—a big plus for players who don't want their guitar rig to resemble R2-D2's girlfriend!
"[Relay G30] sounds excellent! [It has] lots of great features nobody else thought of."
— Billy Sheehan, in-demand bassist and songwriter whose resumé includes David Lee Roth, Mr. Big, and Steve Vai
In closing
These advances in wireless guitar systems are not only for players who've been reluctant to ditch their cord, they are also for experienced wireless users looking to upgrade and simplify their gigging lives.
---
Want to go wireless but don't want to take the tonal hit? Line 6 digital wireless rigs don't force you to choose. Audition a Line 6 wireless setup on your next gig and discover the difference.
Tags: Wireless Systems Line 6