Product Spotlight: Electro-Voice RE320 Dynamic Microphone
Faithfully Delivering Your Tone
By Rick Belt
Electro-Voice Microphone Product Manager

Once we aspiring musicians are able to move beyond just the fundamentals of making sounds, our lifelong journey begins to perfect the tone of our performances. It's not just the notes and chords that must speak what we feel, it's also that complex collection of pitch, intonation, harmonic detail, color, and nuance—or simply put, the shape and character of our sound that we craft ultimately to express ourselves. We aspire to own higher-quality instruments, amplifiers, and gear in an effort to create our signature sound. We covet those industry legend models the pros play because we identify with their style and tone. We make instrument choices based not only on what our budgets allow today, but also on how those instruments feel and sound, and whether they will grow with us over time and faithfully deliver our ever-evolving craft. But at the heart of that craft always lives our tone.
Once we emerge from our practice space, jam room, or small club (where our stage volume is all our audience will hear), we must then rely on other equipment to ensure our tone is faithfully transferred to the listener. That transfer, for the most part, begins with a microphone—and like any other instrument, not all microphones are the same. Sure, we can place any old microphone in front of our instrument, plug it into the PA or recording hardware, and if the microphone is working at all, we'll get sound on the other end. But is the delivered sound close to "our sound" that we have worked so hard to perfect?
Enter the Electro-Voice RE320
At the heart of the Electro-Voice brand is an extensive core team of accomplished musicians and professional sound, acoustical, and electrical engineers who know excellent sound and what it takes to make it happen. And it is through lengthy collaboration that we have crafted key components of our legendary RE20 and RE27N/D microphones into the new RE320 dynamic microphone to capture and deliver tone, detail, and nuance just as they were meant to sound.
The RE320 is a purpose-built end-address microphone for voice and instruments that is equally at home in the studio and onstage. Don't let the implication of a "do-all" mic throw you, since some general-purpose mics do everything with questionable results; this microphone was designed to handle a wide variety of challenges very, very well. So let's take a look at what makes this microphone so special.
Variable-D® and What it Does for You
Inside the RE320 is a hybrid of the enormous RE27N/D Variable-D® capsule structure driven by our newly engineered 320 low-mass diaphragm which creates vivid responsiveness within a neodymium magnetic field. In and of itself this means that the microphone will have ultrafast and dynamic transient response. It is that same transient response that creates such great detail across all frequencies to faithfully capture your tone. But the capsule does far more than accurately respond to incoming complex wave front information. Variable-D® is our exclusive technology that minimizes the proximity effect common to cardioid-type polar patterns, and is also found in our RE20 and RE27N/D microphones, industry standards in broadcast that were also used on thousands of classic recordings for bass and kick. As users, we experience proximity effect when we speak or sing into a microphone and notice that the bass content gets bigger and more pronounced the closer we get to the mic, thinning out as we move away. Not only does Variable-D® eliminate this phenomenon, but, because it tonally emulates how an omnidirectional microphone behaves close up, the tonality of the performance remains lively and very natural. Used in a stationary position, the RE320 captures incredible tone and detail, and if the sound source is moving around the mic, that tone and detail will remain consistent.
Two Mics in One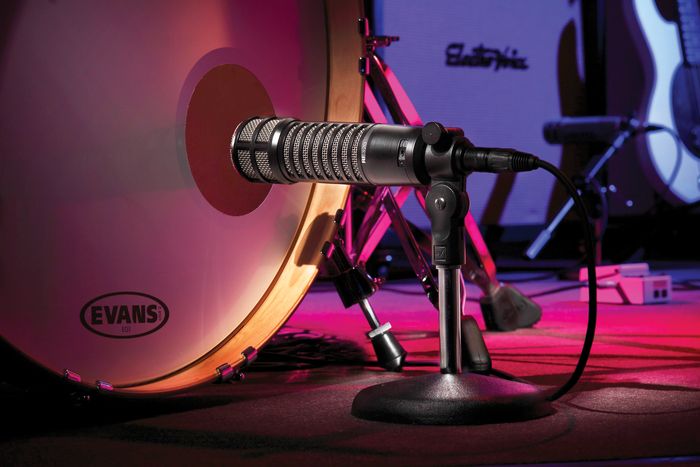 RE320 incorporates a unique "Personality" switch that selects from two distinct performance characteristics. Choosing the right-hand switch position will engage components designed to capture voice, electric, and acoustic instruments with incredible clarity, definition, and tone. Vocals, guitar and bass cabinets, wind instruments, high and low percussion all sound remarkably spacious and lifelike with the RE320. Meanwhile, selecting the left hand switch position will call up a circuit designed exclusively for kick drums. We've dialed-in an "insta-kick" at the mic, so just put it in your kick drum and you're all set.
Regardless of the switch position you choose, the secret to the RE320's outstanding performance lies in its capsule's ability to respond to and translate every part of the incoming sound's dynamic content. Many mics on the market hear all incoming sound, but, due to their limited response time (transient response), they merely average much of the dynamic content, lending a fairly limited image of the performance. RE320's robust diaphragm/capsule configuration tracks and captures all of the dynamic shifts, and delivers remarkably clean, spacious, natural, and lifelike tone thanks to its Variable-D® and humbucking coil technologies.
Features & Specs
Variable-D® proximity control minimizes proximity effect
Personality switch selects between voice and instrument curve and "insta-kick" kick drum curve
Humbucking coil eliminates EMF interference
High-output neodymium magnet
Frequency response: 30–18Hz (kick curve) 45-18,000Hz (general curve)
Polar pattern: Cardioid
Impedance: 150 ohms balanced
Case material: Steel
Finish: Semi-gloss black
Tags: Microphones PA Speakers