Hands-On Review: Peavey Messenger Portable PA System
Audio for those who believe in intelligent design
By John L. Darwin
The Peavey Messenger is a PA system, and a unique one. It is incredibly small and portable, surprisingly powerful and clear sounding, and sophisticated in its capabilities. It isn't a system for Madison Square Garden. It is, however, absolutely perfect for smaller events and rooms—for classes, meetings, lectures, and presentations of all sorts. You can even use it for living room karaoke. Many will find it a useful tool.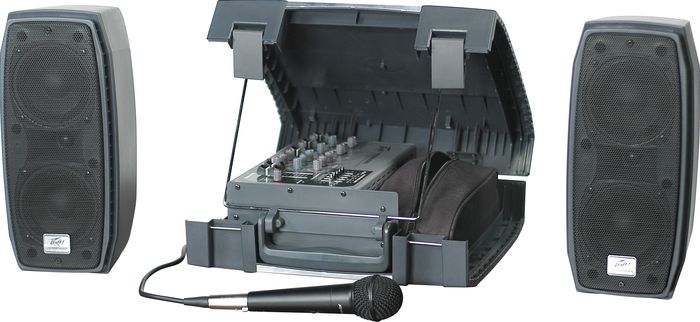 This is a new kind of product for Peavey. They have a respected line of full-size PA systems and related audio gear—the equipment used by bands, touring companies, and concert halls, as well as computer-controlled systems for airports, hotels, and stadiums. Here Peavey has thought small, designing a system appropriate for individual presenters.
A+ for portability
The entire system packs up into a one-piece, briefcase-like polypropylene case with a sturdy handle. At 25" x 13" x 7", it's a little bigger than most briefcases, but not by much, and weighs about 25 lbs. Getting it to where you're going to use it is not a problem. On top of that it is complete and self-contained. The Messenger includes the speakers, a 100W power amp, a five-channel mixer, a microphone, and all the cables —all stored within the single case.
The Messenger sets up in seconds. You just pop the lid, detach and place the two speakers and connect them to the powered mixer, plug the IEC power cord into an outlet and the back of the main unit, plug in the microphone, and turn it on. You're all set. It's a compact, no-fuss system that is adequate in volume and reach for many situations. For an additional design touch, the lid doubles as a lectern for your notes, music, the text of your speech, or whatever.
When I turned the system on for the first time, I was surprised by the size of its sound. The specially designed speaker enclosures each hold two four-inch speakers and a high-frequency tweeter. The 4-inch drivers are high-efficiency speakers, and with 100 watts of continuous power to push them, they can get quite loud. I had wondered when I first saw it if such a small system could fill a room with music at the volume dancers or a class of youngsters having a singalong would require. The Messenger quickly dispelled these doubts. It is capable of more volume than you'll likely ever need in a classroom setting.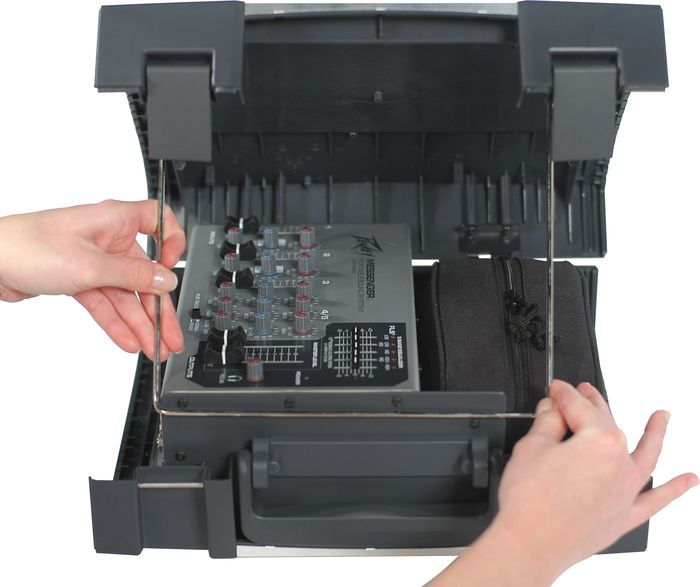 Mixing made simple
It is the mixer section that really impresses. Though tiny, it offers four or five input channels depending on how you use them. Two of them are mic channels with XLR connectors and phantom power. They also have 1/4-inch line inputs. Channel three has a switchable mic/instrument input plus a line input. Channels four and five are a little different. They can be used as two separate channels or as a stereo pair. They share tone controls, but each has its own volume knob and a single master fader that controls both.
Because channel 4/5 can be used as a single stereo channel or as two mono channels, it adds flexibility to the system. It also gives the system split-track mix capability for karaoke recordings that have the voices on one side, the music on the other. It lets you adjust each side independently, which makes getting the relative levels of the vocal and instruments just the way you want them easier. It is much better than a pan knob which lowers one side as the other is raised.
Some karaoke CDs and cassettes have the vocal on channel A and music on B, while others reverse this order. With the Messenger, if your voice and music channels get reversed from one CD to the next, you don't have to reset your levels. There's a switch that reverses the tracks so your settings can stay as they are.

Sound control
The Messenger mixer gives you ample control over the sound. Each channel is equipped with a low, mid, and high tone knobs (they are shared on 4 and 5). The mid knobs on channels one and two are optimized for voice. Turn the knob to the left to smooth and soften a voice and add warmth. Turn the knob to the right and the words become more intelligible. The range of change is wide so you want to make changes in small increments.
In addition to these channel tone adjusters, there is a five-band graphic EQ for overall tonal refinements or suppressing feedback. The EQ is standard but has a special feature that makes avoiding feedback a lot easier. It's called FLS (Feedback Locating System) and what it provides is an LED on each band that lights up whenever it detects feedback. Knowing which slider to cut is a big help, especially when the feedback happens unexpectedly during a presentation. It lets you deal with it in seconds. The FLS is also useful when setting up. It allows you to quickly have the system operating flat enough that it has plenty of headroom.
Who will use it?
It is a tidy tabletop set up, has such a small footprint that it doesn't get in the way, and its neutral, low-key appearance is perfect for meetings and seminars.. I can also imagine it being used by many teachers in the classroom. It can provide a little volume support that will make talking all day easier on the vocal cords. For classroom activities, where teachers normally have to shout to cut through the din, it would be especially helpful. Instead of shouting, you just nudge up the fader.
There are a host of other applications where The Messenger's portability and simplicity are well suited: aerobic classes, dances, school events, theatrical rehearsals, church meetings, pageants—the list could go on. The Messenger is a beautifully designed, exceedingly portable, and appropriately scaled sound system that will provide hassle-free reinforcement to help you get your message across.
Features & Specs:
Molded, high-impact polypropylene carrying case
Convenient briefcase design
Internal space for cable and microphone storage
Powered Mixer
100W continuous power
2 master speaker channels with independent volume control
5 input channels of input with independent volume, 3-band EQ
Mid Morph EQ on channels 1 and 2
5- band graphic EQ featuring FLS (Feedback Locating System)
Channels 4 and 5 feature Split Track mix with track-swap switch
2 XLR microphone input with phantom power

One high gain instrument/microphone input
3 line-level inputs
2 RCA/phono inputs
2 RCA/phono outputs
Headphone output
Headphone level control
1 /4"phone line out
2 high-efficiency 2-way speakers
Molded polypropylene enclosures
Metal grilles
2 - 4" high-output woofers and 1" tweeter per speaker
Molded speaker stand receptacle
PVi 100 handheld microphone
Includes speaker, line, and mic cables