Hands-On Review: JBL EON 515XT Powered Speakers
JBL's evolving powered speaker solutions are a great fit for musicians on a budget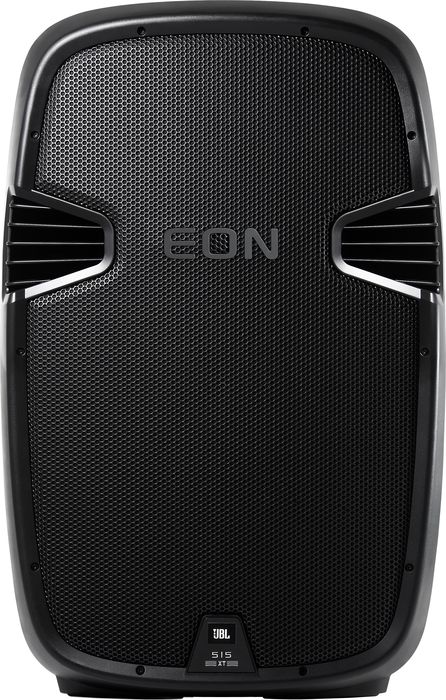 JBL is practically synonymous with speakers, and the company's G3 line has done wonders for musicians looking for quality live sound in a smaller format and that won't break the bank—or their backs. The newest G3 product is the flagship of the line, the EON 515XT, which is an upgrade from the previous 515 released in 2008. Much of the XT is identical to its immediate predecessor, including the physical cabinet and driver technology. But in developing another product, JBL created some innovations that the engineers realized could also benefit the 515. So while they left most of what worked—and is still working—on the established EON 515, they took the opportunity to apply some tweaks. The result is the JBL 515XT, which boasts a subtle aesthetic difference that leans toward a more professional look, a simplified mixer interface, plus some re-tuning of the components that yields a louder and more focused sound.
Overview
The EON 515XT is a 625-watt, 15", two-way powered speaker with a built-in three-channel mixer. It's made of a lightweight and rugged polypropylene plastic, stands 27" high, weighs just over 32 pounds, and has two large handles—one on top, one on the side—that make the cabinet easy to grip for lifting or carrying. There are five M-10 mounting points plus a 36mm polemount connection, making it versatile for use as a main system or stage monitor whether on the floor, a pole, or hanging in the air.
Updated Cosmetics for the EON 515XT
As long as they were going to tweak the innards, JBL decided to give the 515XT's exterior a slight aesthetic touch-up as well, toning down the previous silver-on-black front-panel scheme in favor of a more subdued charcoal-on-matte-black look, for a more muted and professional appearance. As well, the familiar bright orange badge that is the company's logo has been moved around back, away from the eye of the audience. In its place is a subtler white-lettered logo that is illuminated but can be turned off via a switch on the back panel. This makes the cabinet more theater- and TV-friendly, where lights won't reflect as much and eyeballs won't be inappropriately distracted.
The cabinet design is curved and shapely, almost futuristic. Though the front panel looks like a rectangle with rounded corners when faced head on, the back and sides feature sloping surfaces that give the cab an almost capsule-like appearance. It's very sleek-looking and definitely provides a well-designed reimagining of what a speaker enclosure is. With the aid of the generous handles, I found the cabinets quite easy to negotiate when moving them in and out of my car, bringing them through doors and hallways, and just moving move from floor to pole and back again in rehearsal. For a 625-watt powered cabinet, the EON 515XT is strikingly light; any member of the band could tote these cabs comfortably.
I/O, Mixer and More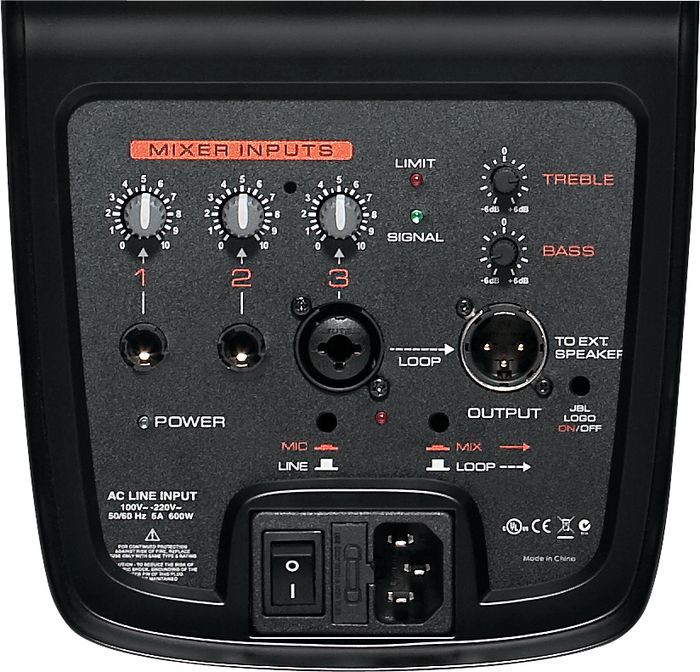 The 515XT features three inputs: two 1/4" jacks and one combo jack (1/4"/XLR), one dual-functioning (Mix/Loop) XLR output, plus an AC power cord port. The combo jack has a recessed mic/line selector switch and a switch for changing the output jack's function from Mix (where all inputs exit through the output jack) to Loop (where only Input 3 is sent through). Mix is the typical setting, but Loop is handy for stereo setups where you want an additional input sent to all speakers in the system (like a lead vocal).
The back panel also includes three separate volume controls (one for each input) and a global two-band EQ. The good news here is that JBL chose to simplify the scheme in the 515XT by having just two familiar Bass and Treble knobs, rather than the more complex EQ-curve scheme of its predecessor. Each tone control features a 6dB boost or cut, with a center detent at the 12:00 position to quickly and easily dial the EQ back to flat. If you have a solo act, duo, or trio, and some of your supplied inputs are pre-effected (such as MP3 output, guitar, bass, or keyboards), chances are you won't need any more gear than just the 515XT.
Under the hood
All products in JBL's EON 500 series use JBL-designed Differential Drive neodymium low-frequency drivers. Differential Drive means there are two moving voice coils, which helps keep the heat down and actually requires less mass, contributing to the light weight of the cab. A JBL-designed neodymium compression driver and a proprietary Crown power amp—married specifically to these speakers and this cabinet—are also onboard. The manufacturer reports that the electronic differences between the 515 and 515XT are the result of retuning the circuitry in several ways, including an increase in the input sensitivity by 10dB, which not only hits the amps harder (given the same input level), but raises the level for non-line-level sources such as keyboards and piezo-driven guitars. In short, it's louder.
Putting the 515XT to Good Use
I used the 515XTs in several settings, including as mains and as my personal amplification system as a singing guitar player and keyboardist. First, the sound is gorgeous. And loud. I didn't have any original 515s on hand for an A/B comparison, but the purported improved midrange focus definitely came shining through in my Avid Eleven Rack-modeled guitar sounds, which produced a more accurate sound than any combo I've used. The Marshall and VOX emulations—where midrange is critical—were a highlight. For keyboards (a KORG Triton), the 515XT's excellent imaging really brought out the stereo effects, and my Taylor 814CE acoustic (using Taylor's Expression System) sounded clean, clear, and warm when played straight into the 515XT's back panel—no preamp necessary. The manufacturer reports that the retuning process gave the XTs a more even spectral balance, and they managed to do so without losing any bottom end. There was plenty of low-end punch in my full-range tests consisting of a duo with a miked acoustic bass and thundering dreadnought guitar.
Final Thoughts
The 515XT remains as lightweight and rugged as its predecessor, and is a hallmark of all JBL EON products. But the improved look and sound that JBL managed to eke out of the existing platform—just through some judicious tweaking—has raised the bar once again. By optimizing the gain structure and retuning the cabinets to have a more even response, JBL has transformed the already excellent 515 model into an extraordinary one—and a top choice for musicians who need light weight and mobile sound without sacrificing outstanding quality.