Hands-On Review: dbx DriveRack PX Powered Speaker Optimizer
Make your powered speakers louder and clearer
By Darius Van Rhuehl
Musician's Friend Staff Writer
I'm tired of fighting the system. The sound system, that is. I've spent years learning and honing my craft as a musician so I can bring something special to the party—only to be shot down and mashed into the shape of mediocrity when the PA system didn't have the "smarts" to deal with the infinite variables of the club circuit. Don't get me wrong—there are a lot of great powered speakers out there, and manufacturers go to extremes to optimize their systems, but every club has its own room characteristics that can adversely affect your sound. When everything falls into place, it's a magical thing. Sadly, that's the exception to the exception. Generally when you play clubs, you fight with your equipment in order to be heard clearly.

How does the traveling band get a consistently great sound from gig to gig, so you can always sound and play your best? The answer is the dbx DriveRack PX if your band relies on powered loudspeakers. Having a Powered Speaker Optimizer in your rack will lift your sound to heights previously attainable only with an experienced FOH engineer and a high-end, mondo-speaker-management system, such as a dbx DriveRack 4800.
EQs over easy
Taking up one rackspace, the DriveRack PX weighs four pounds and has an expensive look and feel. All parameters can be accessed via the front panel, where you'll find an XLR jack and input button for the included dbx M2 RTA (Real Time Analysis) mic, an LCD display, data wheel, nine function buttons, three stereo banks of six-segment LED I/O meters, and four LEDs that inform you if the built-in output limiter's threshold has been exceeded. Inside, the PX features a subharmonic synthesizer that extends bass response, stereo 28-band graphic EQ, stereo multi-band parametric EQ, PeakPlus limiters, a pink noise generator, and a classic dbx compressor. As a side note, the compressor and limiters feature dbx's trademark OverEasy compression, which has been a staple in recording studios since the '70s.
One easy piece
When it comes to learning new equipment, you'll love how easy the DriveRack PX is to set up and operate. Setup is dirt-simple and quick; as long as it takes to plug it in and connect your mixer, speakers, and M2 RTA mic, and run the wizards. I didn't time it, but if it takes you more than five to ten minutes, I'd be surprised. To give it the ease-of-use acid test, I decided to fly without a net (no manual). Using nothing more than the "hmm, let's see what this button does . . ." approach and the PX's onboard wizard, I was able to get my PA system optimized in minutes.
The LCD display walks you through the process of choosing your PA system configuration. Then the PX automatically adjusts EQ, helps you set gain, and lets you choose the number (up to 12) and width of stereo notch filters for feedback reduction. Easier still, you can bypass the setup wizard and go directly to the Auto-EQ and AFS (Advanced Feedback Suppression) wizards via 25 factory presets that support the most popular powered loudspeakers. You can store these settings in 25 user locations for later recall when you come back to play the same room.

And speaking of feedback suppression, if you run your own PA system with powered speakers and don't know what the phrase "ringing out the room" means, let me just say that a DriveRack PX is a total no-brainer. Although it's only one rackspace and weighs little more than a married grasshopper, it dramatically improves the sonic capacity of your system while preventing ear-shattering feedback.
Driving Ms dbx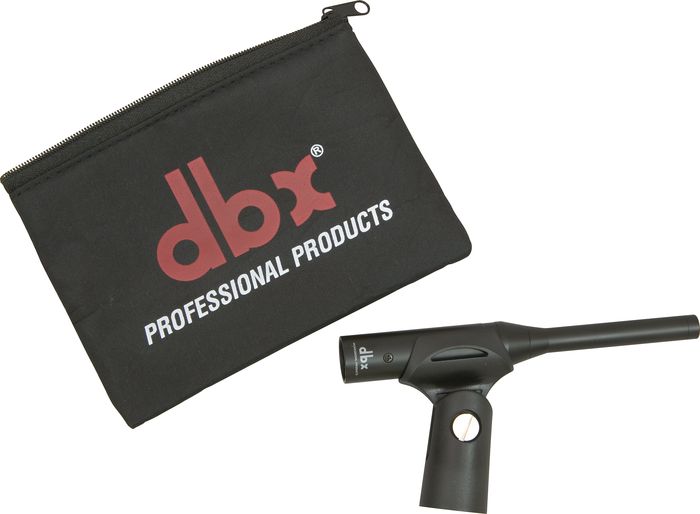 I performed two tests with the DriveRack PX. The first was with my band playing in three different clubs, the second was in my home studio. With the band, we yanked our graphic EQ, feedback suppressor, and compressors from the rack and replaced them with the PX. The first thing we noticed was a much cleaner signal. (Less gear in the signal path means less noise.) Using the PX's wizard and the included RTA mic, the PX ran pink noise through the speakers while we watched it EQ itself. During our sound check, we were stunned by the difference. Our system sounded as though it had doubled in size and clarity—particularly with vocals (usually the first to get buried in a live mix)—and for the first time, we had perfect gain structure. We experienced the same thing in each club. It was like having an experienced FOH engineer in a box. It was also the first time in all the years I've been playing that people actually complimented the sound system!
The next test was at my home studio. I know how to place speakers in a room to maximize their sound and am very pleased with the way mine sound in my living room/studio. Putting the PX in front of my muy-pricey active monitors was surprising to say the least. Despite the fact that by themselves, these speakers seem to disappear, leaving sound to float magically in the air, I heard a distinct improvement in presence and clarity with the PX. The highs seemed to sparkle more. Bypassing the PX, my speakers sounded a tad dull in comparison. Now that I've heard the difference, I want one for my home studio.
PX, I love you . . .
While this box is designed primarily for live performance, I would seriously consider one for home studios set up in spare rooms. Not only will the PX make your powered PA speakers sound louder and clearer, your active studio monitors will also sound much better than you could imagine. Along with its ability to bring out the very best in any venue with virtually effortless operation, the PX comes with an unbelievably low price tag. I recommend the DriveRack PX unreservedly to anyone with active loudspeakers who'd like to take their sound uptown.
Features & Specs
Quick and easy setup with built-in wizards
JBL and other popular powered speakers included in setup wizard
Auto-EQ with 28-band RTA
Advanced Feedback Suppression (AFS) with 12 feedback notch filters
Classic dbx compressor
120A subharmonic synthesizer
Stereo PeakPlus limiters
Stereo multiband parametric EQ
dbx M2 measurement mic and zippered pouch included
Front-panel RTA-mic XLR input with phantom power
25 user programs / 25 factory programs
2-channel XLR input
2-channel XLR output
2-channel XLR sub output
24-bit ADC/24-bit DAC, >110dB dynamic range
dbx Type IV conversion system
Full graphic LCD display
Tags: Signal Processors PA Systems