Product Spotlight: Yamaha Arius YDP-V240 Digital Piano
New Arius YDP-V240 redefines the console digital piano
By Dane Madsen
Electronic Keyboard Marketing Manager, Yamaha Corporation of America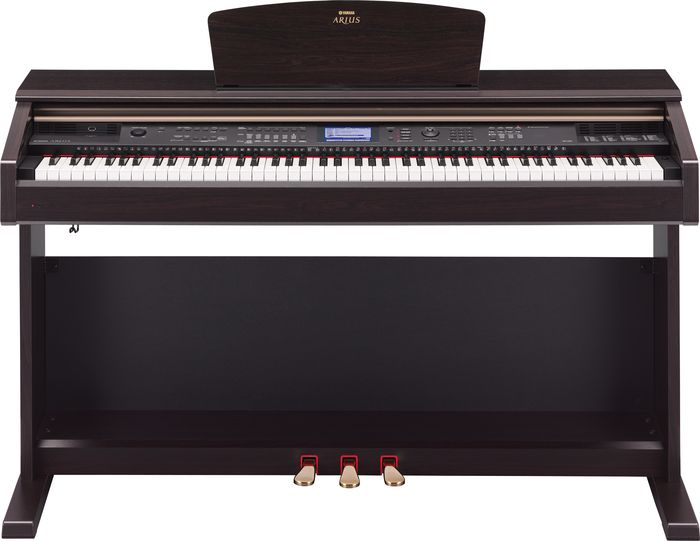 It's always great when a new product comes along that offers more features to the end user than they were expecting. The already successful Arius (YDP) line of console digital pianos just added its newest member, and it couldn't have come at a better time for pianists and aspiring pianists alike. Known as "The Arius Ensemble," the Yamaha YDP-V240 digital piano delivers the legendary Yamaha piano touch and tone with additional interactive features that make practicing the piano fun again. Because it's an Arius, you're also buying a rosewood-finished piece of furniture that suits just about any home decor whether it's contemporary or traditional. And because it's a Yamaha, you're also buying a digital piano from the world's largest musical instrument manufacturer whose name is trusted by more musicians than any other.
Practice makes perfect
Yamaha has been making digital pianos for more than 25 years and world-class acoustic pianos for over a century! Only a company with such a rich history in acoustic piano craftsmanship knows not only what a piano should sound like, but also what it should feel like. Many people know that Yamaha is also a leading manufacturer of high-end electronics like home theater and speaker systems—this fact means that we know a thing or two about reproducing digital audio to perfection.
The quality you hear in the YDP-V240's piano Voice is a great example of Yamaha's unique ability to bring these specialties together with Pure CF Sampling. Pure CF Sampling (which is more of a technique than a specification) represents the great lengths Yamaha goes to in an effort to create the perfect piano Voice. First, world-class piano technicians hand-select an instrument from our finest concert grand pianos and prepare it to perfection. Next, Yamaha audio engineers focus on capturing (sampling) and reproducing that piano digitally. One team and one instrument are used from beginning to end in a process only possible at one company. Compare this to other brands where the piano can come from one company, the sampling session from another, and the sound system from yet another.
In addition to quality tone, Yamaha digital pianos are known for the playable touch of their keyboard action. The Arius YDP-V240 features the Graded Hammer Standard (GHS) action to achieve a weighted piano feel that helps develop proper finger technique when practicing. Have you ever taken a look under the lid of a grand piano? If so, you may have noticed that the size of the hammers varied depending on the different-sized strings they were positioned under; larger hammers for thick strings in the lower octaves, and smaller hammers for thinner strings in the upper registers. GHS emulates this graded level of resistance with different-sized weights spread across the keyboard. Playing and practicing on the GHS digital piano action makes for an easy transition when it's time to play on an acoustic piano at a teacher's studio, at school, or at Carnegie Hall.
Strike up the band
When we call the YDP-V240 the "Arius Ensemble," we're talking about the features that go beyond the piano-focused heart of the instrument. This is the first Arius model that can accompany you with brass, strings, drums, guitars—a complete rhythm section is waiting to follow your lead and enhance your performance. Each of these 160+ Styles is essentially a band of studio musicians specializing in a particular type of music. Rock, Country, Ballads, Contemporary—you play the chords, and they lay down the groove. Style chords can be voiced in one of the simple left-hand chord, right-hand-melody modes, or in the pianist-friendly full keyboard mode. Every Style also includes a custom Intro, Ending, and two Variations that can be used, for example, to differentiate the verse from the chorus of the song you're performing.
Easy does it
With over 500 Voices to choose from for playing your favorite melodies, and over 160 Styles to choose from that back you up at whatever tempo you've set, you'd think the Arius YDP-V240 panel would look like the cockpit of a 747. Actually, it's remarkably inviting and pretty simple considering everything it's capable of. And if you know the song you want to play, one button on the Yamaha ties all of the other functions together: Music Database. Press it and you can select from a list of names based on the song you want to perform. Each title is a pre-set combination of a Style, a Voice that complements that Style, and a tempo setting suitable for the song. There's even custom effect combinations for each title, and you can expand your Music Database list with titles downloaded from the Internet via PC or Mac. Music Database isn't a jukebox. It doesn't play back recordings of songs (although the YPD-V240 can do that); it instantly recalls various settings so YOU can perform a song.
So, packed with ensemble features and built inside classic console piano cabinetry, the Arius YDP-V240 delivers the piano touch and tone quality you know you can expect from a company like Yamaha.
Features & Specs
Voices:
Number of Voices: 504 voices, 131 panel voices + 361 Xglite voices + 12 drums/SFX kits
Piano voice architecture: Pure CF Sampling
Songs:
Playback: 30 preset songs + 5 user songs + 70 songs on CD-ROM
Recorder: 6-track recorder with hands-separate practicing
Interactive Features:
Number of accompaniment styles: 160 + external files
One-touch setting: Yes
Music database: 300 presets + external files
Guide modes: Waiting, Your Tempo, Minus One, Repeat & Learn, Chord Dictionary
Performance assistant technology: Yes
Registration memory: 8 banks x 2
Other:
Display: 4.6" LCD display of score and lyrics
Warranty: 3-year parts and labor
Included accessories: Padded matching-finish bench
Tags: Keyboards