Soundcheck: Radial Tonebone TriMode Distortion Pedal
To some guitarists, a distortion pedal is an additional amp channel, not an effect. If you're such a player, you'll love the Radial Tonebone Classic Tri-Mode, a stomp box that functions like two additional distortion/overdrive channels. The Tri-Mode features a truebypass effect on/off switch plus a switch for selecting between two distortion modes. The ideal setup is to leave your amp on a clean setting and use the Tri-Mode to dial in separate distorted rhythm and lead settings.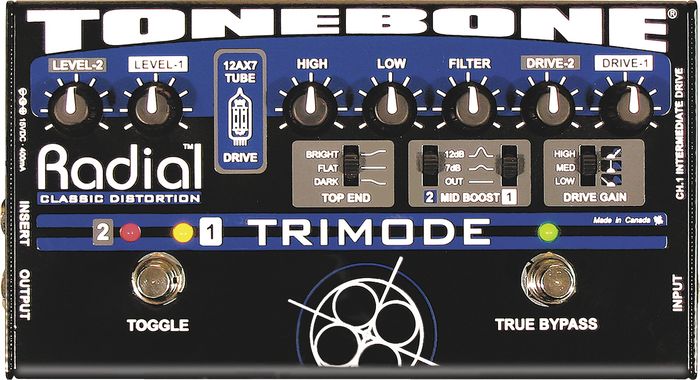 Each distortion mode has individual level and drive controls plus separate midboost switches that let you select 6 or 12dB of midrange boost or none. Both modes share high, low and filter EQ controls and switches for Top End (Bright, Flat or Dark) and Drive Gain (High, Med, Low), but their slightly different voicings provide distinct tonal characteristics for rhythm and lead settings. The midboost and level/drive controls can provide even more tonal variation, if desired.
The Tri-Mode's distortion circuit is based around a 12AX7 tube and delivers smooth, natural tone that makes it sound more like an expensive amp modification than a pedal. Mode Two provides sweet, singing,violin-like lead tones—especially with the midboost engaged—as well as nice controlled feedback effects. Both modes maintain excellent note definition even at the highest gain settings and won't "mush out" like many tube-equipped devices do when pushed to the brink of mayhem.
Peter Janis of Radial Engineering explains the Tonebone Trimode tube distortion pedal.
The Tri-Mode's EQ and gain settings may not pump out the extreme, gnarly, over-the-top tones beloved by metal heads, but this pedal will certainly make rock and blues players with refined taste in distortion feel all warm and fuzzy.
PRO: Excellent tone; very versatile
CON: Somewhat costly
MANUFACTURER: Radial Engineering