Soundcheck: LR Baggs iBeam Active Guitar Pickup
If you have an acoustic guitar that you really love, the last thing you want to do is gouge big holes in it in order to install a pickup. So if your acoustic doesn't have built-in electronics, chances are you've checked out a whole mess of soundhole pickups, only to discover that most of them fail to convey the warmth and dynamic range crucial to a good acoustic sound.
By Jeff Colchamiro
L.R. Baggs' iBeam Active pickup offers an excellent solution to this dilemma. While it doesn't just snap in, you can install it without any wholesale hacking. The iBeam is a transducer that sticks inside your guitar on the bridge plate, directly under the saddle. The active version of the pickup system comes with an "endpin preamp"—an output jack with a built-in active preamp—and battery holder. If your guitar doesn't already have a strapjack (or a trained professional), you'll need to create one by boring a small hole on the side. This is a minor procedure, especially compared to the civil war battlefield surgery required by most active preamps.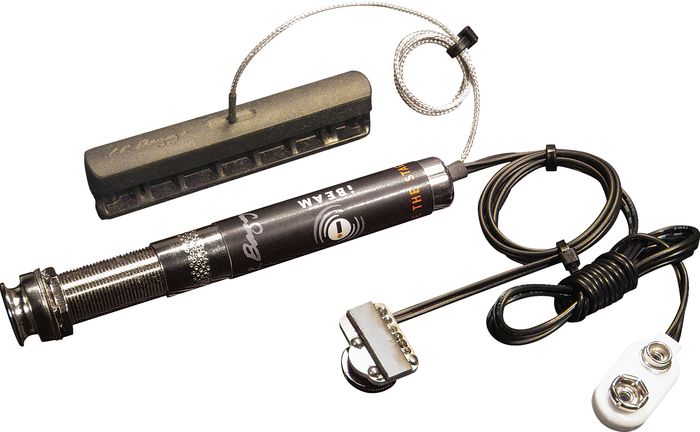 Those with some experience working with acoustic guitars will find installing the iBeam to be relatively simple. Novices can also do it, but be forewarned that the included instructions can be a bit confusing at times. The first step is assembling a small mounting device, which you'll use to line up the pickup and attach it in the proper place in your guitar, using the built-in adhesive. As long as you have a pin-bridge guitar, this isn't too tough. If you don't, you might want to have a professional do the job, as a little more drilling may be required.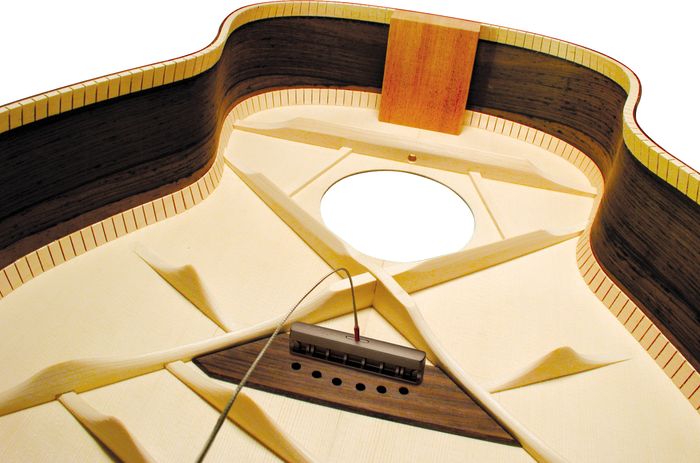 Once installed in my Martin dreadnought, the iBeam proved to be a most impressive pickup. Plugged into a PA system, the Martin-iBeam tandem produced tone remarkable for its depth. The guitar's high end cut through without any unpleasant harshness. The bass was absolutely booming—so much so that we had to roll off a bit of low end. How often does that happen with an acoustic pickup?
The iBeam is somewhat microphonic, which makes it sound similar to many more-expensive microphone/pickup hybrid systems. It did produce a little bit of low-end feedback at high volumes, but this was easy to control. The tone coming through the PA was almost as balanced as the guitar's natural sound, and the pickup did a fine job of capturing the instrument's wide dynamic range.
If you're looking for an active electronics system that won't deplete your bank book or your guitar too much, the iBeam is a fantastic choice.