Reviews from the Road: Seagull Coastline S6 Dreadnought
An Acoustic Guitar That Cuts Through and Stays in Tune
By Bradley Weinholtz
A few weeks ago we had a fantastic get-together at the home of one of my fellow Musician's Friend team members. Like many of these jams, we wound up playing our guitars until our finger went numb and our voices grew hoarse. Instead of bringing my usual 6-string, I came equipped with a Seagull Coastline S6 Dreadnought to give it a trial run in a group setting.
I had heard some great things about the Seagull S6 including its having won awards for design and sound quality, so I wanted to check it out for myself. In true Reviews from the Road fashion, I brought a brand-spanking new Seagull S6 to the party and put it through its paces.
As you can imagine, our enthusiastic but somewhat musically challenged group often uses these events to trot out some of their prize possessions. The selection of guitars on hand represented some of the most notable makers. With about a dozen of us packed into the family room, this would prove to be a great real-world acoustic testing ground for the S6.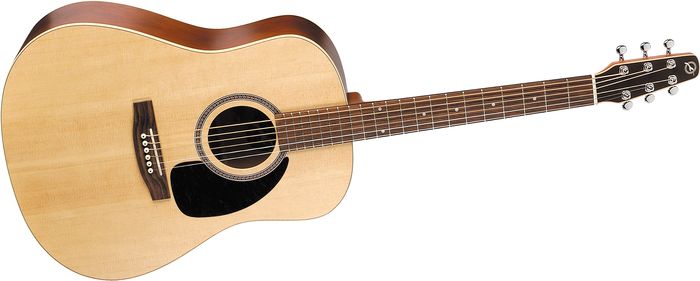 Anxious to get the jam portion of the party started, I unpacked the Seagull. On first inspection the guitar was very enticing. The wild cherry laminated back and sides had a deep luster and the solid spruce top was exceedingly cleanly finished. This was definitely not what I was expecting from a guitar in the sub-$500 price range. I diligently looked for imperfections in components and craftsmanship. I am a discerning appraiser and couldn't find anything that would be disappointing to me or any other judicious buyer.
Right out the box the guitar tuned up nicely and the sound from the first E chord was resoundingly pure. A crisp and clear mix from lows to highs could be heard accompanied by a hearty sustain. The combination of a spruce top with Canadian wild cherry back and sides, plus a silver leaf maple neck give this instrument a tone that resides comfortably between mellow mahogany and a brighter maple sound.
Tuning is essential when playing in any group, especially one of this size, and so we passed around the ceremonial tuner to make sure we were all ready to go. We then blasted through three songs and I was impressed how the the Seagull S6 cut through the acoustic chaos. The guitar was easy to play and very forgiving in the lower registers. As with some mid-priced dreadnoughts the higher register starting at the 9th fret can be a little unforgiving, and this was true of the Seagull, but the intonation from the 9th to 14th fret was spot on. A different setup would probably go a long way towards addressing this.
Around the fourth song some of the gang began to retune their guitars. I was surprised that despite my heavy strumming on a new set of strings, the S6 was still in tune. As the night progressed the Seagull remained in tune, even with my vigorous strumming and blues-style note bending. I played the S6 through the night and the guitar became more responsive and remained a joy to play. After a couple of hours jamming I had to call it a night due to an early-morning appointment. I felt like I could have played the Seagull until the wee hours and probably would have if it wasn't for the long drive home.
Seagull is the entry to mid-price brand of the Godin Guitars. All Seagull models are crafted in Canada from start to finish in the village of LaPatrie in Quebec. Most of materials used to build them come from Canada.
Seagull guitars feature a couple of innovations. The distinctive headstock design places the tuners in line with the nut, undoubtedly a factor in its great tuning stability. Another innovation is the addition of a slight arch to the solid top. This allows the top to be slightly thinner and have less bracing. This could account for the S6's wide tonal spectrum and ability to cut through the acoustic chaos of our jam night.
Seagull Guitar factory tour and unique product overview
For a guitar in this price range, the craftsmanship is superb. It is apparent from its appearance and playability that the folks in the village of LaPatrie take a great deal of pride in building these instruments. Incroyable belle valeur de guitare. Translation: The Seagull Coastline S6 Dreadnought is a beautiful and amazing guitar value.
And if a dreadnought isn't your thing, the Coastline series also includes folk, cutaway, and acoustic-electric models that I would expect deliver similar value and performance.
Features & Specs
Top: Solid spruce
Back: Wild cherry laminate
Sides: Wild cherry laminate
Neck: silver leaf maple
Fretboard: Rosewood, 21 frets
Body: Dreadnought
Finish: Natural
Nut: 1.8"
Upper bout: 11.38"
Lower bout: 15.87"
Waist: 10.54"
Body length: 19.8"
Body depth: 4.9"
Handcrafted in LaPatrie, Quebec, Canada
Explore the entire selection of Seagull acoustic guitars at Musician's Friend.
To learn more about choosing the right acoustic, read The HUB's expert Acoustic Guitar Buying Guide.
Tags: Acoustic Guitars