Product Spotlight: Line 6 Spider Jam Guitar Combo Amp
Coveted tone, loop recording, and the perfect band
By Aaron Suplizio
Line 6 Product Manager
Following the success of the Spider III amplifiers, Line 6 has extended its guitar amplifier line to include Spider Jam, the ideal partner for any level of guitarist who wants to perfect his skills. Like other amps in the Spider III family, Spider Jam features hundreds of rock star-approved presets, 12 distinct amp models, Smart Control effects, and a built-in tuner. What sets Spider Jam apart from the rest of the Spider line, however, is its revolutionary Endless Jam™ engine and onboard sound-on-sound loop recorder.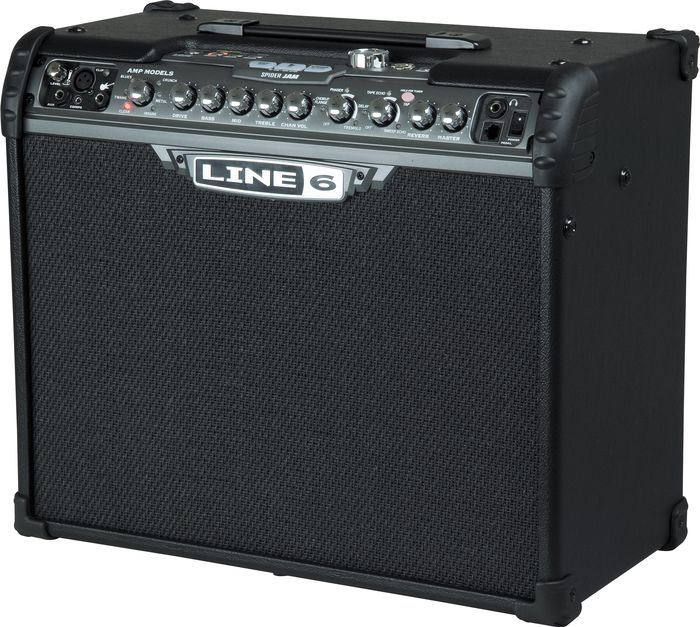 The men behind the curtain
Packed with over 100 Endless Jam tracks and drum grooves in more than 10 styles, Spider Jam provides guitarists with the opportunity to play with the talent that helped transform so many artists into music-indus-try icons.
To compile this thorough roster of A-list drummers, guitarists, bassists, and more, Line 6 pulled the highest-caliber players from the nation's hottest hotbeds of session talent: Los Angeles and Nashville.
Letting them run wild at some of the world's best recording studios—including Steve Vai's studio, The Mothership; as well as Sound Asylum in Canoga Park, California; Sound Emporium in Nashville, Tennessee; and London's legendary Abbey Road—the players produced a collection of organic-sounding, lifelike jams that seem as though they live and breathe. Not rigid, tinny, and computer-generated, these tunes will give you chills when you hear them. Some of my favorites include—Jam 103: Swing Rocker is solid, slamming, and right in the pocket, pushed along by Tony Franklin's pulsing, gritty bass and Simon Phillips' stomping beat. Jam 100: Outlaw Country Club is a smooth, twangy, mid-tempo bounce inspired by the greats of Outlaw Country. It features a truly amazing ensemble in Brent Mason (lead guitar), Dave Pomeroy (bass), Steve Turner (drums), John Hobbs (keyboards), Pat Bergeson (acoustic guitar), and Paul Franklin (steel guitar). Jam 150: Walking Jazz is light and airy but dynamic with Tony Franklin's walking-bass backbone. Hear drummer Gregg Bissonette switch from sticks to brushes!
Tapping into this world-class rhythm-section chemistry is really easy. Using the wheel, you can scroll Spider Jam's list of jam tracks, hearing short previews of each. Once a selection is made, the track loads with a perfectly matched guitar tone set automatically. With tracks ranging from thumpy funk to angry punk, outlaw country to slick R&B, and everything in-between, you can build songs, work out solos and, with 24 minutes of CD-quality sound-on-sound loop recording, capture all your musical ideas before they're gone. Plus, with the Endless Jam engine, you can riff for days over jams that always sound fresh and new.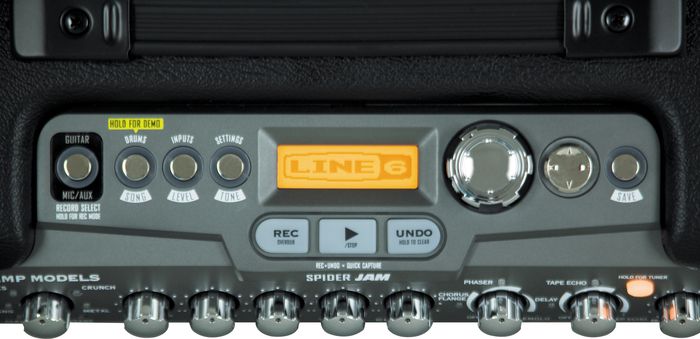 Forever's a mighty long time
The Endless Jam engine remedies the problem of jam tracks sounding stale and repetitious. This innovation breaks each jam track into sections, arranging everything between the intro and outro into an Endless Jam. This gives each jam track and drum groove eternal jamming mileage.
Spider Jam's roots lie deep within the hugely popular Spider III family of guitar amplifiers. Offering artist-created and song-based presets similar to those of its Spider siblings, Spider Jam provides instant access to a comprehensive collection of warm, tube-inspired tones, modern razorblade crunch, and a stockpile of stunning effects.
A dozen fully adjustable Line 6 tones from Clean to Insane, inspired by some of history's favorite amps, occupy Spider Jam's front panel. Seven Smart Control FX, including Delay, Chorus/Flanger, and dedicated Reverb, let you quickly dial in tonal depth, color, and texture. You've got the opportunity to create and store most any sound you desire, modern or classic.
Essential pro hardware
Spider Jam comes complete with a 1/4" aux instrument input and an XLR microphone input with its own dedicated trim knob. These inputs share their own library of effects including Reverb, Delay, Compressor, and three-band EQ. While you're building and recording songs, you can easily lay down vocals, bass, keys, or any instruments you want to complete full, pro-sounding tracks.
With its 75-watt power section, Spider Jam gets as loud as other best-selling Spider amplifiers and it pushes your tone through a 12" Celestion Custom speaker that adds richness and color. The Endless Jams, drum grooves, and all your recordings are routed through a dedicated 2" tweeter, keeping them punchy and lively. (You can listen to the full-range material through your stereo by routing it through the RCA outs in the back of Spider Jam.) Plus, the headphone jack doubles as a POD 2.0-style direct out, perfect for easy direct computer recording.
Many Line 6 footcontrollers, including the FBV Express and the FBV Shortboard, are fully compatible with Spider Jam. Use them to control the recording functions as well as your tone.
The sidebar offers a quick glance under the hood. With tons of great tones, an intuitive design, and a full line of ins and outs, Spider Jam provides countless opportunities for musical creation.
Features & Specs
Guitar:
200+ artist-created presets
150+ song-based presets
36 user-programmable presets
12 custom amp models from Clean to Insane
7 Smart Control FX
Chorus/Flanger
Phaser
Tremolo
Delay (with Tap Tempo)
Tape Echo (with Tap Tempo)
Sweep Echo (with Tap Tempo)
Reverb
Vocal/AUX:
Effects plus preamps, compressors, and 3-band EQ
Hardware:
Integrated chromatic tuner
12" Custom Celestion speaker
2" tweeter for full-range audio playback of backing tracks
75W power section
Fully compatible with FBV2, FBV Express, and FBV Shortboard pedals
Looper:
Up to 24 minutes of CD-quality recording time
100+ Endless Jam tracks and drum loops
Ins:
Mini stereo MP3/CD input for playing along with your music
XLR mic input with a dedicated volume knob perfect for vocals
1/4" aux input perfect for a second instrument including keyboard or bass
Outs:
1/4" headphone out/POD 2.0-style direct out for practicing with headphones or direct recording
Routable RCA outs for playing full-range backing tracks through your home stereo
Tags: Amplifiers Line 6