Product Spotlight: Boss ST-2 Power Stack Distortion Pedal
Stack Attack! BOSS' ST-2 Power Stack delivers the goods with authentic big-amp tone.
By Jim Bybee
Writer/Editor, Roland Corporation U.S.
BOSS' famous multicolored Compact Pedal lineup offers the largest and most diverse stompbox range of nearly any company in the industry. Included in over 40 different stomps are 14 overdrive, distortion, and fuzz pedals, offering guitarists of all music genres a wide selection of great flavors to season their tonal recipes. BOSS has been making distortion pedals for a very long time, all the way back to the classic DS-1, first introduced in 1978 and still in production today. But the newest member of their distortion club, the ST-2 Power Stack, is a pedal like no other the company has ever produced. And as its name suggests, it's designed exclusively for authentic tube-stack tone. The Power Stack is the real deal, delivering big-amp sounds from vintage to mega-heavy and everything in-between.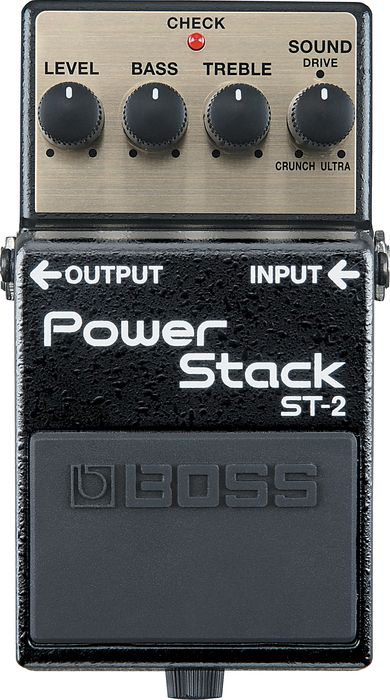 Under the microscope
Housed in the road-tested BOSS Compact Pedal chassis, the ST-2 Power Stack is ready to rock for years to come. It's finished in basic black with white lettering and a gold control panel, a color scheme that should give you a hint to the type of roaring tones that are contained inside. The four knobs—LEVEL, BASS, TREBLE, and SOUND—provide quick and easy tonal adjustments, but they belie the enormous range of amp-like goodness this pedal can produce (more on that coming up). Like all Compact Pedals, it runs on a single 9-volt battery, which is swappable in seconds via the quick-access door that doubles as the footswitch pad. It can be powered with an optional PSA-120S Power Adapter as well.
Not your average fuzz box
The Power Stack is very different from your typical high-gain stompbox. Pedals with the now-familiar names "fuzz," "distortion," and "overdrive" were invented to allow players to add some distortion to their sound without having to turn up their amps to eviction-inducing levels. Most are designed to create just one type of distorted tone (e.g. mild, medium, heavy, etc.), and their individual tonal characters are largely influenced by the way they integrate with the sound personality of the player's amp. Put simply, a typical distortion pedal colors and enhances the sound that your amp already produces; if you want the dynamic touch and feel of a "cranked amp" sound, you still have to play your amp at a loud volume.
This is where the Power Stack stands apart—it not only creates a rich, distorted sound at controllable volumes, it also emulates the pedal-free distorted experience of playing through a high-powered tube amp head that's dialed to "11" and raging through dual 4x12 stack cabinets. For those of you who've played through such a setup, you know it's total tonal bliss, with sweet sustain, rich and full bass, and a dynamic touch that makes you want to riff forever.
Flying the Union Jack
The first stack-type amps were developed in Britain in the mid '60s, and that original design has been the basis for nearly every amp of its type since, whether made in the U.K., the California wine country, or by small-shop boutique builders around the world. The Power Stack contains the sounds of three generations of British-style tube stacks onboard, all of which are accessible with one simple SOUND knob.
On the Power Stack's panel, the SOUND knob is labeled with three tone variations—CRUNCH, DRIVE, and ULTRA—giving you an idea of the tones you'll get when the knob is set in that area. In the CRUNCH zone, the Power Stack produces a Plexi-style tone reminiscent of the legendary '60s and '70s stacks that launched the hard rock sound. In the DRIVE range, the tone is more aggressive, taking on the characteristics of '80s and '90s "JCM" amps. Cranking into the ULTRA range brings on the super-heavy tone that's the signature of modern mega-gain stacks so popular with today's metal guitarists.
Simple sophistication
Dialing through the Power Stack's tones is easy, but it's no one-dimensional, gain-only experience. Under the hood, a custom-designed BOSS DSP chip is the engine for a complex series of tonal variations that occur as the SOUND knob is adjusted. In addition to the basic sound signature of the various stack-amp types, you also get the interactive feel and dynamic response that's so much a part of the real stack experience. This gives you a vocal-like expression when playing solos, plus an organic depth when playing chords. Most important, the amount of distortion can be subtly controlled with the nuances of your playing, and you can clean up the sound quickly just by lowering the volume on your guitar.
These characteristics are just like playing a real tube stack, and the Power Stack delivers that powerful "brown" sound and sweet feel like no other pedal can. With subtle adjustments of the SOUND knob, you can easily morph among the three amp types to find your perfect tone, and then use the BASS and TREBLE knobs to tweak the sound to your amp and style.
Speaking of amps, the Power Stack works great with everything from bedroom practice amps to gigging combos. It even works well with actual stack amps, giving players with those setups another tone variation to choose from. And since the Power Stack has such an amp-like sound, it plays well with other distortion pedals too.
Stacked with tone
I can talk all day about how cool the ST-2 Power Stack is, but you really owe it to yourself to check one out and experience what some big-amp tone will add to your gigging, recording, or practice rig. One thing's for sure—you'll simply be amazed by the huge, satisfying sound you'll get out of this little stompbox.
Tags: Effects Pedals Boss