Hands-On Review: Yamaha GigMaker Guitar Packs
Amazing attention to detail for super-affordable prices
By Dereck Wolf
With the GigMaker Standard and GigMaker Deluxe guitar packs, Yamaha has made available to the beginning student two well-constructed, great-sounding acoustic steel string guitars plus everything you need to be up and playing right away. And the real surprise comes when you see their extremely low prices.
A serious need
I've been teaching guitar for almost 30 years now, and the first hurdle has always been among the toughest—no matter how earnest the interest, no student can play the guitar if she or he has no guitar to play. For decades I was hard-pressed to find a sure-fire direction in which to point students searching for their first guitar.
On the one hand, you don't want to spend a great deal of money on an instrument that you might lose interest in playing within a couple of months. On the other hand, you don't want to get an instrument that's so poorly made you have no interest in playing it in the first place. (And, believe me, there are a lot of instruments like that out there.) So I often spent a lot of time shopping around in newspapers and pawnshops trying to find my new students something to play.
Then, after locating a guitar, I worried over the little necessary extras. If you want to stand up and play, you have to have a strap. You also need some kind of a bag to keep the guitar from getting scratched up when you're moving it around or dusty when you're storing it. You need picks to strum with and an extra set of strings around in case you break one. Also, an electronic tuner saves a lot of headaches for beginners. So, by the end, you're looking at a sizable chunk of change just for the add-ons.
Yamaha to the rescue
My first classical guitar was a Yamaha. Like the GigMaker guitars, it was very well made, easy to play, and sweet sounding. Also, like the GigMakers, it was very affordable. Since then I've played dozens of Yamahas and have always been impressed with their craftsmanship, tone, and low prices.
So I was overjoyed to find the GigMaker guitar packs. Here in one neat package is everything my students need to get started—strap, strings, picks, tuner, gig bag, basic instructional DVD, and a guitar of reliable quality—all for one low price.
Standard of excellence
The F325 guitar that forms the core of the GigMaker Standard guitar pack is very friendly to the ears, eyes, and fingers alike. It sports higher-end features like die-cast tuners and a tortoiseshell pickguard that impart a really nice visual vibe. The distance of the strings from the neck is low for ease-of-play without being so low the frets buzz.
The F325's laminated spruce top sounds great, with excellent bracing work. A laminated top is more affordable than a solid top and less liable to warp or crack. So if you're planning to play in extreme environments like beach or desert, laminated is the way to go. The rosewood fretboard is dressed very nicely and the meranti back and sides are well joined and attractively finished.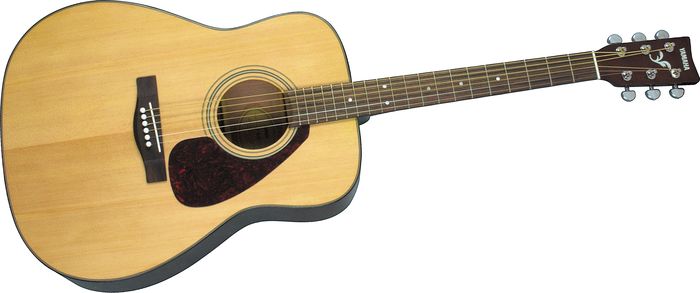 A solid joy
The FD01S guitar in the GigMaker Deluxe pack has a gorgeous solid spruce top, accented by a durable black pickguard, and stays in rock-solid tune via its smooth covered tuners. That solid top will continue to sound sweeter as it ages, which makes the GigMaker Deluxe a great investment.
I am simply amazed at the attention to detail evident in the construction of this guitar. No extra glue or rough edges are visible inside the guitar and every joint is flawless. The frets on the rosewood fretboard are dressed beautifully and the action (string height) is perfect. The back and sides are made of beautifully finished, glowing nato wood. The sound compares favorably with much more expensive models I've played.

All the goodies
The strap included in the GigMaker packs is nylon with leather ends. It won't stretch or scratch your guitar, and it even has a handy little pick pouch sewn in. The picks are light gauge, which are easier for beginners to strum with. The strings on the guitars and the extra included set are light gauge— easy on the fingers. The water-resistant gig bag adequately protects against scratches and abrasions.
The Qwik Tune digital chromatic tuner features an electronic pitch pipe that sounds the note of the string you specify. This lets you get your guitar close to the right tuning before you use the actual tuner function to get it perfect. Ever since electronic tuners came out I've recommended them for my students. I hate to see the motivation to play squashed by a frustrating tuning episode. Finally, the included DVD gives you the lowdown on the parts of the guitar plus how to hold the guitar and pick, tune up, change strings, and play common chords and strums.
In all, the GigMaker guitar packs are the best value I've encountered for beginning guitarists and for long-time players just looking for a guitar to travel with or keep at the cabin or in the office. Yamaha instruments are of consistently high quality and these come with a well-chosen array of vital extras.
Features & Specs
Both packs include:

Qwik Tune digital chromatic tuner with pitch pipe function
GigMaker Guitar Lessons DVD
3 Yamaha light-gauge picks
Black adjustable nylon strap with leather ends and headstock tie
One pack Yamaha light-gauge 80/20 brass folk guitar strings
Yamaha nylon gig bag with handles and logo

F325 guitar (with GigMaker Standard pack):

FD01S guitar (with GigMaker Deluxe pack):

Nato neck
Rosewood fretboard and bridge
Laminated spruce top
Meranti back and sides
Tortoiseshell pickguard
Die-cast tuners

Nato neck
Rosewood fretboard and bridge
Solid spruce top
Nato back and sides
Covered tuners
Black pickguard
Tags: Acoustic Guitars