Hands-On Review: Washburn WD10SCE Cutaway AE Guitar
A stageworthy dreadnought acoustic-electric guitar
By Dave Simons
Let's face it, it takes nerves of steel to engage in six-string stagecraft. Night after night, it's just you, your guitar and a set list, versus a roomful of potentially hostile patrons, who may only allow you a few fleeting moments to prove yourself. As anyone who's ever been there knows, you'd better hit the stage sounding good, or else it's a long way down.
The going gets even tougher when playing acoustic guitar in a live setting. Price doesn't necessarily guarantee stage viability; there are beautiful vintage guitars that sound positively angelic when fingerpicked in an open room, yet turn into untamable beasts as soon as you put them anywhere near a microphone. (This is particularly true if the guitar is bottom-heavy). Hence, it's wise to start out with a guitar that is well suited for all kinds of applications.
Having been in the business for well over a century, Chicago-based Washburn Guitars knows a thing or two about the plight of the acoustic musician. The company's WD10 dreadnought series has been a leading choice for a wide range of players for years now, rugged instruments made all the more attractive due to their supreme affordability. With the D10SCE, Washburn gives guitarists the all-important blend of acoustic tone and stage functionality. Featuring a supple, low-profile cutaway neck and equipped with a versatile Fishman Isys+ preamp, the Washburn D10SCE Cutaway Acoustic-Electric provides all the weaponry an acoustic entertainer needs to do battle with the armies of the night—and doubles as a bedside songwriting or practice tool as well.
Well made, easy to play
For a so-called "budget" cutaway acoustic, the D10SCE hardly cuts corners. A book-matched solid spruce top, mahogany back and sides, as well as a bone nut and saddle give the D10SCE a rich, well-balanced sound, devoid of the pronounced bass overtones that often become problematic once amplified. A smooth, 20-fret rosewood fingerboard (which joins the body at the 17th fret) and satin-finished mahogany neck ensure top-notch playability straight out of the box. Though the D10SCE seems to support even the lowest of low set-ups without excessive buzzing, string height can be easily tweaked, thanks to the guitar's two-way truss-rod system (an adjustment tool is included). A crown-style bound headstock and upgraded bridge and rosette patterns give the guitar a stately look as well.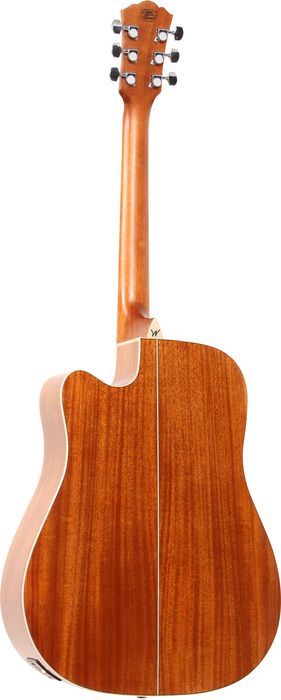 Plugging in
Traditional players have often taken a dim view of acoustic instruments outfitted with pickups, which is why many favor using a microphone in order to obtain a more natural sound when playing live. However, in the wrong environment, the results may be less than satisfactory, to say the least. Anyone with stage experience knows there is nothing more embarrassing than the sound of a microphone suddenly feeding back. Though proper equalization can help prevent the audience from being subjected to these unwanted noises, direct miking is still a risky proposition.
Suffice to say that the D10SCE helps reduce such risks with the inclusion of the highly regarded Fishman Isys+ Tuner/Preamp System (which comes standard on all D10SCE and D10SCEDL models). Conveniently located on the guitar's upper left side, the Fishman's separate gain, bass, and treble controls allow you to easily sculpt the sound onstage without having to mess with the mixer. Pressing a Phase switch boosts low end when playing at reduced volume and helps mitigate feedback at higher volume levels as well. And the guitar's simple seven-segment LED tuner (with solid green arrow indicating correct pitch and auto-mute for silent tuning onstage) helps eliminate frustrating pitch deviations during a performance.
I tried the Washburn electrified under a few different settings, first by playing fingerpicked chord progressions through a low-volume PA, then briskly strumming rock rhythms with gain set to high. In "folkier" settings, the D10SCE more than held its own, offering clean, full-bodied sound with the well-balanced tonality of a miked acoustic. (By the way, augmenting the piezo pickup with a low-volume mic aimed in the vicinity of the 12th fret only adds to the guitar's overall acoustic quality). Quieter players will find the preamp's equalization especially responsive to a lighter touch.
On the other hand, if you're working with a full-on rhythm section, you'll need something with a little more punch. On that count, the D10SCE scores decisively, providing crisp, distortion-free sound, even at maximum volume. Using the phase switch helped reduced the brittle strumming sound often associated with saddle-based amplification and I was able to squelch any boominess and resonant feedback by tweaking the bass settings slightly.
No PA? No problem—even unplugged, the D10SCE sounds and feels great. Its slim neck, low action, and punchy tone are perfect for just hacking around or for use as a convenient songwriting tool.
Budget beauty
Who says you have to mortgage the house in order to get good acoustic quality? For those in need of an affordable, versatile instrument capable of handling both acoustic and electric situations, the Washburn D10SCE fills the bill. It's a superior-sounding guitar that offers top-flight tone as well as easy-to-use sound-sculpting features. With its excellent incorporation of the Fishman Isys+ preamp, the Washburn D10SCE will undoubtedly bring a smile to even the staunchest of acoustic traditionalists.
Features & Specs
Dreadnought cutaway style
Solid Alaskan Sitka spruce top
Quartersawn scalloped bracing
Mahogany sides and back
Satin-finished mahogany neck with 2-way truss rod
Rosewood fingerboard and bridge
Bone nut and saddle
Rosewood-capped headstock with mother-of-pearl inlays
Die-cast chrome tuners
Shipped with D'Addario J16 acoustic light-gauge strings
Fishman Isys+ Tuner/Preamp System:

Easy-to-read 7-segment LED tuner
Volume control
Bass and treble controls
Phase switch
Low battery indicator
Low-profile control knobs
---
For an acoustic guitar that is both great-sounding and stageworthy, check out the Washburn WD10SCE.
Tags: Acoustic Guitars Washburn