Hands-On Review: TC Helicon VoiceTone Pedals
Vocal magic live!
Ryan Conrad
Musician's Friend Staff Writer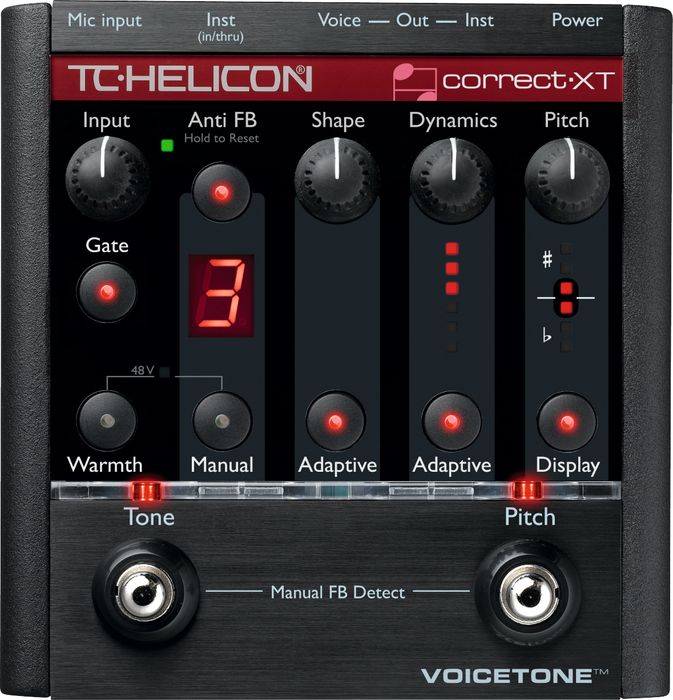 Three scenarios for the modern vocalist to consider
A few months back I was in a rock club watching an aggressive, noisy, thoroughly post-rock band perform their set in front of a small crowd. The singer—in addition to playing a few pads on a small keyboard during certain songs—added to the sonic swirl by processing his voice through a few standard guitar pedals mounted on a stand next to his synth. It wasn't just for novelty. Everything he did with the effects was very musical and fit the vibe of the music. However, the quality was just not there. Many guitar effects tend to "suck" the tone (i.e.; the high end of the frequency spectrum) out of whatever signal you feed them. This is a frequent complaint of guitar players with certain brands of pedals. With a vocal signal, this means you lose all the essential audio information that makes lyrics intelligible. This overlooked detail meant you couldn't understand anything the guy was wailing about during these effected sections.
Not too long ago, I went down to a popular java joint in the evening to catch a friend's set. Her material mostly consists of jazzy, folky, acoustic-based numbers, and she's a great singer. Really great singer. She's got a voice you can listen to all night, and she knows how to use it. She can go soft, she can go hard, she knows how to emphasize the emotion of the song through sweet sags and heartrending rises. She can have you hanging off her every syllable. Unfortunately, she feels like she has to haul around a whole freakin' rack of gear with her to every tiny, little gig she plays. She's got a channel strip, a de-esser, compressor/limiter, EQ, and a reverb/echo/delay processor. Her vocals always sound outstanding, but it's a lot of work for her to roll that rig in and out and keep it dialed in from the stage since she works without a sound man to keep more cash in her pocket.
Some friends of mine in a band together were in the studio last year recording some tracks for an album. About halfway through the sessions, the engineer cooked up a particularly tasty vocal sound for the singer that the band liked so much they ended up re-recording all the previous tracks with the new vocal sound, as well as all the songs they recorded later. When the album was finally released and they started playing the new stuff live, the singer really wanted to find a way to reproduce the vocal sound he got in the studio. At first he wanted to buy the same equipment the producer had used. I quickly rained on that parade by pointing out studio gear is meant for the studio and expensive vintage mics, preamps, and compressors are not compatible with smoky, dirty bars and clubs. And, unless you've got a roadie or the club is providing support, loading that rack carefully in and out at every gig gets old fast (see previous scenario).
Different problems, common solution
It's these types of live performance scenarios that led TC-Helicon to develop the new VoiceTone pedals. The VoiceTone Create and VoiceTone Correct are highly sophisticated processors featuring TC-Helicon's world-renowned technology in two power-packed pedals. You could think of them as stomp boxes for vocalists. Okay, maybe stomp boxes is stretching it a bit. But as you would guess from the floor pedal form factor, they're intended for onstage use.
The Create multi-effect and Correct pitch-fix processors are built on a powerful new pedal platform from TC-Helicon with a lot more DSP horsepower than your average pedal. The result is you can wield some stunning sounds right from the base of your microphone stand. The fidelity of the digital circuitry used in each unit means you're not sacrificing any quality if you choose to use them in the studio or in place of your preferred studio gear. And although they're designed to be used separately, when you pair the Create and Correct pedals you get a complete processing channel with premium sound to ensure the most important part of your music is heard loud and clear.
Correct
The VoiceTone Correct pedal is centered around live pitch correction but really does a lot more than just make sure you hit Ab on the dot. The pitch-fix algorithms run alongside—and in conjunction with, if you choose—dynamic tone shaping circuits including multiband EQ, compression, a de-esser, and a warmth mode. Taken separately, each feature is cool, but TC Helicon really designed them all to be used simultaneously. The TC-Helicon engineers went and out-programmed themselves to develop smart algorithms that sense your singing and simultaneously adjusts the EQ, compression, and de-essing to optimize your vocal as well as making sure your melody or harmony is on target. And you can send your sweetened signal to your monitors, mains, or both.
Create
The Correct's mate in TC-Helicon's VoiceTone line-up is the VoiceTone Create. This whirlwind of multi-effect muscle gives you an awesome array of tools to optimize and enrich your vocals—one-at-a-time or in combinations. It has a selection of reverb, delay, modulation, distortion, and special effects (think telephone booths, police megaphones, and mechanical voiceboxes) ready to touch up, tease, or totally change the sound of your singing. TC-Helicon set up 50 style-based and 50 effects-based combinations that let you dive right into Create without taking the time to read the manual. Of course, the patches are easy to customize also. Once you get familiar with the pedal's intuitive operation scheme, you'll even find yourself tweaking things on the fly. Ten user memories let you store your favorite sounds for easy access, and an A/B switching function lets you access different patches easily during the same set or song. Tap tempo lets you adjust the delay for exactly the right feel and time.
With all this power, you can see why TC dubs the Correct an "engineer-in-a-pedal" and the Create a "producer-in-a-pedal". But along with all the creative freedom the VoiceTone pedals grant you, perhaps their most important strength is that they put you in control of your vocals. Which is way better than leaving it up to the friend you suckered into running the mixer for you at the gig.
Features & Specs
VoiceTone Correct Features:
Studio-quality mic preamp
Phantom power
Manual or automatic operation
Pitch correction
Multiband EQ
Compression
De-essing
Warmth button
Pitch and correction display
XLR mic level I/O
VoiceTone Create Features:
Studio-quality mic preamp
Phantom power
Reverb
Delay processing
Voice-optimized distortion effects
Telephone and megaphone sounds
50 style-based presets
50 effects-based presets
10 user presets
Tap tempo
A/B switching
Quick and easy editing
XLR mic level I/O (stereo/mono)