Hands-On Review: Shure Wireless Guitar Systems
The guitar cable companies' worst nightmare.
By Allen Adleman
The appeal of wireless is obvious-it allows you to roam wild and free across the stage in guitar-god-like fashion. But you often hear wireless faulted. It messes with your tone. Batteries die without warning. Sudden dropouts are common and you're always in danger of cross talk from cell phone or CB chatter. Whether justified or not, these are widely held notions and I, like many, accepted them without question.
Still I was attracted to the idea of wireless freedom. When my guitar cable died a sudden and hideously noisy death in midsong one night, I realized that I was giving cables too much credit for reliability and perhaps wireless too little. I decided it was time to give wireless a try.
The Shure bet
As I researched available brands, one name jumped out at me. If any name should inspire confidence and trust, Shure should. They make world-class microphones famous for reliability through years of hard use. My SM58 has been battered by repeated blows and splattered with buckets of saliva. I've replaced the screen twice because it was bent out of shape. Still, that mic works fine and sounds just like it did new. It is a great vocal mic—beautifully designed and superbly engineered. The leap of faith to wireless was made easier for me by Shure's proven track record in engineering sound products that work really well.
I finally decided to give two Shure models a try: the more entry-level PGX14 and the more expensive pro-level ULXS. I borrowed a PGX14 from a friend who uses one and speaks highly of it. I also ordered a ULXS system from Musician's Friend. Based on my preference for the best gear I can afford, I was assuming it would ultimately be my choice.
The PGX14
I tried out the PGX14 first. I fiddled with it a little bit at home to make sure I could fire it up and then went wireless for the first time at my weekend club gig. We were playing in a fairly small room that would be easy for the system to handle. The PGX14 worked beautifully and without a glitch.
I really liked playing wireless just as I had expected I would. Though I didn't move around more than I normally do, I felt liberated. Not having to keep track of my cable allowed me to focus more on the sound and my playing. What really iced the cake was that nothing bad happened—no dropouts, no interference, no significant change in tone, and I cruised through two nights without a battery replacement. Even with this entry-level system, the Shure engineers managed to get it right.
I was thinking that maybe the PGX14 was adequate for my needs. I liked its simplicity, its clarity of sound, 200-foot range, its easier price, and the fact that it so completely dispelled all the fears I had about wireless. Maybe lesser systems can be troublesome, but Shure's PGX14 wasn't. It was completely set-and-forget.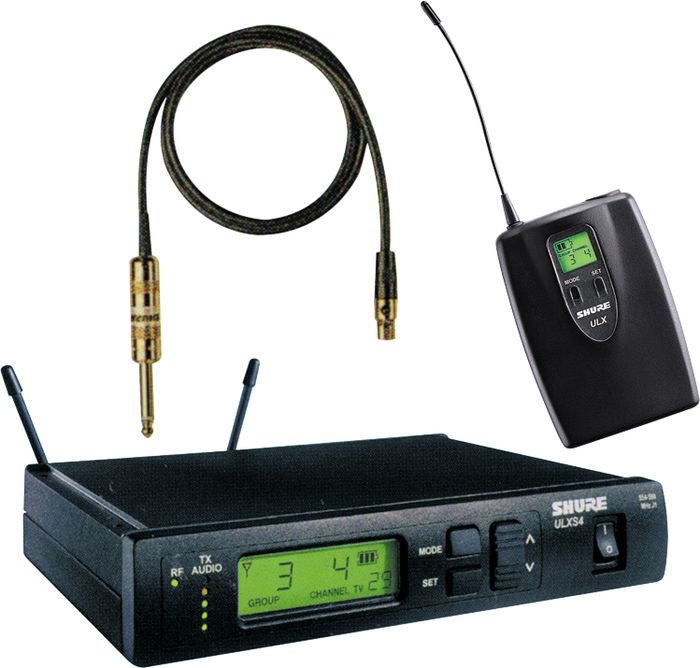 The ULXS14
Still, I was eager to try the ULXS on my next gig. This time the band was playing in a much larger venue. We would be louder and a huge stage meant I could put more distance between me and my amp, so I was happy to have the higher-end ULXS system. I was also keen to see if the ULXS sounded any different than the PGX.
The ULXS met the occasion with flying colors. This time I was boppin' and struttin' all over the stage and we pushed the volume pretty hard. But the ULXS didn't miss a lick. My guitar sounded just like it did through the PGX14 which was no different than if I were using a cable, except that there was no cable.
Although the PGX14 seemed perfectly adequate for my needs, I decided to go with the ULXS. It offers more available channels than the PGX so more systems can be used together. It may have a little more range. It adds a backlit display and a few more LEDs to make monitoring more precise. Most importantly, it offers the circuitry refinements that give it greater capability under demanding conditions.
I've been using the ULXS14 for months now and have yet to experience a dropout. I've never had a surprise battery failure thanks to its "fuel-gauge," and I haven't received any cell phone calls through my amp. I am now wireless without fear and enjoy the freedom. If you've been afraid to go wireless, get over it and get a Shure system.
Features & Specs
Automatic Transmitter Setup
Automatic Frequency Selection
Audio Reference Companding
90 selectable frequencies
Microprocessor-controlled diversity
Channel display LED
Multifunction LED indicator (power, lockout, mute, low battery)
-10dB pad
8-hour battery life
XLR and 1/4" outputs
Automatic Frequency Selection
Automatic Transmitter Setup
Audio Reference Companding
960 selectable frequencies
Detachable antennas
Microprocessor-controlled diversity
RF presence LED
5-segment audio meter
3-segment battery fuel gauge
Multifunction backlit LCD
Frequency and power lockout
Rack hardware
XLR and 1/4" outputs
Automatic Frequency Selection with Group Scan
Audio Reference Companding
Ultrawide frequency agility
Over 1,400 selectable frequencies
Microprocessor-controlled Predictive Diversity
Multifunction LCD display: group, channel, current channel & battery status
LED indicators: RF reception, level, and transmitter audio level
Backlit LCD display on transmitter
8-hour battery life
Operating range up to 300'
XLR and 1/4" outputs
Tags: Wireless Systems Shure