Hands-On Review: Rocktron Prophesy II and Utopia G100
Brothers in the quest for sonic supremacy
By Jimmy Nichols
Ever since Charlie Christian fitted his jazz guitar with a pickup and plugged into an amplifier guitarists have sought more control over their sound. The modern guitarist—especially the modern pop, blues, rock, or metal player—needs to be loud and have precise control of his signal and effects to get the right sound. I've seen guitarists gigging with overstuffed pedalboards two yards wide and three rows deep. Some players roll huge racks of preamps and processors into their club gigs—enough to cause a mini brownout. And in the end, they never seem totally satisfied with their sound. There's always one more pedal to stomp on or one more processor preset to tweak.
If you're a fan of simplicity, Rocktron has developed better ways of getting the exact sound you want—onstage or in the studio: The Prophesy II tube guitar preamp and Utopia effects processor. Rather than toting around multiple rackmountable preamps and effects or a flotilla of effect pedals, you could be using just one unit. The Prophesy II is a two-space rack unit that delivers studio-quality guitar effects and sounds using the latest in DSP processing. The Utopia takes the Prophesy architecture and distills it into an extremely portable and affordable floor-based amp and effects unit. With both units you get total control over your guitar signal with instant access to a mouthwatering array of tones, sounds, and effects—minus the bulk.
Prophesy II
Rocktron has released several killer rack processors over the years—right up to the original Prophesy. The Prophesy II is a top-quality preamp for pairing with a power amp. It has an extremely fast and powerful DSP processing engine built around dual 24-bit/66MHz Motorola chips surrounded by premium Analog Devices converters. This multichip array delivers higher-quality sound than many of its competitors. And the Prophesy II has plenty of sounds to throw around. Rocktron has piled on 127 presets including 31 sounds programmed by guitar heroes Dave Mustaine, Gary Hoey, Jimi Bell, and Rusty Cooley, as well as special presets from Patrice Vigier of Vigier Guitars.
The Prophesy II retains the versatile preamp and effects sections from its namesake. There are essentially four preamps available that can deliver a wide array of sounds: Clean American, Texas Blues, Vintage British, and Mega Drive. The preamp circuitry is tube-based with a 12AX7 providing naturally warm, organic-sounding tone and the responsive feel guitar players crave. The control panel is easy to use with straightforward, amp-style knobs for gain, EQ, presence, master volume, and a Page control that helps navigate the parameter settings for preamps and effects.
Super-powered signal processing
The effects section delivers extremely high-quality, studio-style effects in two sections: pre- and post-preamp. Pre-effects include EQ, compression, and wah; while post-effects are phaser, tremolo, chorus, flanger, ducker delay, pitch shift, rotary speaker, and reverb. Rocktron included its legendary HUSH noise reduction processing as well, which is placed between the compressor and wah. You get eight effects to use at once and you can also set up an Attack/Decay/Sustain/Release (ADSR) function to interact with the effects you choose. The ADSR envelope allows you to have separate effects or their settings that are note-activated or enabled when you increase your attack.
Editing effects settings is extremely easy. Punch a button on the front panel to display the effect parameters, then use the gain, master, and EQ knobs to adjust them. Press Store and select a preset destination from one of 127 locations.
While not a traditional guitar effect, there's also cabinet modeling with 8", 10", 12", and 15" speaker simulations available on the rear-panel outputs. It lets you run a signal straight to the mixer or a recording setup and makes the Prophesy II very recording friendly.
Testify!
Looking at the names associated with the artist-authored presets, I quickly surmised they were mostly shred- and metal-friendly sounds. Playing them did not disappoint. If you're a fan of these styles of music, the Prophesy II will not let you down. The Mustaine presets (seven of 'em) alone are worth it if you're a Megadeth fan. I'm a reformed metalhead who was into Megadeth back in the day. As I'm now closer to middle-age than teenage, I had more fun with Gary Hoey's presets. Gary supplies 13 presets, some of which have a lot of gain (Hoey's Shred Head!), but most are flexible and have applications beyond the world of double kick drums. The effects, due to their extreme quality and flexibility, have applications across any style of music. The effects section sounds simply fantastic. I fell in love with the flanger (an effect I'm picky about) which produced a huge 3D sound through stereo speakers. The bottom line is that the Prophesy II can deliver the sounds you want whether you're a clean-picking Chet Atkins disciple or a Megadeth-inspired Mustainiac.
If the Prophesy II sounds like a good idea, but you need something smaller and already have an amplifier, the Utopia G100 is for you. It can put that same great Rocktron sound at your feet to give your sound a tonal sonic makeover at a price that's right for your budget. Using a single-core DSP, the Utopia packs the preamps and effects from the Prophesy II into a smaller chassis with an expression pedal. You even get the speaker simulation outputs and a Variac amp sag function.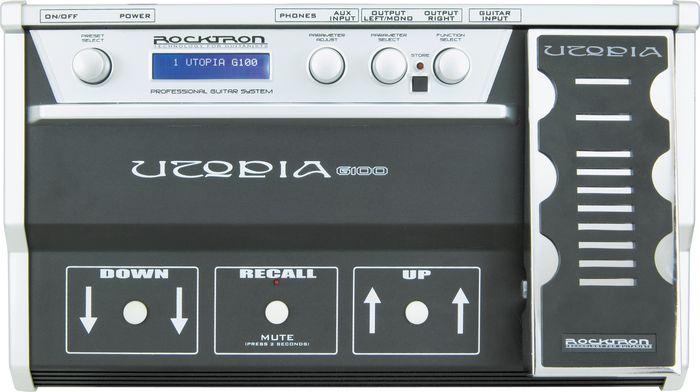 If you're looking for more control over your guitar signal, are trying to escape a guitar rig that is threatening to take over your life, or are simply looking for a bunch of really fantastic guitar tones, then the Rocktron Prophesy II and Utopia will serve you well on both counts.
Features & Specs
Prophesy II:
Clean American, Texas Blues, Vintage British, and Mega Drive preamp sections
Studio-quality effects section
127 presets (31 artist presets)
Dual 24-bit/66MHz Motorola DSP processing power
Analog Devices A/D/A conversion chipset
Tube preamp with Dynamic Tube Replication (DTR) technology
HUSH noise reduction
Customizable effect configurations
Customizable stereo effect loop
Tap-tempo delay and tremolo
Stereo XLR outputs
Amp-style knobs for easy adjustments
Pluck Detector and ADSR for dynamic effect control
Parametric pre-, post-, and global EQ
Pre- and post-preamp effects
L/R line outputs with selectable speaker simulation
Chromatic tuner
MIDI I/O/Thru
1/4" input
L/R 1/4" outs (mains)
L/R XLR outs (mixer/recording)
2 rack spaces
Utopia G100:
128 preset sounds (64 factory/64 user)
Rugged professional-grade chassis
Expression pedal
Variac (tube sag emulation)
Cool-blue LCD screen
Stereo outputs
Headphone output
MP3/CD/Aux input
Tags: Signal Processors Preamps