Hands-On Review: Reunion Blues Continental Guitar Case
Does it really outperform wood and plastic?
By Dan Day
Musician's Friend Staff Writer

The need for a durable, unyielding case was demonstrated recently when a YouTube video went viral. In this video, a guitarist sings an amusing country ditty about how an airline destroyed his guitar. Because I travel a lot on that same employee-owned airline, and do not wish to incur the wrath of a miscreant baggage handler, said airline will remain UNIdenTifiED. In response to this YouTube clip, the gang at Reunion Blues shot their own video demonstrating how a guitar enclosed in their new RB Continental case can be tossed from a three-story building and emerge unscathed—still in tune even. Reunion Blues designed the Continental to out-perform wood and plastic counterparts, and based on my tests, they've more than met their objective. You can watch that "drop test" video on our website's Media Center.
Reunion Blues invested three years of R&D in coming up with what they term a "revolutionary fusion of strength and style" that protects guitars from extreme catastrophic events. The exterior covering is made of "Ballistic Quadraweave" that surrounds a lightweight "Flexoskeleton Protection System" consisting of 1" high-density, multilayer foam and EVA sidewall panels. EVA is a space-age material used as a shock absorber in sports equipment for hockey, boxing, and in snow and water-ski boots.
Acid tests
While I must admit that the RB Continental drop test video is certainly an effective demonstration, a basic part of good journalism is still a healthy dose of skepticism. Being a good reporter, I had to see for myself if the Continental could pass my stress test.
I was a bit skittish about placing a guitar in my sample case and tossing if off a building, so I decided to take baby steps. My not-so-stupid case tricks began by dropping a raw egg into a see-though plastic bag and placing it on top of the RB Continental's internal Neck Brace Suspension System. This is a 2" foam block with a Velcro strap designed to wrap around the neck and hold everything in place, including, in my test, the raw egg.
I took the case, with egg, out onto my driveway and—to the amusement of my neighbors—proceeded to simulate baggage mis-handling by vigorously tossing the case in the air and letting it crash onto the pavement. When I opened the case, the egg was resting comfortably without so much as a hairline fracture. I tried swapping payloads with more delicate items including a glass Christmas tree ornament and then a wine goblet. Despite launching the case skyward with flipping and twisting motions, the results were the same: no breakage or cracks.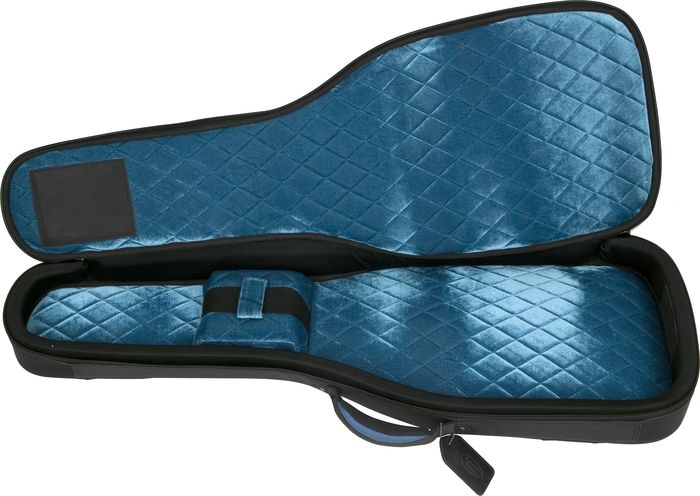 Now for the acid test: a guitar in the case tossed from a structure. I was still somewhat leery about conducting the test with my prized Gibson Les Paul, so I secured a more budget-friendly and therefore expendable axe from the Musician's Friend Merchandising Department with the reassurance that nothing bad was going to happen to it—probably.
Phil, a fellow copywriter acting as assistant/witness, and I drove to a four-story parking garage in downtown Medford. After making sure the coast was clear, I flung the RB Continental case with its guitar payload into the warm Southern Oregon air as I wondered: What if the experiment fails and something breaks? Should I write about it anyway? After it crashed onto the sidewalk below, Phil opened the case, to find the guitar was unharmed.
Just like in the video, we repeated the test; this time I flipped the case so it fell end-over-end. Despite that, it landed flat on its backside with a resounding slap that probably startled the motorist who was leaving the garage at that moment. Again the guitar emerged unharmed. After all that twisting, turning, flipping, flopping, flinging, and flying, even the outside of the case showed no signs of wear. Most ordinary wood shell or molded plastic cases would have probably shattered into a million pieces, along with the guitar inside.
Conclusion:
After surviving our repeated abuse, you have to wonder if we are finally witnessing the long-awaited liberation from heavy wood and plastic cases. The RB Continental is a real trooper and may very well be the lightweight alternative we have all been waiting for.
Features & Specs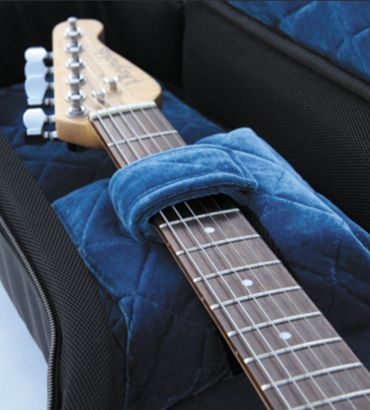 Ballistic Quadraweave exterior
1"-thick shock-absorbing Flexoskeleton with ABS impact panels
High-strength corded edges and seams
Zero-G palm-contoured handle with weight-distributing foam core
Neck brace suspension system with adjustable, locking security strap
Knurled abrasion grid on top and bottom resists scuffing
Nonslip rubber side rest
EVA-reinforced laptop-compatible multi-pocket
Musician-friendly interior storage
Zippered quick-stash headstock pocket
Rubberized headstock grip
Adjustable, hideaway padded backpack straps
Double-stitched with high-tensile thread and reinforced stress points
Interior protector pads at headstock and endpin