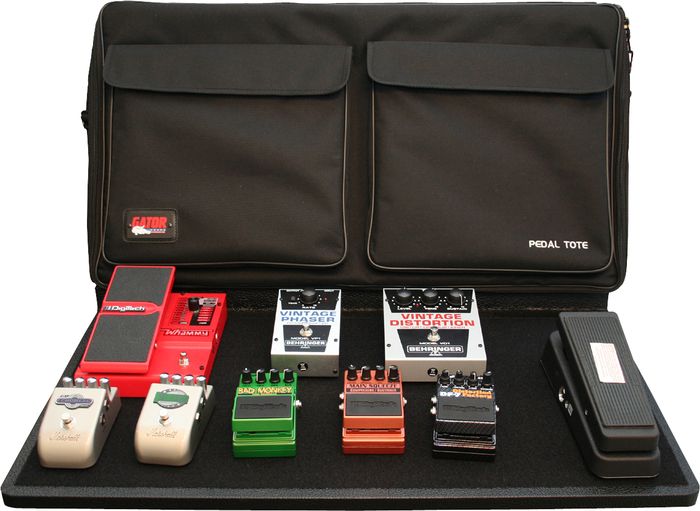 Hands-On Review: Gator Pedalboards
Pedal Madness, or How I Learned to Get Organized and Love My Pedalboard
By Owen Franklin
Let me start off by saying I'm not known for being especially sloppy or disorganized, either as a person or as a musician. But for some reason, I can't seem to get my act together when it comes to corralling the herd of guitar effects pedals that ends up at the base of my mic stand. Let's just call it benign neglect — what with human beings being enormously adaptable — we just learn to deal with an ongoing problem for, sometimes, years. After all, Jimi Hendrix didn't use a pedalboard (OK, OK, he probably would have been the first one to use one if they had been available then). Simple answer: I'm cheap and too lazy.
Head games
Anyway, despite occasional ridicule from bandmates, I was quite content to carry on as usual when the problem came to a head (literally, as you will learn). At a recent gig, I tripped over one of the patch cables strewn about my area of the stage. My head came crashing to the floorboards and I found myself staring at my Cry-Baby Wah-wah (how appropriate!) just inches away from my skull. Luckily, my body cushioned the blow for my Les Paul. This trip (and fall) was an epiphany. Time for action.
A friend at Musician's Friend saw my onstage antics and told me about a pedalboard that would provide some badly needed organization. Within a very short amount of time, I found myself in possession of a Gator GPT-PWR Powered Pedal Tote Pedalboard.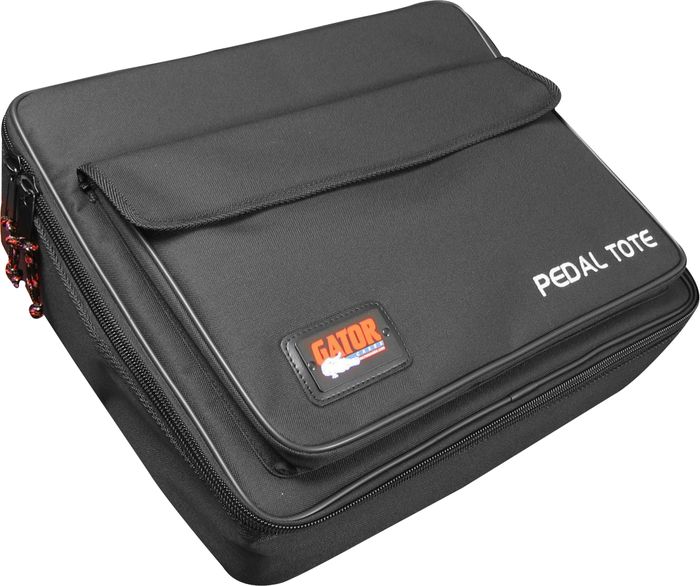 Closer look
The pedalboard fits snugly into the rugged 600-denier nylon-padded carrying case or Pedal Tote for which the product is named. The exterior pocket comes in handy for carrying extra cables and batteries. The pocket is held closed with Velcro. The #10 zippers on the case felt like they could stand up to lots of use. The pedalboard itself looks rugged and roadworthy. It's made of high-density plywood and is covered with Tolex. The GPT-PWR measures 16-1/2" by 12" and can accommodate anywhere from six to eight effects.
I had quite a collection of stomp boxes and pedals to choose from to install in the pedalboard. I chose the following: wah-wah pedal, amp switching box, Korg tuner, Danelectro echo unit, Tube Screamer, and Boss Metal Zone. To install the pedals in the board I cut Velcro strips from the two 15" lengths that were supplied. Once the Velcro was attached to the bottom of each pedal, I placed them on the Velcro-covered pedalboard. For a couple of my effects pedals, like the wah-wah, I had to remove the rubber feet so that the Velcro would attach to the board.
The included G-BUS-8 power supply is already mounted to the underside of the board. The power supply has eight 9V outputs and three 18V outputs that were just enough for the pedals and effects I was using. Also supplied are eight mini-phone to 5.5mm power cables (male-to-female) for the 9V outputs and one 5.5mm to 5.5mm 24 inch power cable (female-to-female) to use with one of the 18V outputs. (Note: Make sure your effects pedal will accept the 5.5mm power cable and is rated at 9V.)
Time "savor"
Performance evaluation: How did the Gator GPT-BL-PWR Powered Pedal Tote Pedalboard work in an actual gig situation? Well, it saved quite a bit on setup time. It normally takes about 30 minutes to set up my stage gear. With the Gator Pedalboard, setup time was cut in half. I just pulled the pedalboard from the Pedal Tote, plugged in the power supply and was ready to go! That left more time to:
Make sure my guitars were actually in tune
Go over the set list
Discuss any song or performance problems/issues with band
Socialize
Get refreshments
Catch up on some light reading, e.g. Kafka, People magazine
Do yoga

Onstage, it was quite reassuring to know exactly where each effect was going to be and that it was powered and ready to go. The UL-approved power supply safely and quietly did its work: no unwanted line noise, pops, or clicks. And, of course, teardown time was greatly reduced.
Different strokes
In addition to the GPT-BL-PWR, Gator also makes a passive version pedalboard (that is, no power supply included)—the GPT Black—in case you have your own power supply or have effects that operate only on batteries. In fact, most stomp boxes in the late '60s to mid-'70s were only battery powered—another reason Jimi Hendrix didn't have a pedalboard. If you need more room for more effects boxes, Gator makes the GPT-PROwhich is 30" x 16" and holds 10 to 15 pedals. The powered version of this larger board is the GPT-PRO-PWR.
Overall evaluation: Would I buy it? You bet. I'm not gonna tell you that my playing improved a whole lot (or then again, maybe it did, in as much as I wasn't stressed out over the arduous effects pedal setup routine). But improvement is welcome in any seemingly little aspect of activities that non-musicians mostly don't think about: getting to and from the gig, setting up and tearing down. And for that I'm glad to have finally gotten around to getting "organizized" (as Travis Bickle—one mean shredder himself—put it.)
Summary
Why wouldn't you want a pedalboard that:
Organizes your effects boxes (eliminates the awkward tangle of patch cables and boxes) and puts them neatly at your feet
Lets you transport all of your effects in one case and keeps them safe
Saves you time—just plug in the board and you're ready to go
Saves you money—quality board and carrying case for less than similar pedalboards alone
Saves you from tripping all over yourself and looking stupid
Features on all Gator Pedal Tote Pedalboards:
Constructed of high-density plywood covered in Tolex
Built-in carry handle
Pedal Tote: 600-denier nylon padded case
Pedalboard face covered in Velcro
Pedal attachment Velcro included
Access holes for cables
Pyramid-shaped rubber feet
GPT-BLK features:
Black exterior
16.5" x 12" pedalboard
Holds 6 to 8 effects pedals
Pedal Tote carrying case measures 18.7" x 17.91" x 3.25"
Exterior pocket on Pedal Tote
4 supplied mounting screws for multi-outlet power supply (not included)
GPT-BL-PWR has features of GPT-Black plus:
16.5" x 12" pedalboard
G-BUS-8 power supply included
8 9V connections, 318V connections
GT-8 switch mode based power adapter (1.5amp, 90Vac to 260Vac)
8t mini phone to 5.5mm 24" power cables
One 5.5mm to 5.5mm power cable for 18V connection
GPT-PRO:
30" x 16" pedalboard
Holds 10 to 15 effects pedals
2 sets of 4 holes for mounting 2 G-BUS-8 power supplies (not included)
Pedal Tote Pro carrying case measures 17.5" x 31.5" x 6"
Adjustable shoulder strap
2 external accessory pockets
GPT-PRO-PWR has features of GPT-PRO plus:
30" x 16" pedalboard
G-BUS-8 power supply included
8 9V connections, 3 18V connections
GT-8 switch mode based power adapter (1.5amp, 90Vac to 260Vac)
8 mini phone to 5.5mm 24" power cables
One 5.5mm to 5.5mm power cable for 18V connection
Tags: Guitar Accessories & Parts Effects Pedals Stage Accessories