Hands-On Review: Fender Eric Johnson Stratocaster
It's about time!
By Edward Paul
For Eric Johnson, when it comes to music, integrity is of the utmost importance, from the producers and musicians he works with to the tonal qualities of his guitar. Often labeled a perfectionist, Johnson is well-known for his impeccable standards when it comes to playing and recording. It should come as no surprise then that the Eric Johnson Stratocaster is in a league of its own. It is, in a word, flawless.
[Ed. Note - Check out our 2018 interview with Eric Johnson where he discusses his new signature Thinline Stratocaster]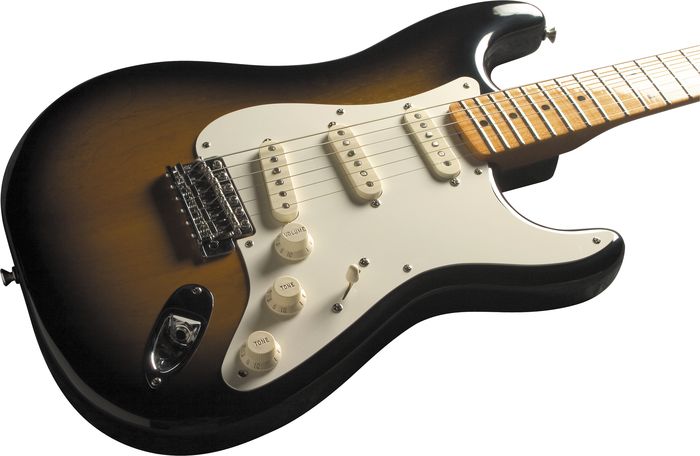 What took so long?
Michael Frank-Braun of Fender's Custom Shop, who co-created the guitar with Johnson, noted that the guitarist has spent years researching what makes guitars sound good, down to the bobbins and screws. Research and design on this signature model alone took two years, so it's no wonder it took some time to come to fruition. Thanks to Johnson's pursuit of the ultimate tone, the wait was worth every second. This Strat will be hailed as a masterpiece by collectors, fans, and guitar players alike for its functionality, features, and gorgeous voice. It combines all the essential elements of a vintage Strat with new technology to give you the ultimate playing experience.
Past meets future
Modeled after a '57, the Eric Johnson Signature Model Stratocaster has a two-piece alder body with a thin, nitrocellulose lacquer finish. This lets the wood breathe which translates into better resonance. This painstaking process is typical of Custom Shop quality and is similar to the way Fender finished guitars in the '50s and early '60s.
The neck is one-piece, quartersawn maple, preferred by Johnson for the way it translates the harmonic balance from neck to body. Finished with a thin-skinned glossy lacquer and vintage tint, the neck of this guitar is nothing short of breathtaking, to the eyes as well as the fingers. The neck has a 12" radius, and the profile starts at the first fret with a soft V and ends at the 12th fret in a large C, emulating the neck of one of Eric's favorite Strats. The result is a fingerboard that is flat enough to provide lower action and plenty of string stretching without fretting out.
The Custom Shop-modified single-coil pickups utilize a new magnet wire material and a new pickup winding procedure. Thanks to these design elements, the pickups produce a tonal voice different than any other. Honing that voice to Johnson's specifications was no easy task, however. Frank-Braun developed 19 different versions of these pickups before finding the tone Eric was after!
The tone god giveth
One of Johnson's most famous mods also made it to his Signature Strat. On most Strats, the tone knobs control the neck and middle pickup. Over the years, Eric has modified his Strats so that the knobs control the neck and bridge pickup, and many Strat players including myself have followed suit. Given the tendency for bridge pickups to emphasize the higher frequencies, this design makes perfect sense.
Frank-Braun and Johnson again looked to the past to find the ideal tremolo configuration. Over the years, Fender trem blocks have changed slightly. Favoring the tone of vintage, higher-mass blocks, Johnson wanted this to be a part of his signature axe. In a true testament to Johnson's fastidiousness when it comes to his sound, there is no paint between the base plate and the block, eliminating anything that might interfere with the guitar's natural tone.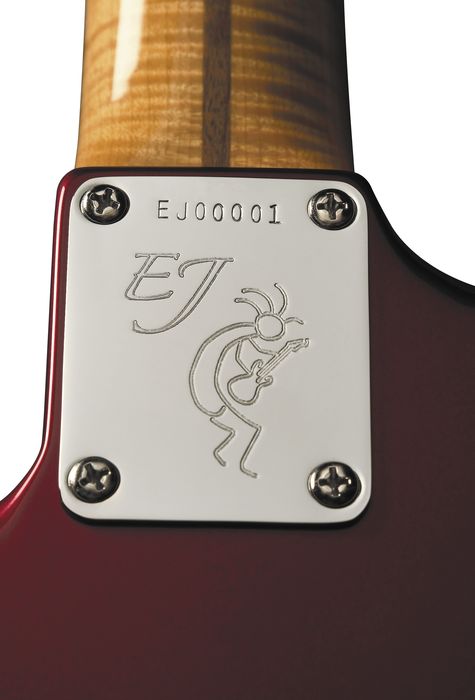 It's the little things
There are many nuances that make this guitar something to savor. It definitely has a classic appearance, from the tinted neck and thinner headstock to the staggered-height vintage machine heads (that also eliminate the need for a string tree!). The large arm contour gives it a prestigious look, and the shallow pickup cavities and '57-style pickguard show the level of thought and detail that went into creating this stunning instrument.
Playing this guitar was a true delight. It's one of those rare instruments that lets your talent, style, and individuality shine through with ease. The action was superb. Though I normally favor a nice rosewood fretboard, I have to say that the maple generates remarkably pure tone. Everything from the weight to the contours add to the sense that this instrument is a part of you. Incidentally, Fender regulates the weight on these guitars per Eric's instructions, ensuring that his specs are honored across the board.
Thanks to the versatility of the electronics, shifting between styles was effortless. Not only was it a joy to play, it was the center of attention when it was offstage as well. I had more than a few guitarists come up and ask me about it—if it was a '57, what mods I had done to it, and if it was a Custom Shop axe. No one could believe a guitar of this caliber was a production model.
One of the things Eric Johnson has said about creating this guitar is the importance of its "vibe"—vibe that invites the player to pick up the instrument, knowing that it will convey every nuance of the music being created. After spending some time with his long-overdue Signature Stratocaster, I know exactly what he means.
Features & Specs
'57-style, two-piece alder body
Body cavities true to '57 specs
One-piece, quartersawn plain maple neck
Thinner, vintage-style headstock
12" radius American Series-style frets
Staggered vintage machine heads
Thin neck cap
Custom Shop-modified single coil pickups
Master volume, neck tone, bridge tone controls
Vintage tremolo with silver painted block
'57-style string recess
Thin nitro-lacquer finish
Tags: Electric Guitars