Hands-On Review: Epiphone Tom DeLonge ES-333 Semi-Hollow
One pickup, one knob, one helluva sound
By Dan Day
Musician's Friend Staff Writer
Tom DeLonge is an iconoclast—someone who breaks cherished beliefs and assumptions. To help power the pop punk of his band blink-182, guitarist DeLonge busted the rules in creating his vision of a one-knob electric guitar by specifying a single Gibson Dirty Fingers humbucker mounted on an ES-333 semi-hollowbody. There is at least one precedent for a one-knob hollowbody electric guitar: Gibson's 1961 Johnny Smith model—an archtop with a mini-humbucker at the end of the fretboard and a volume control mounted on the pickguard. Not too radical for a jazz guitar. (Chet Atkins' version of Johnny's "Walk, Don't Run," inspired The Ventures rocked-up version.) In 1978, Eddie Van Halen turned the rock guitar world on its collective ear when he unleashed his famous one-knob axe. Since then there have been several one-knob guitars designed for hard rockers, but they've all been solidbodies.
Taming the hollow howl
Conventional wisdom says you don't put a high-output pickup on a semi-hollowbody because it will produce uncontrollable, howling feedback when you crank it up through a high-gain amp. Not true—Eric Clapton and Alvin Lee controlled feedback when playing ES-335s through Marshall stacks. The solid maple block running down the center of the ES-335 (and ES-333) helps reduce potential feedback. You may remember that in the 1970s Ted Nugent wielded a Gibson Byrdland thinline hollowbody in front of a stack of amps. He tamed feedback by carefully mapping out areas onstage with tape where he could stand and hit specific notes at certain frets so they would sustain through controlled feedback.
Hot Rod
Epiphone has now come out with a more affordable version of Gibson's Tom DeLonge ES-333 introduced in late 2003. The Epiphone version has a five-ply laminated top, back, and rims of laminated plies of maple/birch/maple/birch/maple that are also used on the Epiphone John Lennon Casino. The guitar's color scheme is itself a bit of a twist. Instead of flashy, hot, or very dark colors, the rare chocolate brown satin finish is highlighted with a cream racing stripe and single-ply binding on the top, back, and neck.
The pop punk sound of the Epiphone Tom DeLonge ES-333 begins with the warm-toned maple/birch body. The glued-in mahogany neck has a smooth satin finish and 1960 slim-tapered profile that make it easier to grip wrist-busting power chords song after song. Usually covered by a neck pickup, the neck tenon/body joint for the mahogany neck is instead concealed with a black plastic cover. Stringbending is a breeze with the 24-3/4"-scale neck and 22 medium-jumbo frets on the rosewood fingerboard. The tighter locking fit of the LockTone Tune-O-Matic bridge onto the posts and the solid string endpoint provided by the LockTone stopbar work together to more efficiently transfer string vibrations to the body of the guitar. The result is more tone and sustain (20% more sustain, according to Epiphone's scientific comparison). The LockTone system is standard on most Epiphone guitars.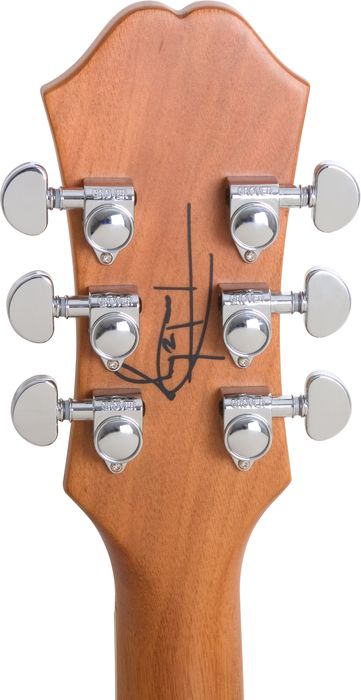 Dirty Fingers
What sound does a semi-hollowbody guitar produce using the high-output Dirty Fingers pickup? The overwound coils combined with a high-gain amp produce thick distortion for pop punk. This pickup is definitely not for the traditionalist. As DeLonge describes it, "The Dirty Fingers was so loud and so obnoxious. But you try it now and it's crazy. It's awesome. It sounds so good. It has so much more clarity and volume and a much wider sound . . . I instantly fell in love with it."
I plugged my sample Tom DeLonge into a high-gain amp, and when I cranked it up just a bit I could tell immediately this was a very "live" guitar—just brushing the strings or lightly tapping the body produces vibrations that feed the pickup. I got a definite sensation of a wild beast waiting to be unleashed. Power chords were taut and muscular with some extra midrange oomph. Leads were powerful and punchy—a perfect balance of grit and high-end clarity without getting too brittle. To help control the DeLonge's hyper-responsiveness, the Dirty Fingers pickup is wax potted to eliminate unwanted microphonic feedback. The four-conductor lead can be used for further hot-rod mods such as coil-splitting to expand this axe's tonal options.
The one-pickup, one-knob, semi-hollowbody Tom DeLonge ES-333 is indeed iconoclastic—it fuels a counter-intuitive, against-the-grain attitude that will forge new sonic frontiers.
Features & Specs
Laminated maple/birch top, back, and rims
Single-ply binding on top and back
Mahogany set neck with satin finish
1960 slim-tapered neck profile
Rosewood fingerboard
22 medium-jumbo frets
Single-ply neck binding
Dot inlays
12" radius
24-3/4" scale length
1-11/16" nut width
Grover die-cast tuners
1 Gibson Dirty Fingers humbucker
1 volume control
LockTone Tune-O-Matic bridge
LockTone stopbar tailpiece
Chrome hardware
Tom DeLonge signature on back of headstock
Brown with cream stripe finish
Limited lifetime warranty
Tags: Electric Guitars