Hands-On Review: Epiphone Les Paul Standard Plus Top
If it looks like a Paul, plays like a Paul, and sounds like a Paul, it is a Paul!
By Darius Van Rhuehl
Musician's Friend Staff Writer
"They don't make 'em like they used to." I think we've heard that enough in life, yeah? The fact is, they don't—they make 'em better. That's why I can pick up a new Epiphone Les Paul Standard and not feel or hear a whole lot of difference between it and my '71 Gibson Les Paul Custom. (Truth be told, electric guitars don't improve with age as violins do.) Certainly there are differences in terms of wood grade, trim, hardware, and such, but do I feel or hear thousands of dollars worth of difference? Sorry Gibson, not really. Lucky for us, Les Paul himself has placed his seal of approval on these Epiphone Les Pauls, and between you and me, protect your ears, 'cause this is a deal that's screamin' at the top of its lungs.
At the Epicenter
Let's talk about the instrument itself. With the debacle of the Norlin-owned Epiphone days well behind us, a lot has changed in the world of guitars. Where guitars made by Asian manufacturers used to have a stigma associated with them, nowadays, their craftsmanship and knowledge of luthiery ranks among the best you'll find anywhere. Of course, that has everything to do with receiving the guidance of top luthiers from the USA—such as those you'll find at Epiphone's factory in Asia, where these LP Standards are made under their supervision.
That said, taking the Epiphone Les Paul Standard Plus Top out of the case provoked the appropriate, "Yup, this is a Paul all right," response. The looks, the weight, the feel, and the craftsmanship certainly said "Les Paul" to me. I never had the feeling that I was holding a cheap (or should I say, inexpensive) guitar. From the Les Paul headstock signature and trapezoidal inlays on the neck to the fit and finish of the chrome-plated hardware, the only dead giveaways that it's not a Gibson LP are the shape of the headstock and the name, "Epiphone."
If it looks like a Les Paul . . .
While I was given three Les Pauls to play with, the focus model for this go-round had the heritage cherry sunburst finish with a beautiful flamed maple top. Quite a pretty guitar I must say. It's actually a maple veneer over a carved top, which is how they keep costs down while still providing the super-hot visuals. Trust me, the way the lights on stage shine on this beauty, no one will ever know. In fact, while it sat on a stand in my studio, at every glance it looked like I had a very pricey instrument sitting there.
The other two were Standards, one with a vintage sunburst finish and the other an ebony finish, which was particularly striking (what can I say, I'm a big fan of that black, mirror-like finish). Again, the looks were all there, and more notably, they were very consistent in terms of build quality. As a side note, these guitars were picked off the shelf at random, sight unseen.
As far as appointments are concerned, the theme is understated elegance. The neck and body are outlined with cream binding, simple and straightforward in design and precisely laid in place. I didn't see any of the black filler that is commonly used to hide inlay imperfections. Quite simply, these are beautiful-looking, well-crafted guitars.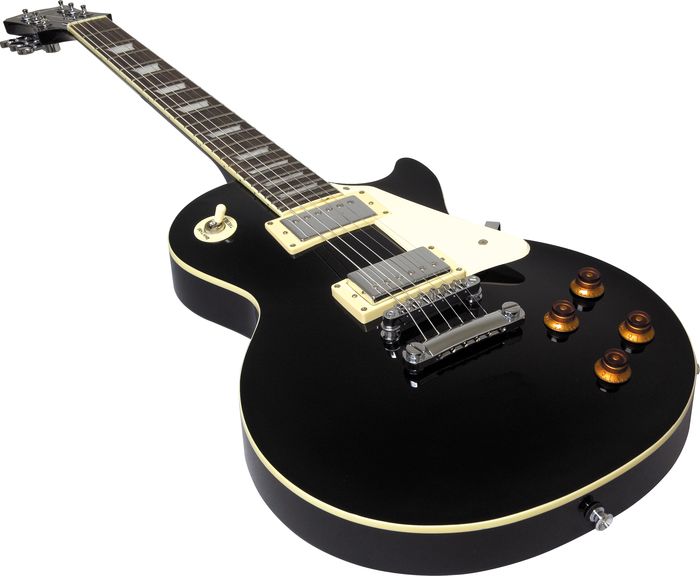 . . . feels like a Les Paul . . .
Switching back and forth between my Gibson LP Custom and the Epiphone Standard did reveal some differences in terms of weight and a certain X-factor that the Custom possesses. Still, the Standard's body is also solid mahogany, a wood known for its warmth, rich midrange, and singing upper register. Moving up to the neck, I particularly liked its thinner Slim-Taper shape that made it much easier to get around on. The frets are substantial enough to allow easy string bending and don't behave like 22 speed bumps, so fast soloing and chord changes are not a problem. The Grover tuning pegs worked with authority and without all the back-and-forth micro nanometer adjustments that plague budget machine heads. Intonation was spot-on all the way up the neck, and the guitar held its tune, due to the new LockTone Tune-o-matic stopbar bridge, which also improves sustain and makes string changes a breeze. Cost cutting and simplicity of design aside, it feels like a quality instrument—like a Les Paul.
. . . and sounds like a Les Paul . . .
I'm the first to admit that I may not possess the rarified sensibilities of certain battery-sniffing tone-freaks who shall remain nameless (if we mere mortals can get a few minutes alone at their tombstones with a sandblaster), but I do know what a Les Paul is supposed to sound like.
What initially impressed me about the Standards was their unplugged sound, which is quite resonant and almost piano-like. Kicking in the electronics, which comprise two Alnico Classic humbucking pickups based on Gibson's '57 Classic pickups, they did everything you'd expect from a Les Paul as played through a Marshall DSL100 and 1960A cab—the only exception being the bridge pickup that sounded a tad brighter than my '71 Custom. But as far as the range of tones goes, it's all there; the crunch, growl, sustain, and that thick, round jazz tone above the 12th fret when you turn the neck position pickup's tone control all the way down. Like I said, I know what a Les Paul should sound like, and the Epiphone Les Paul Plus Top did not disappoint.
. . . it is a Les Paul!
This is a whole lot of guitar for the money. Quite honestly, I can't figure out how they can pack so much value into one instrument.
With the Epiphone Les Paul Standard, anyone can have a quality instrument that will carry them right through to the pros. If you're like me, someone who can't gig without their Paul, but don't want to risk a mega-buck collector's item or that Custom Shop beauty on the road, here's your perfect solution. You can have your Paul and play it too! The playability, look, and feel of this guitar are everything you'd expect from a Les Paul, plus a whole lot easier on the wallet.
Features & Specs
Solid mahogany body
Maple top
Set mahogany neck
Rosewood fingerboard
Chrome-covered Alnico Classic humbuckers
Grover machine heads
LockTone Tune-o-matic/Stopbar bridge
Slim-Taper neck profile
Cream body and fretboard binding
Chrome hardware
Limited lifetime warranty
Tags: Electric Guitars Les Paul Epiphone