Hands-On Review: Toca Synergy Freestyle Djembes
African drums for everyone
By Miguel Ruiz
If there has ever been a time when acquiring understanding of the world's diverse cultures is important, it's now. Music is one path toward such understanding. As global communications and world travel become more commonplace, musical instruments from around the world are becoming more and more available to those who want them. Take the sudden explosion in hand drums and ethnic percussion, for instance. Once relegated to a few dusty specimens in the back of your local music shop, there's now what amounts to a flood of hand drums from the far corners of the planet available to anyone who wants to seek them out.
The African djembe, in particular, has really taken off in popularity. Many djembes are imported. These traditional handmade wooden drums, while often beautifully made, are generally expensive, fragile, heavy, and difficult to tune. Toca has recently introduced a series of djembes that offer a different take on these time-honored traditional instruments. After looking at their historical roots, we'll dive in and check out Toca's new Freestyle versions, as well as briefly appraising the changing role of drumming in today's society.
Djembe spoken here
The djembe (jem-bay), with its distinctive wide head and goblet-like shape, is believed to have originated in West Africa around 500 A.D. It has been traditionally used as a sacred drum in healing ceremonies, rites of passages, warrior rituals, and social dances. African djembes are tuned in the traditional manner with tensioning ropes. The word "djem" denotes the name of a tree with very dense wood. "Be" means goat, which is the skin that's used for the head of the djembe. In countries such as Zaire, Mali, and Senegal, the djembe is often played in ensembles along with other African instruments such as the "dun-dun" (a type of bass drum). The djembe has crossed cultural boundaries and is now found around the globe. Its thunderous lows and crackling highs are heard in musical settings from international world and Afro-beat pro touring acts to informal neighborhood drum circles.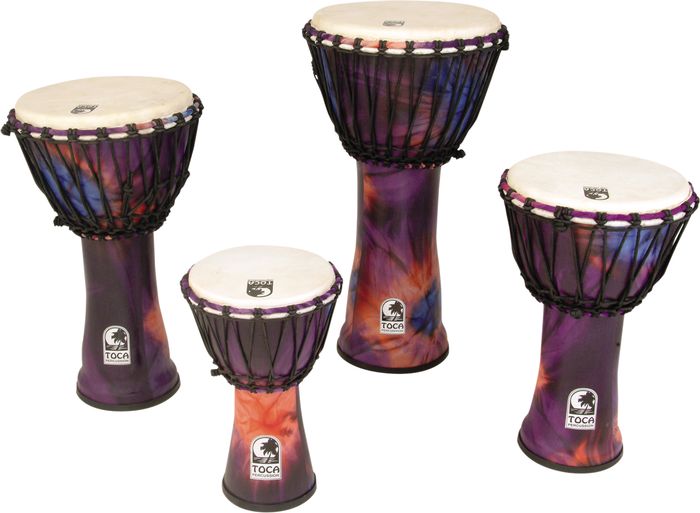 Freestyle
Toca's new Synergy Freestyle drums, while retaining much of the look and vibe of traditional drums, offer attributes that are well-suited for today's perpetually on-the-go players. They're great for those who want to take their drum down to the park for some spontaneous drum circle jamming without worrying about damaging it or having to invest in an expensive case.
The construction of Freestyle drums makes them lightweight, incredibly durable, and affordable. For drum circle devotees, children, developing players, hobbyists, and campers, the Synergy Freestyles are a great fit. Freestyle djembes employ a rope tuning system, using extra-strong nylon ropes (instructions provided) to raise or lower the pitch. The drumhead is made of goatskin as in the African tradition, which provides a rich tonal spectrum. The shells of Freestyle djembes are molded from a single piece of PVC (polyvinyl chloride). PVC turns out to be an ideal material for drum making—it is extremely lightweight, making these drums practically effortless to haul around and handle, while possessing sonic qualities well-suited for percussion. These djembes have the wide tonal spectrum that's characteristic of the traditional African instrument, allowing bright, penetrating slaps on the high end; round, sustaining open tones in the midrange; and booming lows on the bottom end. Musician's Friend carries three sizes of Toca Synergy Freestyle djembes: 9"W, 10"W x 19-1/2"H, and 12"W x 23"H. Though these drums are made of a synthetic material, their wrapped finish gives them the look of a handcrafted work of art, with striking snakeskin print and tribal red finishes. The musicians I played them with thought these drums were individually hand-painted.
Planet drum
Freestyle djembes are an ideal way to introduce young minds to global rhythms, in particular to African music and culture. Kids take to the djembe easily and can quickly produce a wide range of sounds. The included booklet covers the tuning and maintenance of the drum, along with instructions on how to produce the basic tones. Also included are several exercises and basic patterns to get you started.
Get in the groove
Playing drums is a hands-on, visceral activity that gets the blood pumping, the ears open, and the mind working in new and creative ways. Drumming offers a nice counterbalance to more cerebral activities like reading and using the computer, and it teaches volumes about cooperation and sharing. Toca's Freestyle djembes are virtually made-to-order for classrooms. They sound and look great, are very tough, and are yours for a modest investment. Bring these drums into your class and open the door to worlds of rhythmic exploration!
Tags: Percussion Hand Drums