Hands-On Review: SKB Roto-X Drum Cases
It may not be easy to get excited about drum cases. There's nothing less glamorous. But as the man said of mousetraps . . . build a better one, and the world will head for your door. That's what SKB has done, created a line of stronger, smarter, and better-looking drum cases. At least a lot of drummers are sure to come knocking.
Frankly, we've needed it. Drums are expected to be tough, and perhaps because everyone views them as unbreakable, drum transport cases haven't been all that protective. The choice has been either soft bags that only keep drums from getting scratched, and fiber cases that are more protective, but still a bit too flimsy. If the driver has to slam on the brakes and a 150-pound rack decides to slide forward, a fiber case doesn't offer much resistance. That's why most drummers try to make sure their drums are on top and in the back when the van is loaded up.
Tough on the outside
SKB's Roto-X cases are a new breed, a big improvement over their fiber counterparts. They're made of a stronger, lighter material. They're designed for greater functionality, and they offer a higher level of protection than any other cases available.
The material used for Roto-X cases is a high-density, cross-link polyethylene, and it is formed into shape by means of a roto-molding process. The material begins as a powder, fed into a mold that's spun and heated so that the powder melts, uniformly coating the inside of the mold.
As a result, each lid and body is composed of a single unified piece of even thickness and density. There are no riveted joints. Fiber bass drum cases eventually become weakened and wobbly with hard use, the lids quit fitting as tightly, and the joints eventually give out. Roto-X cases are more durable because they are made of polymer material in single pieces with less parts to break.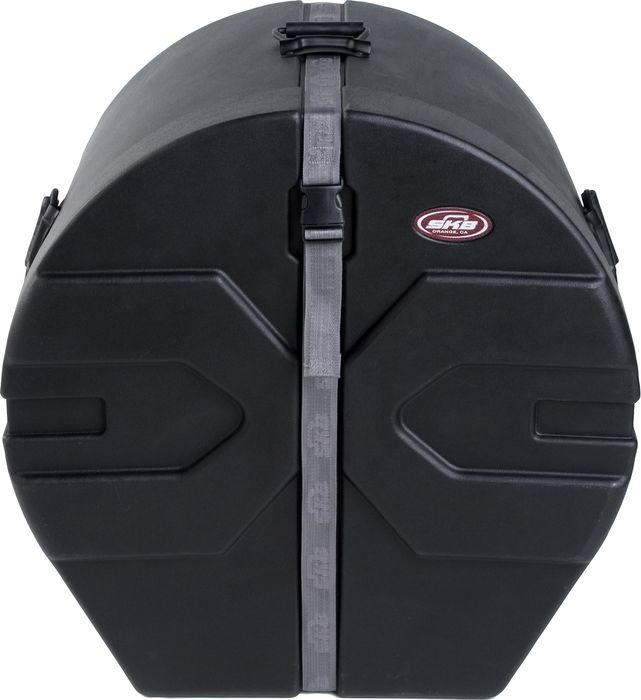 The X Factor
Roto-X drum cases are the standard D-shape design but SKB has added a few new wrinkles. One is a patented Roto-X pattern. On the lid a raised X shape has been molded into the surface. On the bottom of the case is a reversed X pattern, shaped inward. These shapes add strength and rigidity to the case, making it stronger. They also serve to keep the drums more stable when stacked one on top of another. The Xs fit into one another, even with different size cases, so the drums can't slide around.
Each X is divided by a channel that provides a path for the strap to lie in, holding it securely in place to prevent snagging and breaking. On the flat D part of the case that sits on the floor, feet have been molded into the surface so the strap doesn't sit right on the beer-soaked floor. These little design features make for a stronger, more reliable case. The hardware and straps SKB uses on these cases are made to last? heavy-duty web straps riveted to the case bottom and fitted with high-tension release buckles. Strong, sure-grip handles stop at a 90° position for easier toting.
Soft on the inside
The one advantage a padded drum bag has over a hard case is its softness. It protects the entire drum. I've seen lots of drummers who bundle their drums in baby blankets before fitting them into the case as an extra safety measure.
With Roto-X drum cases, such extra precautions are unnecessary. They're padded inside with fabric-covered foam inserts. As a result the drum is cushioned, the finish protected, and the drum is held snugly so that it doesn't bang around inside. Guitars always get a nice soft bed to lie in. Why not drums?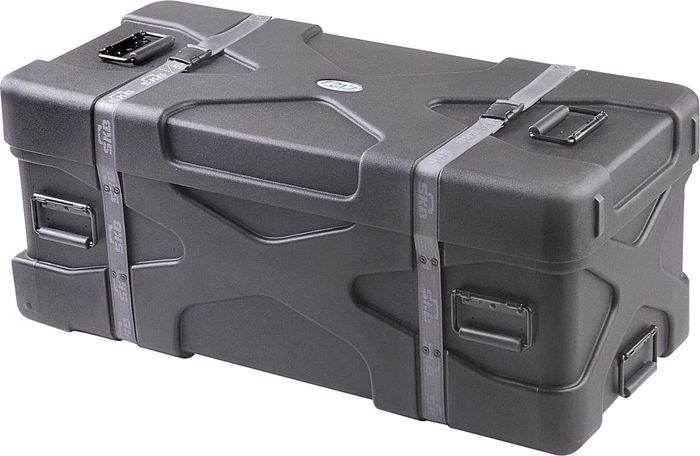 The new Trap-X
SKB hasn't left out the trap case. They are just now releasing a whole new design for the Roto-X Series. It's a poly roto-molded case with all kinds of new features that make it way superior to any other trap case on the market. It measures 16" x 18" x 40" to accommodate more gear. It features 4" wheels for easy rolling, glides for pulling it up stairs or over tailgates, lots of handles with 90° stops and a pullout tray. It is designed so it can be moved easily by one lone drummer or carried even more easily by two people. The Xs are designed in so it can be stacked along with the other Roto-X cases. It can even be used as a monitor stand once your kit has been set up. In short, it's designed to be stronger, to hold more, to be moved with less effort, to help you set up quicker, and to serve you in more ways.
Sharp looks
Functionality and overall strength make SKB Roto-X cases the drummer's logical choice, and they are good looking, too. Even when stacked behind the stage and not in use, they still say, "We belong to a serious pro who is properly equipped." You may even find yourself taking the Armor All® to them occasion.
Features & Specs
Drum cases are made of high-density polyethylene
Two halves of each drum case are formed as a single piece with no riveted joints
Roto-molded for consistent thickness, density, and strength
Patented Roto-X pattern on tops and bottoms provide strength and secure stacking
Fabric-covered foam inserts securely cradle drum for maximum protection
Sturdy, high-tension slide release buckles and heavy-duty web straps provide reliable closure.
Sure-grip handles with a 90° stop are designed for easy lifting and toting
Molded feet on bottom protect strap when case is in upright position