Hands-On Review: Sabian XS20 Cymbals
Classic B20 cast bronze—unprecedented value
By Brad Perkins
The Hand Hammered and AA series cymbals that Sabian offered at their launch 25 years ago have been joined by such award-winning innovations as AAX, HHX, and Vault, which have become favorites with many of the world's top players. The XS20s are more recent value-priced additions that are definitely worth hearing. This full range of models is created from the same B20 alloy used in the earlier high-end series, but is priced surprisingly low.
Handmade and hi-tech
To appreciate XS20 cymbals it is helpful to know that Sabian B20 bronze is the most durable and musical of all cymbal metals. It is the "secret process" metal played by pros including Chad Smith, Mike Portnoy, and Dave Weckl. Ten years were spent researching and designing the XS20s in order to make this precious metal available to drummers on more modest budgets. In the end they created a B20 bronze cymbal that sounds great yet is priced low enough so everyone can play the metal that matters the most.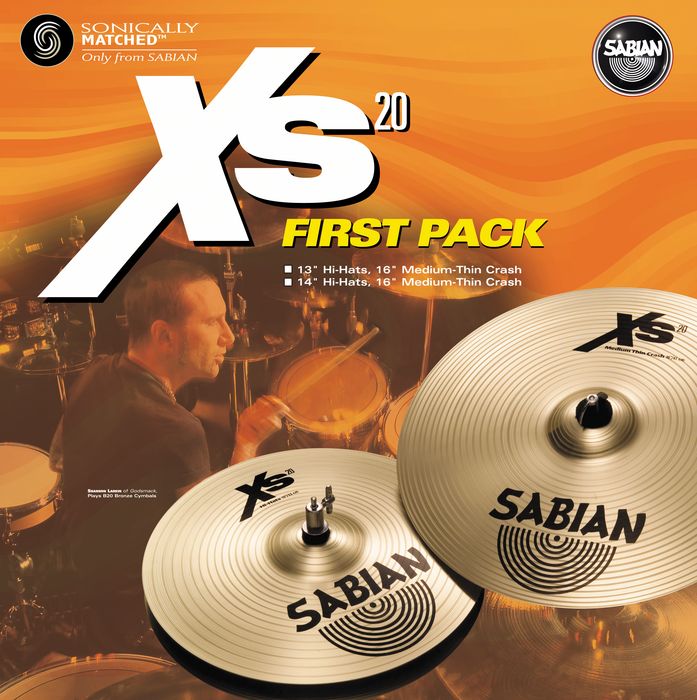 An XS20 cast bronze cymbal using B20 alloy starts life as an ingot of copper containing silver and tin. These are combined using a centuries-old secret process. First the metals (80% copper containing silver, 20% tin) are melted to create the alloy. This is poured into a crucible to cool into a small but extremely heavy, pie-shaped casting. The metal is then heated and rolled out many times until it is a large, round blank. Unlike HHX, AAX, and other B20 cymbals, there is less handwork involved in creating XS20s, so the price is lower.
By contrast, a sheet bronze or unirolled cymbal starts as a blank cut from a sheet of B8 bronze. B8 is a softer alloy (92% copper, but only 8% tin). Because their blanks are cut from large sheets, these cymbals start with the same thickness and weight, so they sound very consistent with each other. By comparison, cast cymbals start from castings that are all slightly different in weight. This contributes to the unique individuality of their sound. XS20s combine legendary Sabian durability and musicality in a selection of quality B20 cast bronze cymbals priced surprisingly low, making them ideal for players ranging from beginner to pro.
XS20s in performance
I gave the XS20 Rock Performance Set a sound test. The set contains key models in the most popular sizes—a 20" ride, 16" crash, and a pair of 14" hi-hats. The sturdy hard case (included free with the set) also contained a certificate of authenticity signed by a cymbal specialist from the Sabian Vault. Following were details about how the cymbals were tested and "Sonically Matched" to ensure they blended nicely as a set.
The XS20s had a sound that was rich, bright, and focused, with an evocative range of sounds riding underneath the surface. The 20" ride produced a wide spectrum of tones and colorations when played with different types of stickings. The bell spoke with great clarity and projection and was never too harsh or metallic sounding.
The XS20 crash created intense, full crashes for dramatic accents. The 14" hi-hats cut through with clarity when brought together with the foot. They generated a wide range of tones from fat and full when played on the edges to bright and chime-like when played on the top surface. Closed, they retained their character very well.
The cymbals recorded extremely well with an overhead mic. The sound was focused and musical, while the overtones never got out of control. The XS20s sounded far better than any other intro-priced models I've tried. When they were introduced at the NAMM show a couple years ago, many major players only realized these were "budget-priced" cymbals when they were told so. Drummers who play at lower volumes will probably want to seek out the XS20 Performer versions for their less aggressive volume and musical flexibility.
Tradition of innovation
Sabian was founded in 1981, yet has roots that go back centuries. Sabian was started by Robert Zildjian of the famous cymbal-making family. Operating out of a facility on the banks of the St. John River in New Brunswick, Canada, Sabian attracted a wealth of great talent. In addition to already having a group of expert artisans, the company was joined by some of the world's greatest hand-hammering experts, who moved to Sabian from Istanbul, Turkey.
Sabian's cymbal lines now include everything from traditional-style cymbals to custom creations developed with top artists (the Dave Weckl-inspired HHX Evolution and HHX Legacy are prime examples). Today Sabian cymbals are played by many of the world's leading players, including Jack DeJohnette, Neal Peart, Billy Cobham, Shannon Larkin, Will Calhoun, and Walfredo de los Reyes. Though Sabian artists continue to play a role in the development and creation of new cymbal models—as lines including Vault, HHX, AAX, and XS20 reveal—the real creative power lies with the artisans at Sabian. With XS20s they've created and filled a valuable niche, letting even cash-strapped drummers enjoy the classic sounds of hand-hammered B20 bronze.
Features & Specs:
Sabian XS20 Cymbals

Rides:

Crash/Ride:

Crash:

18"
16" Rock
18" Medium-Thin
16" Medium-Thin

XS20 Cymbal Packs

Rock Performance Set:

20" Rock Ride, 16" Rock Crash, and 14" Rock Hi-Hats
Hardshell case

Performance Set:

20" Ride, 16" Medium-Thin Crash, and 14" Medium Hi-Hats
Hardshell case

First Pack 13/16:

13" Hi-Hats and 16" Crash

XS20 Cymbal Packs

First Pack 14/16:

14" Hi-Hats and 16" Crash

2 Pack 14/18:

Splash:

Chinese:

Hi-Hats:

13" Regular
14" Regular
14" Rock
Tags: Cymbals Acoustic Drums Sabian