Hands-On Review: RhythmTech Performer Plus and Studio Packs
Pro percussion for every kind of musician
By Richard Kimball
Rhythm Tech, a company best known for their extensive line of percussion instruments and accessories for pro drummers and percussionists, has just introduced two new instrument collections that put it all together for singers and players of every type who want to play or expand their percussive abilities. The Studio Pack includes a selection of instruments that are great for recording in either pro or home studios, while the Performer Plus Pack puts the focus on percussion for live performance.
Rhythm Tech's experience in equipping the pro percussion market over the years ensures that these packages include all the right instruments to add rich and professional-sounding rhythmic tones and textures to virtually any style of music. Players or singers who have had little or no percussion experience will benefit from the Player's Guide that's included with both packs featuring instructions on how to play the instruments and featuring exercises to quickly bring your skills up to speed.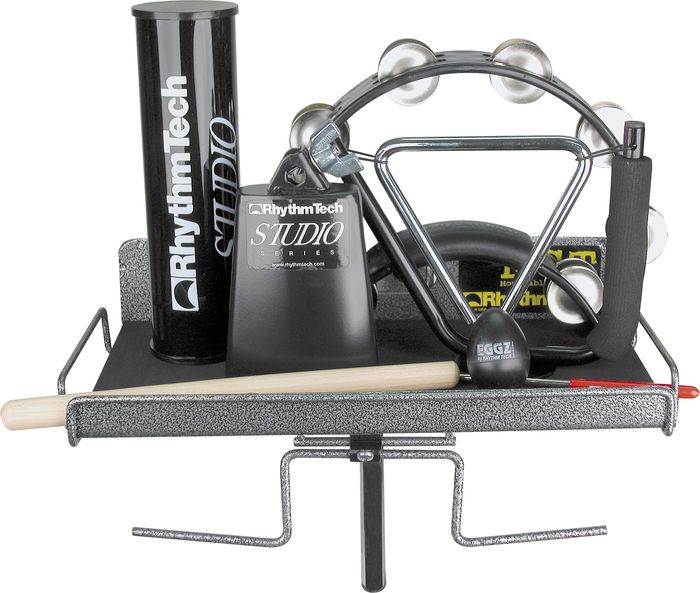 Shake it up in the studio
The Studio Pack contains 5 instruments that have become classics in the studio percussionist's arsenal, perfect for adding just the right amount of spice to your GarageBand or other home studio production.
The RT 1010 tambourine has an innovative ergonomic half-moon-shaped design that made it an instant hit with singers, guitarists, and keyboardists playing pop music on the club circuit. Its shape makes it easier to play than standard round tambourine designs, and the high-impact plastic construction makes it light and nearly unbreakable. The bright, projecting sound of the nickel steel jingles is a natural for rock and pop.
Cowbells have been ubiquitous on recorded music ever since Santana's rhythm section introduced this staple of Afro-Cuban music to American contemporary pop. The Studio Pack includes the RT 3005 cowbell, a black medium-sized model that's perfect for rock and popular styles as well as salsa, Afro-pop, and other world genres. The sound is high, dry, and tight—ideal for creating propulsive grooves and cutting accents. A traditional beater is included.
The black cylindrical studio shaker has dry, crisp, and cutting sound with internal ridges for increased volume and tonal variety. Similar to the metal ganza shaker from Brazil, the studio shaker is perfect for adding texture and motion that lubricates the groove of any recorded track. The egg shaker has a smaller, more tightly focused sound that's ideal for acoustic and lower-volume jams.
The versatile 5" high-carbon steel RT 6000 triangle can be played on a tabletop, hand-held, or mounted using the optional RT 7960 mount, in effect giving you three triangles in one. It allows you to play with more speed and precision. The triangle lends itself to diverse playing styles from Latin to classical to folk and rock.
The Studio Pack comes with a gig tray—a handy table that holds all the percussion instruments and includes a versatile mount for attaching to a mic, cymbal, or hi-hat stand. The tray is covered with a rubberized surface that allows you to set instruments down silently. If you're a drummer who's looking to expand your skills or a percussionist who wants to grow your collection, the Studio Pack is the way to go.
During my years on the road as a pro drummer/percussionist it took me years of rummaging through the selections of drum shops and music stores to put together my percussion collection. Rhythm Tech has done the leg work for you with their Studio Pack, assembling the favored instruments of top studio percussionists into one compact setup.
When it comes to percussion, sampled instruments don't compare with the real thing. You won't find a better sounding or more cost-effective solution than Rhythm Tech's Studio Pack when it comes to adding the final rhythmic touches to your latest home studio masterpieces.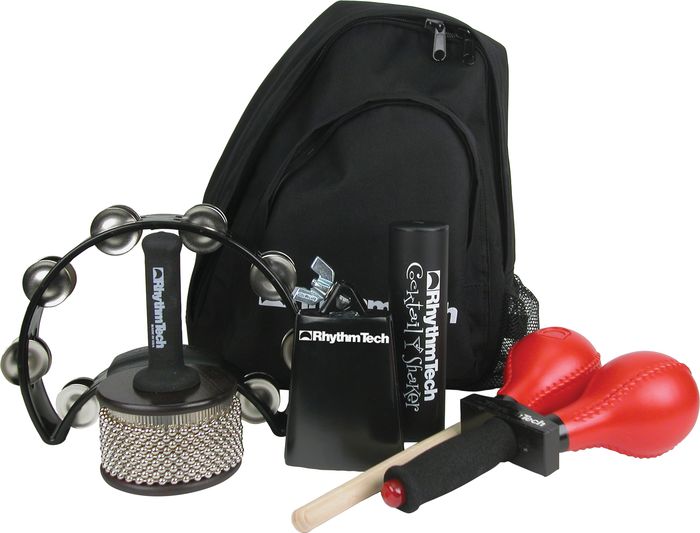 Peak performance
The Performer Plus Pack includes the same cowbell, tambourine, and egg shaker found in the Studio Pack while adding several other instruments that are perfect for playing live. If you're a vocalist, guitarist, keyboardist, or horn player with a band, you've probably at least once or twice picked up a shaker or tambourine to help make the groove move. Why not give yourself the tools to add rich, professional-sounding accompaniment to your band's performances? The included Player's Guide helps even the percussion novice to play tasty parts that fit the music and work with what the drummer is playing.
The aluminum cocktail shaker is a slightly smaller variation of the studio shaker that's found in the Studio Pack, and its sizzling, silky sound is perfect for providing driving accompaniment in many different musical situations. The Gemini maracas offer a new twist on the old rhythmic favorite with twin maraca heads mounted on a single handle for uniquely comfortable feel and precise control.
The RT cabasa is made from American walnut and has a unique rubber grip that makes it easier and more comfortable to play. The cabasa is played by resting the metal beads of the body on one hand while turning the body with the other hand. The body of the cabasa has a new linear pattern on the scraper that produces a brighter, more cutting sound, and the chrome hardware gives it a high-tech look.
Finally, a sling-style backpack is included to haul around your Performer Plus percussion instruments. It keeps your collection in good shape and makes it easy to take to gigs.
Percussion for everyone
If you're a singer, guitarist, drummer, or other band member who wants to get into hand percussion, these well-thought-out packs are the perfect way to prepare yourself for any musical situation. Your band will be surprised and delighted at how much a dash of percussion here and there adds to the sound.
If you're already a drummer or percussionist, the odds are that you already own some Rhythm Tech percussion, but with these well-thought-out packages, expanding your percussion collection just got easier.
Project studio owners with a standalone recorder or computer-based system such as GarageBand, Logic, or Sonar, will find Rhythm Tech's Studio Pack has everything required to sweeten your tracks to perfection.
Features & Specs
Rhythm Tech Studio Pack:
RT 1010 Tambourine
RT 3005 Cowbell
RT CBB Cowbell Beater
RT 2019 Studio Shaker
RT 6000 Trigger Triangle
RT 2110 Egg Shaker
RT 7500 Gig Tray
RT PG06 Player's Guide
Rhythm Tech Performer Plus Pack
RT 1010 Tambourine
RT 3005 Cowbell
RT CBB Cowbell Beater
RT 8000 Cabasa
RT 2035 Cocktail Shaker
RT 2302 Gemini Maracas
RT 2110 Egg Shaker
RT SSBP Sling-Style Back Pack
RT PG06 Player's Guide
Tags: Percussion