Hands-On Review: Pearl Reference Drums
The Best Of Masterworks
By Mitchell Goodrich
Reference drums are for players who want a perfectly matched set of premium drums without deciding all the details of their construction. Lessons were learned from other series—the sound characteristics of wood from Masters (the forerunner to Masterworks) and how blending wood types affects the sound from Masterworks.
When Pearl's Gene Okamoto and his cohorts set out to create the ultimate drum set, their point of departure was the Masterworks Series. Masterworks drums allow the drummer to create the kit of his or her dreams by choosing the wood type (either alone or blended), thickness, bearing edge, hardware, and color of each drum. They are for drummers who want to specify every aspect of their kits.
Quest For Perfection
It was known from Masters that maple has a very smooth frequency response with essentially equal amounts of lows, mids, and highs and very good projection due to its hardness. African mahogany has very strong lows and rich (think vintage) sound, but because it is relatively soft, projection is reduced. A 100% maple drum has great all-purpose sound. An all birch drum produces a naturally EQ'd sound (boosted lows and highs) that's great for recording and live applications requiring more cut. An all African mahogany drum produces a warm, rich sound that is ideal for near-field applications.
From Masterworks, the Pearl team discovered that the inner ply influences the sound the most. Adding birch to the inner ply gives the drum more cut and projection while African mahogany adds warmth and depth to the sound. Thicker shells make drums louder but also make the pitch go up. To make a drum that's loud AND warm (especially useful for bass drums and floor toms), they added African mahogany to the inner plies with sensational results.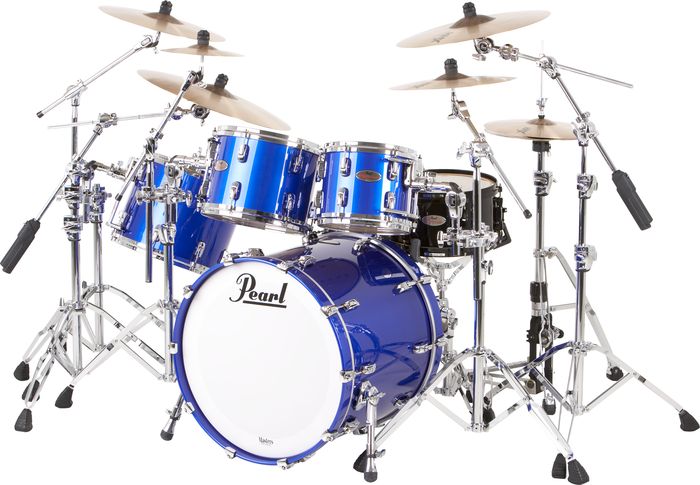 What Okamoto and company didn't know, however, was how much birch and African mahogany was optimum and what was the optimum thickness for each size drum. To find out, every combination of shell thickness from four to ten plies with two to eight inner plies of birch and African mahogany were made. Each size was carefully tuned and evaluated by Pearl's staff of pro drummers using "control" samples made of 100% maple as a reference. It was soon discovered that the 12" all maple tom sounded the best and was the ideal "pivot point" for smaller toms with birch inner plies and larger toms with African mahogany inner plies.
As time went on, winners emerged in each size, which were assembled into a kit. The results were incredible! For the first time, a drum set was designed with each drum optimized for sound rather than made with one wood and thickness, cookie-cutter-style.
Next came the hardware. Optimount tom holders were used for absolute tom stability with minimal damping. The floor toms use LB-200 bridge leg brackets with rubber gaskets for minimal shell contact. For bass drums, BRL-300 swivel lugs with stainless steel tension rods and CW-300 claws provide consistent tuning and perfect head seating. Snares feature die-cast hoops, stainless steel tension rods, and BK-55 swivel lugs for ideal head seating and tuning.
A Clear Edge
The next step was to perfect the bearing edges (where the shell contacts the drumhead). Pearl's normal bearing edge is 45° from the inside out with a 45° backcut with the peak over the second ply from the outside. This edge gives a good balance of attack and fullness, but to see if there was something better, bearing edges of all angles were tried.
Gene Okamoto describes one of the "Eureka moments" during the process of listening to drums with various bearing edges as follows: "We were trying to come up with the perfect bearing edges for the low toms and bass drum, and nothing was quite working. I had to take a break and walked out into the hallway. It was then that I heard amazing low-frequency drum sounds coming from the testing room. I rushed back in and found that the research team was trying out round bearing edges. Everyone agreed that we had found the sound we were looking for."
Accordingly, rounded bearing edges are used for the rack toms 14" and larger, floor toms, and bass. 13" and smaller toms are cut with 45° bearing edges to achieve maximum punch.
Sound Check
The sound of the five-piece Reference Fusion configuration that Pearl sent me for testing was simply stunning. The higher toms had intense focus and cut, while the lower toms had astounding depth and resonant low-end power. The bass drum was the best I've ever played, with the kind of huge, enveloping warm presence that's felt as well as heard.
With 20 plies (6 inner plies of birch surrounded by 14 plies of maple) the snare had tone that exploded like a cannon when hit hard, yet could express the quietest press rolls and grace notes. Its radical thick-shelled design ensures that all the snare's sonic energy goes into moving air and creating sound, not excess vibration.
Conclusion
Reference drums attracted top players from the outset. Chad Smith used the first complete Reference set to record the Red Hot Chili Pepper's Grammy winning Stadium Arcadium album, as well as on subsequent releases by the Dixie Chicks. Since then, the Reference Series has won many fans including some of the drumming art's greatest exponents, such as Dennis Chambers and Omar Hakim.
Features & Specs:
Reference Tom
Choose 8" x 7", 10" x 8", 12" x 9", 13" x 10", or 16" x 13"
45° bearing edges
8" x 7", 10" x 8", or 13" x 10" toms — 2 inner plies birch, 4 outer plies maple
12" x 9" tom — 6-ply maple
16" x 13" tom — 4 inner plies mahogany, 2 outer plies maple
Reference Snare
Choose 5" x 14", 6-1/2" x 14", or 6-1/2" x 13"
45° bearing edges
6 inner plies mahogany, 14 outer plies maple
Reference Floor Tom
Choose 14" x 14" or 16" x 16"
2 inner plies mahogany, 4 outer plies maple
Rounded bearing edge
Reference Bass Drum
Choose 22" x 18" or 24" x 18"
6 inner plies mahogany, 2 outer plies maple
Rounded bearing edge
Reference Standard 5-Piece Shell Pack
22" x 18" bass
12" x 9" and 13" x 10" toms
16" x 16" floor tom
5" x 14" snare
Reference Fusion 5-Piece Shell Pack
22" x 18" bass
10" x 8", 12" x 9", and 14" x 11" toms
5" x 14" snare
Tags: Acoustic Drums