Product Spotlight: PreSonus AudioBox VSL-Series USB Interfaces
Recording and monitoring with realtime software effects
By Steve Oppenheimer
PreSonus Public Relations Manager
The PreSonus AudioBox USB has long been one of our most popular interfaces. We like it, customers love it, and we're continuing to offer it. We continually strive to improve our products, so an upgraded AudioBox was inevitable. And indeed, the new AudioBox VS-series interfaces employ USB 2.0; our top-of-the-line solid state XMAX™ preamps; and improved, 24-bit/96kHz converters. But that's just the start.

The big news is that we have achieved a technical breakthrough, reducing latency far below that of other interfaces. (Latency is the time it takes for audio to be converted to digital, sent to the computer, processed, returned to the interface, and converted back to analog.) As a result, instead of just an upgraded AudioBox, we have created a next-generation line of audio/MIDI interfaces that take hardware/software integration to the logical next step.
Using your computer and PreSonus Virtual StudioLive™ (VSL) software, the new AudioBox VSL-series interfaces provide reverb; delay; and the same Fat Channel compressor, limiter, expander, semi-parametric EQ, and high-pass filter as the PreSonus StudioLive™ 16.0.2 digital mixer—all with inaudible latency. Now you can monitor with realtime effects and can monitor and record with realtime dynamics processing and EQ!
What's so Great about Effects and Processing on Monitors?
Tracking without hearing effects and signal processing is like playing a video game with your eyes closed. Musicians rely on aural cues when performing, and their performance can vary depending on what they hear in their monitors. Adding just the right amount of compression, EQ, and reverb can make a huge difference in their ability to hear themselves clearly and to experience their performance as if it occurred in a natural space. The result is a better performance and a better recording.
You have plenty of effects plug-ins for your DAW, but processing audio with a DAW takes long enough that if you put plug-in effects in your studio monitors, you'll hear the original sound slightly before the processed signal, which is very disorienting. That much delay might be acceptable for live gigs, where the band is playing together in an ambient space that has natural delay. But you can't record that way in the studio.
Fortunately, our engineering wizards have dramatically reduced processing delay in the PreSonus AudioBox VSL-series. The result: dynamics processing, EQ, reverb, and effects that feel real with no audible delay. And if you like what you hear, you can record with the same high-quality StudioLive™ 16.0.2 Fat Channel dynamics processors and EQs that professional musicians, engineers, and producers record with every day.
Great Processors are a PreSonus Tradition
PreSonus didn't invent the first audio interface with effects. We simply did it better and for less money. Sure, some interface manufacturers who don't normally make signal processors have added a compressor, EQ, and a few effects to their interfaces. But the AudioBox VSL-series provides all that, plus a separate limiter, expander, and high-pass filter—and we've been making high-quality signal processors since 1995. The AudioBox VSL-series' Virtual StudioLive (VSL)-based effects and Fat Channel processing have been extensively field-tested and proven popular by tens of thousands of StudioLive-series mixer users, including many top professionals.
And thanks to VSL's drag-and-drop convenience, adding processing and creating and loading presets is easy. Pro-level processing and superior ease of use mean you'll get better results and have more fun!
Three Great New Interfaces
The AudioBox VSL-series includes three models, all of which provide MIDI I/O; sport the same high-headroom, Class A XMAX™ preamps as the StudioLive mixers; and have 24-bit/96kHz converters with 114dB dynamic range for clear, clean audio.
Bus-powered, compact, and rugged, the AudioBox 22VSL offers two front-panel mic/instrument combo inputs with global phantom power and provides two line-level outputs. VSL makes it a next-generation product with two dedicated effects buses for reverb and delay and the Fat Channel processing from the StudioLive 16.0.2. The AudioBox 22VSL also employs the same heavy-duty steel case as the original AudioBox USB—the unit we famously stomped, kicked, and drove over with a full-size truck before using it to make a very nice recording. (You can witness this in the video AudioBox USB Built for the Road, available on our YouTube channel.) Now that's what we call "roadworthy." This mighty mite fits in just a third of a rackspace and can be screw-mounted to a standard rack tray (not included).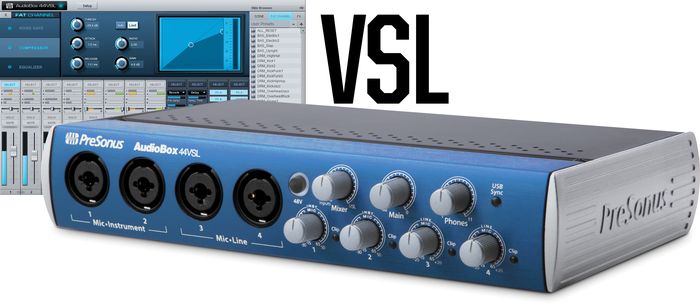 Equally rugged, the half-rackspace AudioBox 44VSL offers two front-panel mic/instrument combo inputs and two mic/instrument combo inputs, global phantom power, and six line-level outputs. VSL provides an 8x4 software mixer, enabling you to mix and record with realtime processing.
The flagship AudioBox 1818VSL delivers a combination of features, audio quality, and value that is unprecedented in this product category. This is a pro product all the way, with two convenient front-panel mic/instrument combo inputs and six front-panel mic/instrument combo inputs, true 48V phantom power (switchable in two banks), eight line-level outputs, and word-clock output. ADAT optical I/O provides eight more channels of input and output (at 44.1 or 48kHz; four channels at 88.1 or 96kHz). Stereo S/PDIF coaxial digital I/O brings the total to 18 audio input channels and 18 output channels—all in one rackspace. With its 26x8 software mixer, you can mix a full band with just an AudioBox 1818VSL and a laptop—all while monitoring and recording with or without realtime processing!
The Flexibility and Power of Software
The PreSonus VSL interface enables you to easily manage the processing and mixing from your Mac® or Windows® PC and provides editor/librarian functions, making it simple to create and use a library of presets. To get you started, we've included the same library of more than 50 field-tested Fat Channel presets that comes with StudioLive mixers.
Seamlessly integrated with the included Studio One™ Artist DAW and VSL, the AudioBox VSL interfaces work with virtually all Mac and Windows audio-recording software. And they're very easy on your budget. So get the next-generation USB 2.0 interface that gives you realtime, low-latency effects; rock-solid construction; and high-end audio for low-end prices: PreSonus AudioBox VSL!
Tags: Recording Audio Interfaces