Hands-On Review: eMedia Bass Method
A breakthrough in self-taught music instruction
By J. Mochi Park
Bass guitar is a pretty simple instrument (that's why I play it), but like any musical instrument, it can be taken to any depth of virtuosity. The eMedia Bass Method, Volume 1 breaks the instrument down to it's basics, giving beginners a very solid foundation for learning the instrument. But the CD-ROM learning tool goes deep into the subject and covers the realm of bass playing far into what might otherwise be considered "intermediate" player territory. The bottom line: There's enough material here to bring any aspiring bassist from their first note to very competent, all-around musical ability in no time at all.
Extensive Song List
The eMedia Bass Method includes instruction on more than 100 songs, including plenty of standard chord progressions which serve as sound-alike versions of unnamed hits (which most people will quickly recognize), and such classics as Bob Dylan's "Knockin' on Heaven's Door," Creedence's version of "Midnight Special," Ritchie Valen's "La Bamba," the Grateful Dead's "Uncle John's Band," and more. The set list includes rock, country, folk, and popular tunes from across the decades, so there's bound to be a few songs most people will enjoy learning, even if they don't want to admit it to their friends - the one's with the pierced tongues and tattoos. Oh, and many of the songs taught on the Bass Method disc are also taught on eMedia's Guitar Method set, so you can immediately start jamming with a friend who is learning from that program.
Watch It Again
The disc is - as are all of eMedia's lesson CD-ROM's - populated with video clips of a talented instructor, in this case a professional musician who has toured with Liza Minnelli and Les Paul and now makes a living playing in the orchestras of Broadway shows. John Arbo breaks all of the requisite instrumental techniques down simply and clearly in each of the short Quicktime video clips. Learning couldn't be any easier.
Animation and Automation
The animated fretboard shows students exactly which notes to play - not only where, but when, as the song rolls on. The fretboard graphics can be switched to show left-handed bass too. It's a great learning tool in itself, but the Bass Method disc is full of other features: an automatic tuner, a metronome, variable speed MIDI versions of all the songs, tablature, notation, and a chord dictionary that plays every chord imaginable on acoustic guitar for your personal listening satisfaction. Perhaps the coolest feature of all, however, is the ability to record and listen to yourself playing through a microphone connected to your computer (microphone not included), even to record your playing with the lesson songs.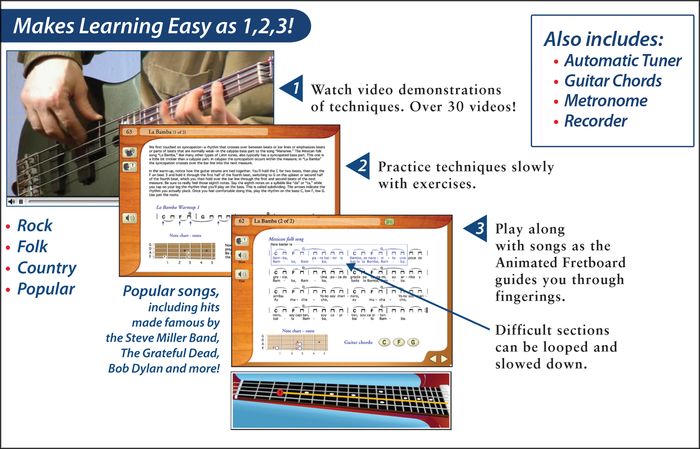 All This and More For Only...
The eMedia Bass Method, Volume 1 is reasonably priced at $59.95. And considering that you'd pay just about that much to leave the comfort of your humble abode a couple of times, travel on down to your local music store, and sit in an uncomfortably small room with a local music teacher who may or may not have figured out how to deal with the public or how to teach them to play a musical instrument. And after that blind date you'd still have to go home and try to remember whatever you learned in that brief and embarrassing half-hour of your life. Why bother? This disc has that scenario beat hands down.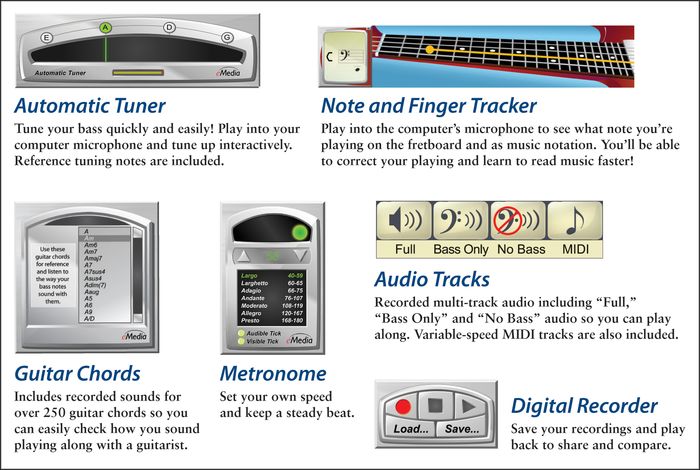 Hardware Requirements:
PC: Pentium PC or better, Windows 95 / 98 / NT / 2000 / Me, CD-ROM drive, sound card, VGA+ display, 16 MB free RAM Macintosh: Power PC, System 7.5.3 or greater, CD-ROM drive, 16 MB of free RAM
Tags: Software Print Music & Videos