Hands-On Review: Acoustic B20 and AB50 Bass Amps
Reviving a great name and a great tradition.
By Jim Gault
Musician's Friend Staff Writer
Most older bassists fondly remember Acoustic bass amps. These Southern California-made solid staters were leaders in bass amplification, known for their power, simplicity, moderate prices, reliability, blue accent colors, and for a distortion circuit on some models that was killer.
What's old is new again
The company went to audio heaven around 1984. Actually, it morphed into TrueTone and focused on PA power amps. Technical guru Steve Rabe left to pursue other interests such as found SWR, and other key employees went on to distinguish themselves in the amplifier world. The Acoustic name disappeared from the bass amp scene for a couple of decades, but has remained alive in lore and legend, as well as on eBay. Acoustic amps were such hardy and reliable devices that there are plenty of 30-year-old models still being used and, on occasion, offered for sale.
Now Acoustic bass amps are starting a comeback. The new B20 and AB50 combos are the first of a full line of Acoustic amplifiers that will soon be available to the public. They are not intended to be vintage replicas of the historic Acoustic models, but updated amps that embody the look, virtues, and spirit of the original Acoustics.
The B20
My first look at the B20 Bass Amp summoned up a feeling of "deja vu all over again." It has the Acoustic vibe for sure. It's a 20-watt combo—essentially a practice amp—but with a 12" speaker, rather than the 10" you'd expect. This larger speaker and a surprising amount of output make it more jam-capable than the average 20-watter. It offers simple operation and has great bass tone.
The cab is Tolex covered and has nickel corners, a molded rubber handle, rubber feet, and a black grille. Connections include two instrument inputs, 1/8" line in jack for playing along with CDs or MP3s, and a headphone output for silent practice. For tone shaping it offers four bands of EQ with low and hi mids that really let you dial in the precise sound you desire.
In general, it's a well-built, nicely equipped, solid-sounding practice and jam amp, and a sweet buy at its very modest price. It's also perfect for the player who has a nostalgic fondness for the Acoustic amps of yore and would like to have one again, just for old-time's sake.
The AB50
Though it has the Acoustic look and lives up to the Acoustic tradition of simple excellence, the AB50 Bass Amp is different from any Acoustic amp produced in the past. It is the first Acoustic—or amp from any source—specifically designed for acoustic-electric basses—the first Acoustic acoustic, you might say. It is a 50-watt 1x10 combo equipped with a tweeter. The cab has a tilt-back design with a wedge shape, and offers a generous set of features for an amp that is so affordably priced.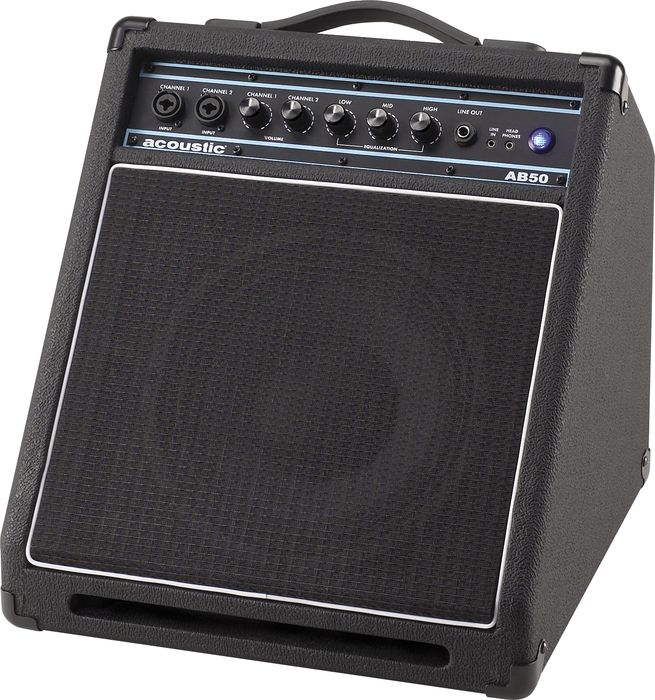 First of all, it has two inputs, each with its own volume control, and the jacks are XLR/1/4" combos, so you can plug in whatever your acoustic-electric has without need of an adapter or DI box. You can also use the second input for a vocal mic or to plug in a second instrument. It has a three-band EQ tuned for effective feedback control of acoustic instruments. I/O includes a line out for a recording device or mixing-board connection, and it also has a line in and headphone out that equip it for play-along and silent practice.
How it plays
With 50 watts driving a 10" heavy-duty speaker, the AB50 has amazing output for such a compact unit. The electric bass sounds smooth, tight, and clear with well-defined low end. I plugged in an acoustic-electric guitar and then a mandolin, and got good results with both. The 10" speaker combined with a tweeter gives it a full range and the ability to reproduce almost any acoustic instrument.
Both the B20 and the AB50 are exceptional amps for their price and embody the traditional virtues of Acoustic amps: simple operation, serious volume for their sizes and wattages, and well-made to be durable and reliable. You can't go wrong with either of these small Acoustics, and if you want something bigger, just wait. It's on the way.
Features & Specs
---
B20:
20W
12" speaker
Dual 1/4" input jacks
1/8" stereo line-in for MP3 or CD player
1/8" headphone out
Blue LED
Tolex covering
Nickel corners
Aluminum-capped knobs
Molded rubber handle
Rubber feet
Black grille
White piping
AB50:
50W
10" speaker with HF tweeter
Tilt-back wedge-shaped cabinet
2 dual purpose inputs (1/4" & XLR mic)
Independent volume controls
1/8" stereo line-in for MP3 or CD player
1/8" headphone out
Tolex covering
Nickel corners
Aluminum-capped knobs
Molded rubber handle
Rubber feet
Blue LED
Gray speaker cone
Black grille
White piping
Tags: Amplifiers