Hands-On Review: Sonor Orff Percussion
Sonor and the Orff Difference
By Gary Lourdes
For the uninitiated: No, Orff is not an onomatopoeic description of a dog noise, a goofy Hanna-Barbara cartoon character, or a sublimely poetic and gifted cartoonist. Orff refers to two things. The first and most common way the word is used is in reference to a set of percussion products developed for use by small children and/or beginning musicians. The second is in reference to the man responsible for the development of these percussion instruments and the philosophy of education that inspired them: Carl Orff. Both of these Orffs are intricately intertwined with the German company Sonor.
Carl Orff was a composer, a man of the theater, and an educator. In the mid '20s, working in close collaboration with his coworker Gunild Keetman, Orff developed the Orff Schulwerk, a new model for teaching music and movement. The Schulwerk has enlivened the teaching of music and dance in many parts of the world.
Why Orff?
Orff is a philosophy, though, not just a choral program or the instruments the children play. Perhaps the main tenet of Orff is the belief that once you get children creating and involved, the floodgates of education and teaching are opened. It gets the children actively engaged and up moving around. The air of slight chaos found in Orff classrooms is really just the excitement of children involved in the process of creation and the celebration of ideas. Another nice thing about the Orff system is that it takes the pupils wherever they are and grows them from that point. There are no requirements, there are no prerequisites, you can jump in with both feet and no fear. It makes music education a living, breathing entity that crosses all boundaries of culture and ability to unite students in learning not just about music, but about life.
In combination with the Orff instruments, Schulwerk offers versatility, flexibility, and attention-grabbing tools. Singing, speaking, playing instruments, and moving give the teacher the ability to open up the rest of the world (math, literature, culture, etc.) to a young audience through music. Orff Schulwerk happens in a non-competitive atmosphere where one of the rewards is the pleasure of making good music with others. When the children want to write down what they have composed, reading and writing find their moment.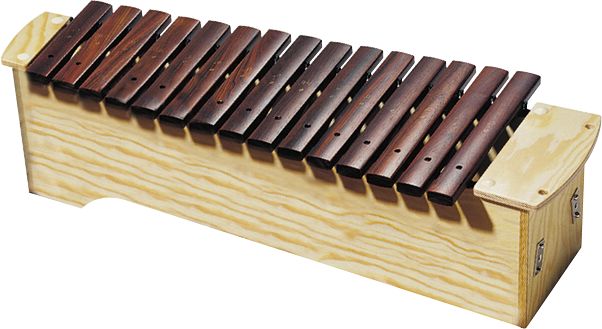 Sonor and Orff
For more than 50 years Sonor has been involved with, and committed to, active support of Orff. Early on, Sonor built xylophones, glockenspiels, timpani, cymbals, and small percussion instruments. A new era started in 1953 when the Orff instrument collection was officially introduced. Together with Hans Bergese, a former student of Carl Orff, an innovative and progressive range of instruments was developed.
The first Orff instruments were imported into the U.S. in the 1950s. As one of the largest manufacturers of elementary classroom instruments in the world, the German factory now uses modern production techniques to perfect their old world craftsmanship. Thousands of teachers who are passionate about music education trust Sonor to provide the highest-quality Orff instruments.
As the world caught on to the Orff philosophy, leading music educators and therapists worked in collaboration with Sonor to successfully develop and incorporate new educational and manufacturing concepts. One example of this cooperation is the Sonor range of Palisono xylophones, with their unique fiber bars which hold their pitch despite changes in temperature or humidity.
The introduction of chime bars was another benchmark. Their modular construction with identical tone bar and resonator box dimensions allow for optimum playing setups and individual arrangements. In music and speech therapy Sonor chime bars have helped therapists pioneer new ways of interaction with handicapped patients and activate hearing potentials through contact vibrations. Talk about the power of music. This system of offering basic instrument elements for ideal individual combination has successfully been applied to an entire range of metallophones, glockenspiels, and xylophones.
Budget-beater
Sonor's Primary line of Orff instruments will meet a tight budget without sacrificing standards. Primary instruments offer many of the high-quality features of the higher-priced Meisterklasse models (discussed further on) but at friendlier prices. Sonor recently redesigned the Primary line, which offers new features and benefits, as you'll see on the facing catalog page.
All diatonic instruments come with F# and Bb bars and one pair of appropriate mallets. The all-birch resonator boxes feature 100% glued seams for resonance and clarity. Flexible rubber holding pins are more forgiving when moving instruments or removing bars, and fabric-covered tubing and reinforced endplates provide extra carrying support. The resonator boxes adapt for legs or stands, and Sonor offers chromatic add-ons for xylophones and metallophones. The xylophones also feature high-quality African rosewood bars, naturally toneful and durable.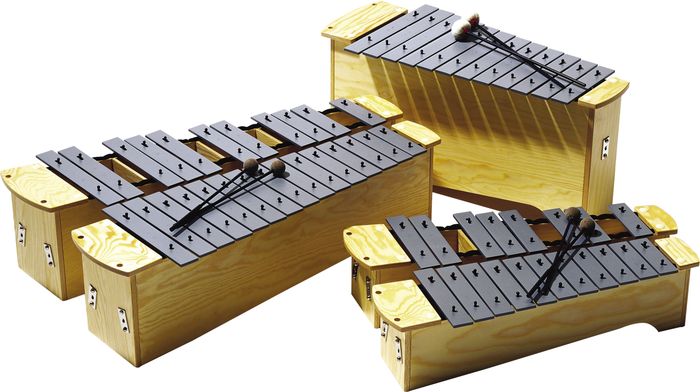 Top of the class
Sonor Meisterklasse Orff instruments are the standard by which to measure other Orff instruments. These Meisterklasse metallophones and rosewood and Palisono xylophones provide unmatched quality and durability that thousands choose for their classrooms.
Meisterklasse instruments also feature Sonor's rubber-coated flexible holding pins, and sport all-pine resonator boxes (instead of birch) with 100% glued seams. This combination provide true resonance and a superb acoustical chamber. The resonator boxes also feature individually stepped chambers that provide a focused sound spectrum.
For the Meisterklasse, genuine Brazilian rosewood xylophone bars are hand-selected and aged to ensure optimum tuning accuracy, warm timbre, and resonance. Sonor metallophone bars feature increased bar thickness for pure resonance and consistent tone. Palisono xylophones utilize unique fiberglass bars that provide exceptional durability, consistent pitch, and brilliant tone. These special bars maintain consistent pitch even when exposed to varying temperatures and humidity. They are also slightly heavier than rosewood, so they are less prone to movement when struck sharply or off-center.
Extended range (two-octave) alto instruments let two children use one instrument. Along with giving your Orff orchestra extra expression territory, it's a budget stretcher too. Sub Contra, Contra, and Bass Chime Bars are available in both Palisono and rosewood and they all have carrying handles built-in for easy handling.
These Meisterklasse units are precision tuned A440, wherever appropriate, and all Sonor barred instruments and chime bars have overtone tuning. The rosewood and Palisono xylophone and metallophone bars are the same length and width, which makes playing techniques easily transferable from one instrument to another.
Tags: Percussion