Hands-On Review: Peterson Tuners
In tune with the needs of music educators
By Lynn Offord
Tuning, intonation, pitch sense—these are fundamental skills all music teachers constantly strive to impart. It's basic music education. In a world where grunge rock influences young ears it helps to have power tools for this work, and a high-quality tuner is essential. Peterson makes two tuners that are absolutely perfect—in different ways—for school band and orchestra use, the V-SAM and the 590 AutoStrobe. Both offer a level of accuracy, versatility, ease-of-use, and an extended functionality that can have a big impact on how well students learn to play in tune.
V-SAM Virtual Strobe
This is the most budget-friendly of the two models. It is priced low enough to easily be a personal tuner for any serious musician, and it's good enough to serve in any studio. It also has features and functions that make it perfect for the band director, both in the bandroom and on the field (it is battery powered and comes with an AC adapter).
The name takes some explaining. The V-SAM isn't a true strobe tuner. It employs digital technology to operate like a strobe and to achieve strobe-level accuracy—1/1000 of a semitone—which is amazing for a tuner in its price range. Typically, even good tuners only have an accuracy of 1/100 of a semitone. While the 590 doesn't read harmonics along with the fundamental as real strobe tuners can, neither is it confused by harmonics as lesser tuners are.
And the way it displays its information contributes to the V-Sams accuracy. The display scrolls, moving in one direction when sharp, the other when flat, slowing as you approach pitch. When the scrolling stops you're dead-on with certainty. Also, the size of the display, along with its brightness and contrast, simplifies tuning accurately.
A long list of features make it perfect for the school band director. It will tune almost any instrument. Its response is smooth and instantaneous. It's portable (about the size of a paperback book), and an optional clip-on pickup is available. With the V-SAM in hand and the clip-on, you can tune up the entire trumpet section quickly. Note selection can be automatic or manual. And since it is key-adjustable no transposing is required. It also serves as a fully adjustable visual/audio metronome, and as a full-range tone generator.
It is programmed with a number of temperaments: Equal, Pythagorean, Just Major, Kirnberger III, Werckmeister III, and others. Though it's not designed for tuning piano, it will work well for touching up. It also has guitar, bass, and steel guitar temperaments that will put these instruments in more precise tune than they've ever been.
One really sophisticated feature of the V-SAM is that you can select any pitch base or center. In other words, you can adjust for the tonic in alternate tunings. Say, if you want to tune a harpsichord at A=415Hz in a historical temperament for a piece in Eb, the V-SAM is capable. All other tuners in its class are centered on C, period.
You might expect that such a precise tuning instrument would be too delicate for survival in the classroom, but the V-SAM is made tough. It is a solid unit in a high-impact plastic case that is tucked into a rubber boot. It will survive about anything but malicious abuse. It's rugged and portable enough to pack along on those cold October mornings when the marching band is practicing on the field.
The 590 AutoStrobe
This is a true strobe tuner, with a step up in price from the V-SAM, but still relatively affordable compared to strobe tuners of the past. The big advantage of a strobe tuner, of course, is its ability to take more than the fundamental into account. This makes it more accurate, especially when tuning instruments with more harmonic content in their tones. The 590 AutoStrobe, for example, is great for percussion instruments, capable even of tuning the difficult timpani.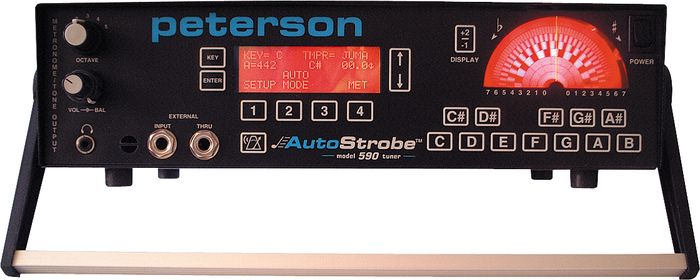 The 590 isn't as portable as the V-SAM. It's designed for use on a desk or rackmounted. But it has features that make it perfect for the bandroom or larger studio. As a metronome or tone generator, it can get louder with its larger speaker. It also has a larger and brighter display that can be read at a greater distance. Beyond that, it has automatic image clarity, a contrast control, and internal compensation for optimal viewing over a wide range of pitches and volumes. For upper and lower register notes the strobe patterns automatically shift to the more visible middle range. And for tuning Bb, F, and Eb instruments, it auto transposes so notes appear as they are on the instrument.
An intonation trainer
The 590 has an earphone jack for private tuning and for use of another function that is probably a first. By using headphones or a TP-1 clip-on, its tone generator can track and play back every note a student plays in perfect pitch, providing instant visual and audible feedback on intonation accuracy. This is a fantastic tool for students still developing on a self-intonating instrument. By practicing with the 590 they learn which notes need correcting and gain a firmer sense of what the real pitch should be. It's a fantastic tool for developing the ear and intonation.
Both the V-SAM and the 590 AutoStrobe offer musicians, band directors, and teachers the level of tuning accuracy and a versatility they can put to use. I suggest buying the V-SAM as a personal tuner you take to school. The V-SAM is also great for practice and rehearsal rooms. Get the school to spring for the 590 AutoStrobe as the bandroom tuner/metronome. That way you'll be equipped for a two-fisted assault on sour notes.
Features & Specs:
V-SAM

590 AutoStrobe

Accurate to 1/1000 of a semitone
Smooth, instantaneous tuning response
Exclusive Virtual Strobe technology
Auto or manual note selection
Adjustable to all keys, tonal roots, and temperaments
Large, bright, high-contrast display
Stores default settings
Generates 9-octave range of reference tones
Fully adjustable metronome
Powered by 3 AA batteries or included AC adapter
Built-in mic for acoustic instruments
Rubber boot for support and protection

Accurate to 1/1000 of a semitone
Automatic note selection
Automatic note tracking
Automatic image clarity
Contrast control
Improved clarity for upper and lower register notes
Easy transposition
Built-in metronome and tone generator
Headphone jack
Tags: Tuners Woodwind Instruments & Accessories Brass Instruments & Accessories Orchestral Strings & Accessories