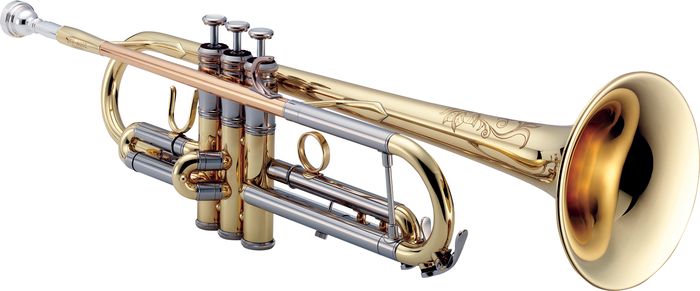 Hands-On Review: Jupiter Tribune XO Series Trumpets
Custom professional horns that move Jupiter into a higher orbit.
By Len Bixler
Jupiter has become well-established and highly regarded in the school instrument field. After building instruments for other well-known brands for fifty years, Jupiter introduced its own instruments in the US twenty years ago. The first Jupiter trumpets were less-than-perfect but highly affordable instruments for the schools-on-a-budget market. But Jupiter then began methodically improving its production processes and the quality of its instruments. It recently was granted ISO Certification for meeting the highest international standards in manufacturing quality. These days, Jupiter consistently produces excellent student and intermediate instruments that are chosen for their musical character and quality. This high level of quality combined with competitive prices has made Jupiter a major player in the band biz worldwide.
Now, emboldened by this success, Jupiter has made its move into the professional instrument arena where upstart newcomers tend to be eaten by lions. Introduced last year, the Tribune XO Series trumpets are Jupiter's first fully professional-level trumpets. Will they find a place among the big names? My opinion, having given several XO models thorough inspections and tryouts, is that in time they will. These are exceptional horns and compare well with accepted top-name professional trumpets.
Trumpets tell the truth
It won't be easy. Professional trumpet players are a tough crowd. First of all, they've already found the horns they consider best. They're also impervious to the allure of a lower price (the Tribune XOs are priced a notch under their main rivals). Nor can you fool them with hype. Playing a trumpet is an intimate and personal activity. Players know when they've got a horn they like, know when it performs at a high level, and know especially if it has a sound and feel they like.
The Tribune XO will have to overcome doubts that a maker of student-level horns can turn out a serious professional instrument, but as more and more players experience how the Tribune XO plays, it will earn their respect and acceptance.
The variables
Jupiter hasn't been timid about this upward move. Where most companies would produce a single model with limited options and put it out there to see if it flies, Jupiter has created a full custom line with a serious set of options and extras. All the Tribune XOs have the same basic design but the options turn this design into many models. You can choose between two bore sizes, reversed or standard leadpipes in a choice of rose brass or sterling silver. The bells come in a choice of three tapers and in rose or yellow brass. You can even opt for a vertical stop on the third valve tuning slide instead of the standard horizontal.
In addition to these options, the horns come with both rounded or elliptical main slides and two sets of valve springs of differing strengths come as standard equipment. These add two more ways you can alter the instrument to suit your preferences on top of the built-in options. For a first professional series, Jupiter has given the player a wealth of choices.
The horns come with two sets of valve buttons: 24k goldplated and a second set with pearl inlays. The XOs also come in a woodframed case that seems very sturdy and is appropriately plush.
A true professional
Terms such as "professional" and "intermediate" can be used fairly loosely, and often a professional model is really an upgraded intermediate. There's no defined line, but there are several primary features that definitively qualify a horn as a professional. The first is a one-piece, hand-hammered bell. Another is two-piece valve casings. These are features that require more skill, more time, and more cost to produce, and they have major effects on the instrument's sound and playing feel. The Tribune XOs boast both of these features.
Another measure of a pro level instrument is quality workmanship. Looking over the XOs with a magnifying glass, checking the joints, the soldering, the fit of the slides and such, I couldn't find a single flaw. The valves were lapped to perfection. The slides were perfectly fitted and moved smoothly. Every detail bespoke quality: brass valve guides, Monel pistons, and a silverplated finish rather than lacquer. In every detail and feature, the XOs rate as truly professional-quality instruments.
Beautiful to eye and ear
It's important to look the part and the Tribune XOs definitely have a look and style befitting their pro status. All have a shining silverplated finish accented by 24k gold fittings, valve caps, and buttons. It's just the right amount of gold trim for understated flash. Tasty and uptown, appropriate for any musical setting or venue.
The ultimate consideration, of course, is how the horn plays and sounds. All the right features don't mean a thing if ain't got that swing. I found both of the Tribune XO models I sampled wonderful to play. The version I liked best had a reversed sterling leadpipe. With the rounded main slide on the horn, it was as free-blowing as any horn I've ever played. It had a rich, dark tone. The second model had the standard leadpipe in rose brass and a yellow brass bell. It was clearer and brighter—a more conventional tone that would serve well in any musical context. Both horns were quite facile, responsive, balanced, and alive. Faced with demanding passages, these are horns that will get it done.
No one horn will be perfect for every player no matter how good it is, but the Tribune XO trumpets should find their share of players who will choose them and forsake all others. If you have a chance to give a Tribune XO a try, do it. You may be one of those who land on Jupiter.
Features & Specs
Silverplated finish with 24K goldplated trim
Standard or reversed leadpipes
Rose brass or sterling silver leadpipes
Choice of 3 bell tapers
One-piece hand-hammered bell
Choice of rose brass or yellow brass for bells
2-piece valve casings
Hand-lapped valves
Monel pistons
1st and 3rd valve slide waterkeys
1st and 3rd valve slide stops (available with optional vertical stop for 3rd valve slide)
2 sets of valve springs included for a choice of tensions
2 sets of valve keys: 24k gold plated and pearl inlayed
24k gold valve buttons (extra set with pearl inlays incliuded)
Eliptical and rounded main slides included