Hands-On Review: PreSonus DigiMax D8 8-Channel Mic Preamp
by Barry Rudolph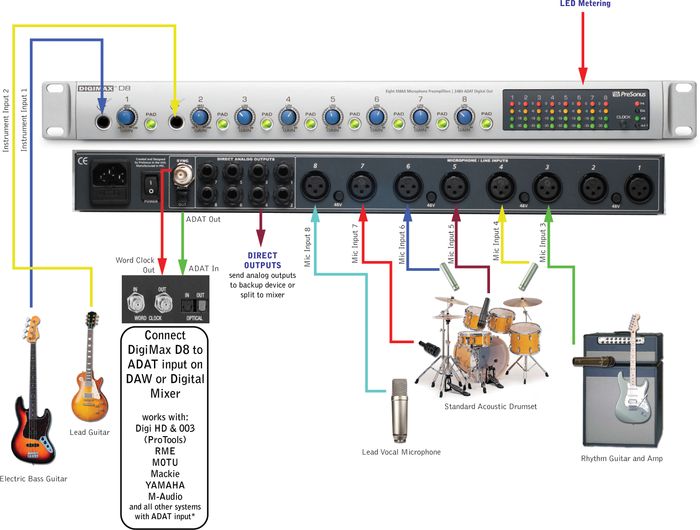 Ratings(1-5)
Ease of Use: 4
Value: 4
Functionality: 4
Digimax is an eight-channel microphone preamplifier housed in a gleaming, single rack space cabinet. It is powered by a small 1/3 rack space power supply that tucks anywhere out of sight. There are separate sets of controls for each microphone with channels one and two each additionally fitted with high impedance 1/4 inch instrument input jacks and phase flip buttons on the front panel. Otherwise, all eight channels are alike and work the same. This unit was designed to be the perfect companion/interface for computer-based recording systems. Besides the eight analog balanced line level TRS (that's Tip Ring Sleeve) output jacks for direct connection to your analog multitrack machine, Digimax also simultaneously outputs digitally for direct connection to your computer's soundcard or interface box, digital multitrack or digital mixer. Digimax is fully compatible with: MOTU 2408, Digi001, Mackie HDR, Tascam's MX2424, Ensoniq Paris, and Yamaha's AW4416.
Analog Features And Controls
Beginning on the analog side, the first thing you'll notice is the cool look with blue anodized concentric control knobs across the polished and sculpted front panel milled from 1/4" thick solid aluminum plate. Each channel has a three-LED "traffic light" indicator that shows: signal present (-20dB), pre-limiter clip level (Clip) and limiter action (Limit). All other push buttons glow with a muted greenish/yellow color. Since each channel uses a Class A discrete input amplifier followed by a dual servo gain stage, there's loads of gain...actually up to 72dB on each channel! There is a Pad button that switches in 20dB of attenuation. 48 volt phantom powering is provided for each channel but the on/off switch is on the back panel...a hassle if you install the unit in a rack.
Each channel also has an Enhance button that activates a preset equalizer curve that cuts 3dB between 250Hz and 5kHz. I tried this button and it certainly seems like more than 3dB and since I am just getting started with the unit, I have not found a use yet. The idea here is that you can cut down possibly ugly mid-range frequencies and (therefore) effectively raise the upper and lower frequencies. Microphone gain and limiter settings are handled by a concentric pair of knobs for each channel. The inner knob is microphone gain that, at full CCW, starts with 12dB of gain and goes up to 72dB. This is more than enough gain for anything you'd ever record no matter how quiet the sound source is or what kind of mic you use.
The outer knob is for setting the threshold of the Limiter. Threshold ranges from 0dB at full CCW and goes to +24dB at full CW. A bit of a quirk on this unit: the Limiter has no bypass button so you have to check this knob's setting before getting your recording levels. The limiter signal utilizes both RMS and peak detection and is a great "insurance policy" against peaks that could distort your digital recording.
Digital Features And Controls
Digimax uses 24-bit analog-to-digital converters and outputs multitrack digital audio in three ways. There is an ADAT™ Lightpipe output connector and a nine pin (DB9) connector that can be configured to output AES/EBU or S/PDIF in four stereo pairs. The unit comes from the factory configured to output AES/EBU. A call to the factory will inform you on how to set internal jumpers to output S/PDIF. A very good feature are the Word clock input and output BNC jacks on the back panel. Essential if you use the Digimax with other digital systems and/or I/O, Word clock synchronizes the unit to the incoming external Word clock. If you choose the sample rate on the front panel, all other units will have to slave to the Digimax's internal clock. Sample rates are selectable on the front panel and are: 32kHz, 44.1kHz or 48kHz.

In The Studio
The PreSonus Digimax can work with any other gear analog or digital. I chose Pro-Tools LE running on the Digi 001. The 001 has a Lightpipe input port so the Digimax effectively gives you eight more analog inputs in addition to the 001's eight. The Digimax shows up in your Pro-Tools LE session as Optical Inputs 1 thru 8. I was able to directly record these sources without pulling up any Aux input faders. Just create new track(s), assign one of the eight optical inputs for each track, enable record, set levels and go!
A perfect application for the unit, I used the Digimax to record a set of drums and the eight channel assignments are listed below:
Channel 1 - Bass drum
Channel 2 - Snare top
Channel 3 - Snare bottom
Channel 4 - Hi-hat
Channel 5 - Hi Tom
Channel 6 - Lo Tom
Channel 7 - Left Overhead
Channel 8 - Right Overhead
I recorded the kit so that each microphone went to its own track. After making sure all the limiter threshold knobs were fully CW for no limiting, it was easy to get levels. For my hard-hitting drummer Denny Fongheiser, I had to use the pads on all the mics except for the AKG D112 on the kick. I was using Audix dynamics on the toms and snare and ADKs for the overheads. Using the pads gave me more ease of adjustment with gain settings in the middle of the range. I tried the Limiter on all the mics with the overheads gaining the most improvement. I preferred using just enough limiting until the Limit LED barely flickered. I also tried the Enhance function but it took too much crack and edge out the drum sound. I might use Enhance for electric guitars or very honky keyboards.
I liked the drum sound I got using the Digimax. Clean and noise free, I got plenty of punch and the attack transients were all there. The VU meters in Pro-Tools told me that I was getting all 24-bits worth!
Barry Rudolph is an L.A.-based recording engineer. Visit his Web site at: www.barryrudolph.com