Hands-On Review: SANYO KBC-9V3U Pedal Juice 9V Power
Rechargeable 9V power for musicians
By Jon Chappell
Senior Editor, Harmony Central
SANYO, leaders and pioneers in battery technology for decades, have several rechargeable power solutions that can cover any musician's mobile power needs. The smallest of the family is Pedal Juice, which allows performing guitarists as well as other gear- and effects-toting musicians to both dispense with disposable batteries and untether themselves from AC outlets. It works simply and reliably, and is right at home in your pedalboard or nestled among other floor-dwelling effects, MP3 players, and other gadgets.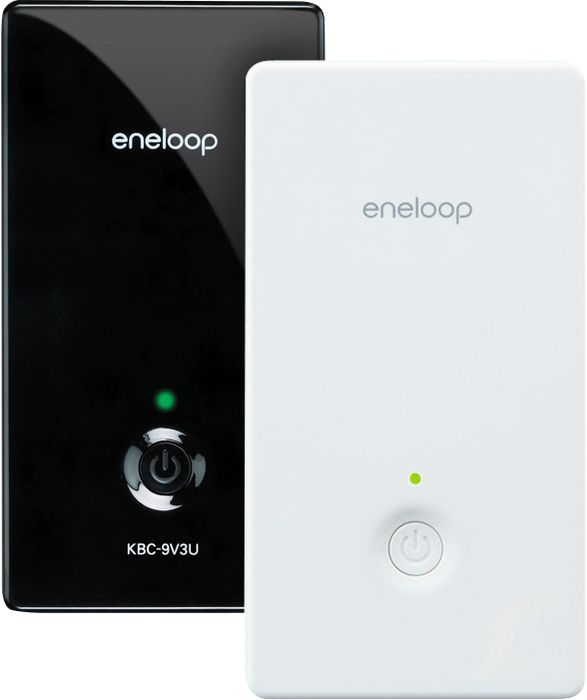 Pedal power
Housed in a simple white or black rectangular box the exact size and dimensions of a guitar stompbox, SANYO's Pedal Juice contains a high-capacity lithium-ion battery sporting SANYO's patented Eneloop technology. The Pedal Juice comes with several accessories—to match the color of the box—that provide everything you need for your hookups, including two short DC-out cords that connect it to your gadgets. (No multi-output daisy-chain cord is included, nor is one available as an option from SANYO, but you can acquire one easily from other manufacturers for about $30.) SANYO also includes a polarity-reversing adapter—essential for versatile DC operation.
Convenient one-button on/off switch for all effects
Pedal Juice includes an on/off power switch that allows the user to easily turn the power of all connected music effects devices on or off with the press of a single button. This is quite convenient, since many effects devices do not include their own on/off switch and must be manually unplugged from their power source.
The onboard lithium-ion battery has a capacity of 6,600 milliamp-hours, for a total of more than 24 watt-hours. I hooked it up to my two most essential pedals—my BOSS CS-3 compressor and my thirsty DD-3 delay—and both sounded great and ran for a week under normal use. When charging or discharging (using) the Pedal Juice, the LED changes from green to orange to red to indicate battery capacity. The Pedal Juice outputs 9V DC at up to 2,000 milliamps (2 amps), which is plenty to drive several devices simultaneously. You can determine your specific effects' energy usage by consulting their manuals, but the Pedal Juice website provides helpful scenarios of different setups. With seven pedals of various types and current draws, Pedal Juice provides about nine hours of continuous power—more than enough to get you through a weekend of gigs without recharging.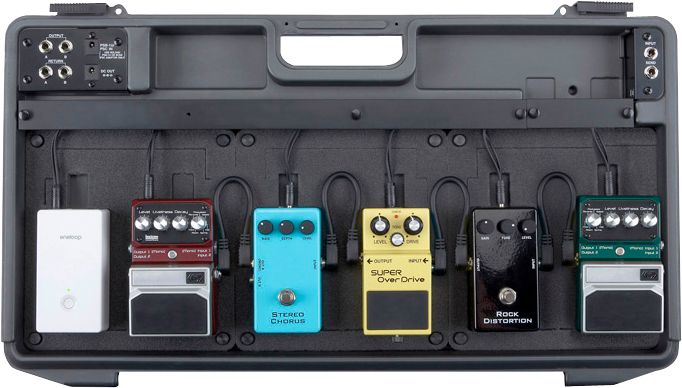 Conclusion
I loved the sleek look, rugged construction, and the way the Pedal Juice blended right in with my pedalboard. Its one-touch operation means you can instantly power on or off your setup in a fraction of a second, and the tri-color LED is great for battery-monitoring at a glance. The fact that Pedal Juice is not grounded to an outside line means you'll never experience a noisy ground loop. For anyone who needs portable power for their effects, and wants to save money over time and be environmentally conscious by kicking the disposable battery habit, Pedal Juice is just the box for you.
Features & Specs
9V Lithium-Ion battery featuring SANYO eneloop technology
Up to 50 hours of continuous, quiet, clean, stable power
Eliminates AC ground loops
2 - 9V DC outputs
3-stage LED indicator
Single on/off button
Rechargeable hundreds of times
Water and shock resistant
JIS IPX3 compliant water resistant enclosure
Fully recharges in only 3.5 hours via AC adapter (included)
Same footprint as standard effects pedal (2.5" W x 4.7"D x 1.7"H)
Easy setup
Want to kick the habit of costly and environmentally unfriendly disposable batteries? Then check out the SANYO Pedal Juice for clean, rechargeable power in a unit the size of a stompbox.