A silent rehearsal studio for practicing musicians
By Jon Chappell
Harmony Central Senior Editor
Whatever you do, don't call it a headphone amp. That doesn't come close to describing what the JamHub can do to transform your practice sessions and rehearsals. Although it has elements of both a headphone distribution amp and a multichannel mixer (and a recording device), the JamHub combines the best of both to provide musicians a friendly, no-hassle environment to get together and practice silently—without the high-decibel collateral damage that can make rehearsing a full band a nightmare. The JamHub is a silent rehearsal studio—or you might even say a "stealth studio"—that allows you to bang it out with your bandmates even while someone nearby reads a book, watches TV, or nods off to sleep.
Studio suites
The JamHub is a colorful, laptop-sized device that features individual knob-covered sections, where different musicians plug in. It's available in three models. The BedRoom is the smallest, with five sections.
The GreenRoom and TourBus models can accommodate seven musicians and add USB and phantom power for condenser mics. The TourBus has additional recording functionality, which allows you to easily capture your rehearsal on a standard SD card.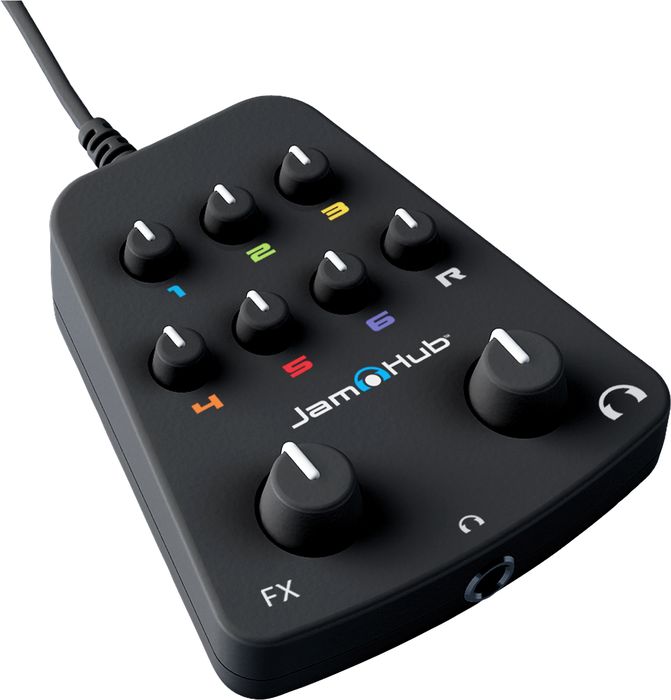 The GreenRoom and TourBus ship with SoleMix™ remotes, which allow players who can't easily get to the main unit, such as drummers, to adjust the headphone mix. These remotes have all the controls the main sections do, minus the input jacks/controls and Stage knob. The remotes are easily pressed into service for an additional listener. Neat!
Step up to the 'hub
Each section has two inputs (mic and stereo instrument, which can be used simultaneously) with separate trim controls, a headphone output jack with volume knob, plus stage and effects-level controls. Two more rows of knobs give you a volume control for every other section on the unit, including your own. In addition to the players' sections, a separate section, labeled R (for "recording"), has a complete set of I/O and controls, and it's this mix that you would use to record (via the headphone jack, USB jack, or in the case of the TourBus, directly onto the onboard SD card).
Working with the JamHub couldn't be simpler: Just plug your instrument and microphones in and set levels. The JamHub then combines the signals and feeds them back out to the individual headphone jacks. As a participating player with your own section, you get your own personal control center. This is where you can adjust the level of your headphones, use the stage control to place your instrument on the soundstage, and dial up the amount of onboard digital effects you'd like to hear.
That's where the cool part comes in: Are you a vocalist who just wants to hear the other singers and maybe a hint of piano to keep you on pitch? No problem, dial out those thundering drums and that busy bass. Are you a percussionist who wants to lock in with the fretless bass player while keeping the singers just loud enough to keep your place in the song? Again, tweak the knobs to taste. Each mix is unique, and each mix is heard only by you. Those particularly sensitive to high levels can keep things toned down, while the gonzo players can crank it till their ears bleed.
Ergonomically, the JamHub is a breeze to use. Each module is color-coded and labeled with a large number, so you always know where to go if you have to quickly step up to the unit to make a tweak. The curved design also makes it easier for multiple musicians to surround the JamHub simultaneously. You don't have to crowd together shoulder-to-shoulder as you would with a normal mixer.
Run silent, run deep
The onboard effects processor offers an array of 16 digital effects to suit every occasion, from small-room reverbs to complex ambient environments that combine delay and long reverb times. There is one effect type for the entire band, but you can tailor the effect's intensity to your personal taste. For example, lead vocalists might have to have a fairly wet sound, as it's more flattering and helps you get that studio sound. Harmony singers may want to keep things fairly dry to better hear the subtler aspects of the vocals.
Silence is golden
The best feature of the JamHub is the way it lets you play together in near silence, hearing only what comes through your headphones. Even if you have an acoustic drummer playing a conventional drum kit, the level can be kept way down, as the drummer doesn't have to compete with amplified basses and guitars simply to be heard. Those instruments can plug directly into the JamHub from the output of their favorite multi-effects unit. Vocalists won't have to strain just to be heard, staving off fatigue and prolonging their ability to rehearse. And the JamHub puts an end to volume wars and volume creep—the tendency for everyone to turn up as the session progresses. If you need something louder, just turn it up on your individual mix. You don't even need to ask permission! (Guitar players, take note!)
The JamHub silent rehearsal studio makes it possible to get together more often, later at night, in smaller spaces, and with less gear in tow than otherwise might be feasible. In that way, the JamHub increases your opportunities to learn from others and create—the stuff that making music with a band is all about.
Tags: Mixers Amplifiers Headphones