Hands-On Review: Crown XLS DriveCore Power Amp Series
Light weight, great sound, and versatile features on a budget
By Jon Chappell
Senior Editor, Harmony Central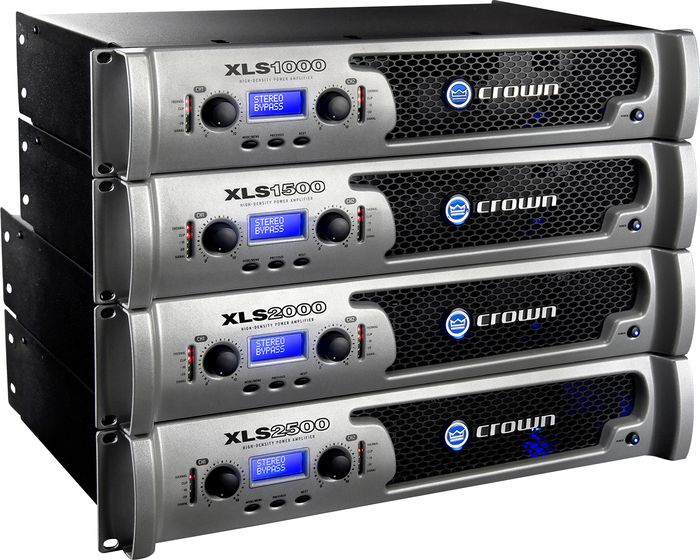 Crown continues to push the envelope in power amps with the introduction of its XLS High-Density Power Amplifier series. The company has over 60 patents in power amp technology—far more than all of its competitors combined—and has leveraged the technology created for their high-end products into this affordable line. The XLS amps boast state-of-the-art features, low weight, and low price, and are perfect for bands and DJs who play small to midsized venues, as well as for sound technicians outfitting a variety of rooms, including bars, clubs, coffee houses, houses of worship, and school auditoriums.
An A+ for Class D
There are four models in the XLS series: the XLS 1000, XLS 1500, XLS 2000, and the XLS 2500, the unit I had for review. Each number corresponds roughly to its output power, though some (like the XLS 1000, which produces 1,110 watts) actually exceed the model name. These are Class D amplifiers with switchmode power supplies, which are extremely efficient and contribute to the amps' light weight. In older Class A amps, the typical efficiency range is on the order of 30% to 50%, which means that only a minority of the power pulled from the wall got converted to sound; the rest was burned off as heat. The XLS series is 90% efficient, which means you get a lot more SPL from the same current draw. Said another way, you can get up to twice as loud using the same AC circuit.
Crowning achievements
Controlling the amp is Crown's proprietary DriveCore technology, a chip developed by Crown with Texas Instruments. All the modulation, feedback, and protection circuits from the flagship ITHD amplifiers are contained on a single chip, which further contributes to the XLS's performance and low weight. The amp is also able to handle a very wide range of line sag and distortions behaving as if it had an onboard power conditioner, covering you through whatever drops and distortions may occur. The practical application is that when you're in a sketchy bar, using a generator, or in any situation where you may have unreliable power, you still get solid performance and great sound quality.
Impressions—first and lasting

The first thing I noticed when removing the amp from the box is how light it was. The XLS 2000 and 2500 each weigh only 10 pounds, and the 1000 and 1500 each tip the scales at a mere 8.6 pounds. A quick glance at the back panel revealed a lot of versatility as far as the ins and out. Included are quarter-inch, XLR, and RCA inputs. You can also use the quarter-inch inputs as a Link Out, which loops the output signals through to additional amplifiers, eliminating the need for a signal splitter (if you're trying to match, say, an XLR cord with a quarter-inch input jack). Very convenient. The outputs include connections for 2-pole/4-pole Speakon plugs and binding posts for banana plugs and bare wire.
Once you get your connections hooked up, you can make all changes from the front panel. The features and modes are controllable from an easy-to-use display, where you can set the amp's mode (stereo vs. bridge mono) and the crossover settings. It's really easy to just step through the menu commands on the brightly lit LCD with the three switches underneath—no digging around the back in the dark fussing with DIP switches. I drove several different speaker arrays, including a set of JBL 4408 studio monitors, and two-way systems of large woofers and smaller midrange speakers, and experienced clear, full-range response, with immediate transient response, and loud, loud music! From a power-rating perspective, the XLS 2500 delivers in spades.
Modes and features
The XLS amps are quite versatile due to their ability to operate in different modes: stereo, bridge mono, and in crossover, using Crown's PureBand Crossover System, which provides smooth transitions across the user-selectable crossover points—24db/octave filters for 72 places between 50Hz and 3kHz on 1/12th-octave centers. The crossover mode provides four additional submodes: LP/HP on Ch1/Ch2, LowPass (both channels low), HighPass (both channels high), and Bridge Mode (either lowpass or highpass, with selectable frequency).
These last two modes allow you to dedicate a single XLS to a specific band of frequencies, or to assign one amp to a certain speaker or speaker pair. For example, if you're a DJ on a budget and trying to stretch your power wisely, you might devote an XLS 1000 to a set of two-way midrange cabinets using the high-pass filter set at 200Hz. Then you could employ a higher-power XLS, such as the 1500, in low-pass mode to drive the subwoofers. That's an efficient way to power your system, and you've spent less than $700 to do it. So you can actually grow your system with the XLS, changing its function as you evolve. Start with a subwoofer and a top using LP/HP mode. Then if you decide to go to with a three-way system, you can get an additional XLS and use the lowpass and highpass modes to handle the midrange speakers.
Another useful feature is Crown's Peak-x limiters. These protect your speakers and also keep the amplifier from hitting the power rails and sounding really nasty. So regardless of how hard you hit the amp, the limiter provides protection for not only your system but for the sound quality as well. And you can turn the clip limiter on or off per channel.
Conclusion
The Crown XLS series of amps are ideal for small, medium, and portable P.A. users, and for any venue that needs a dedicated power amp. The versatile modes allow you to use any amp in a variety of functions, and they can be easily configured to work together, allowing you to build out your system. Couple this with their great sound, and the XLS series makes for a key component in any system or installation.
Features & Specs
XLS high-performance, lightweight Class D amp weighs less than 11 lb.
Integrated PureBand Crossover System for better performance and control
Peak-x Limiters provide maximum output while protecting your speakers
XLR, 1/4", RCA inputs provide outstanding flexibility
Efficient forced-air fans prevent excessive thermal buildup
Electronically balanced XLR inputs; touchproof binding post and Speakon outputs
Precision detented level controls
Power switch, power LED, and six LEDs for signal, clip, and fault per channel
2400W at 4 ohms bridged-mono, 1550W at 8 ohms bridged-mono, 440W per channel at 8 ohms
For a versatile and high-quality power amp that can grow with your system, check out the affordable Crown XLS amp series.