Hands-On Review: Yamaha MOTIF XF7 Keyboard Workstation
How do you follow up the MOTIF XS? The key word is "more."
By Craig Anderton
Editor in Chief, Harmony Central
The MOTIF series has had a phenomenal run by synthesizer standards—the original Yamaha MOTIF appeared in 2001, followed by the MOTIF ES (2003) and MOTIF XS (2007). The MOTIF XF builds on the XS, representing an evolutionary change not only in technology, but in sound design and studio/stage integration.

Sounds in a flash
At 741MB (when converted to 16-bit linear format), the XF's sound ROM more than doubles that of the XS. But the big news is two slots for holding up to 2GB total flash memory—a non-volatile way to store, and even distribute, new sounds. (Yamaha offers two proprietary memory boards, 512MB and 1GB. Why proprietary? It has to be fast enough to play back 128 notes.) Having this much sonic firepower living in the Yamaha keyboard even when powered-down essentially makes it a "have it your way," customizable instrument.
You can also sample into 128MB of integrated (not optional at extra cost) onboard DRAM, as well as import WAV and AIFF files. Want vocals with your instrumental sequence? No problem.
With all these new sounds, thankfully the XF now includes search and browsing. Even third-party sounds can be integrated into this functionality, which isn't unexpected; Yamaha has been moving steadily in this direction since they added the Media Bay browser to Cubase and Sequel.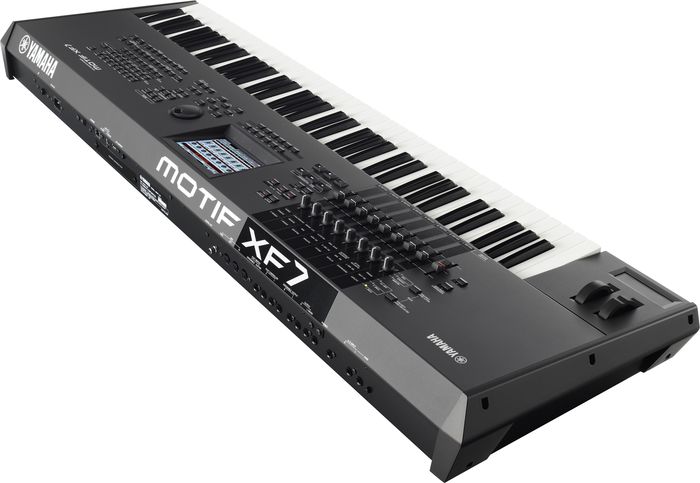 Split personality
One of the most important XS aspects remains: This isn't just a keyboard you take out onstage to play a bunch of sounds, but one that can serve as a sophisticated element in a computer-based network. (With the optional FW16E FireWire card, the XF becomes a networked FireWire peripheral that can run with projects up to 24-bit/96kHz.) Even without the card, the easy-to-use XF sequencer integrates easily with Cubase 5 AI Mac/Windows DAW software, which is bundled with the instrument. What's more, there are two sequencer modes: A linear, tape-style mode with punching, or a pattern-based option if you're more comfortable with "drum machine"-style programming. You can even use the XF as a 24-bit/128X oversampling audio interface.
There's serious DSP too—slice samples to treat audio as you would discrete pieces of MIDI data, do pitch- and time-stretching of digital audio samples, and turn samples into loops with trimming and looping functions.
This all means that the sequencer is a ready-to-go sketchpad that's faster to get running than the average DAW. For serious editing, you can switch over to the computer without missing a beat (and also treat the XF as a VST3 plug-in within Cubase, thanks to the free software editor). The XF/computer communication is bidirectional, so the computer reflects control changes made on the XF, and you can tweak the XF from your computer.
About those sounds...
As expected, the soundset is up to Yamaha's standards. The XF retains the CFIII piano, but adds the seven-foot S6 from the S90SX keyboard. These are extremely responsive Yamaha pianos; I couldn't hear split points, so either Yamaha has nailed positional crossfading, or they're using a ton of samples.
In fact, the MOTIF series goes to considerable lengths to enable accurate acoustic sounds, such as having eight elements per voice—articulations including realistic legato, guitar string squeaks, and the like can be "baked into" a preset. But the acoustic sounds get so much attention it's easy to overlook the synth sounds, which are exceptionally clean—for example there's no "stepping" with the multiple types of filters, which was always a major point in favor of analog synths. Overall, the synth engine's clarity and definition is a step up from the XS, likely due to improved D/A conversion and analog circuitry.
Regarding effects, the XF has the modeled vintage processors from the XS, as well as the REV-X reverb, a multiband compressor, and vocoder, which you use simply by plugging a mic into the A/D converter input (the same input used for sampling) … simple.
The interface and keyboard
The XF features a 320 x 240, full-color screen and while the UI will be totally familiar to MOTIF fans, it has been tweaked and is more customizable. The sliders can again serve as a control surface; as to the keyboard itself, there are two choices. The 61- and 76-note models (XF6 and XF7, respectively) offer the FXS synth keyboard action, while the 88-key XF8 uses balanced-hammer action; all offer aftertouch. The tradeoff: The XF6 and XF7 weigh under 40 pounds, while the XF8 is almost 64 pounds.
Conclusions
Current XS owners won't necessarily feel left behind—it's still a great instrument. Yet the XF builds on the XS in ways both big and small: More sounds, more memory options, better pianos, an improved interface, more arpeggiation patterns, tighter DAW integration … basically, more of everything, as befits the dizzying rate of technological change.
If you like MOTIFS, you'll love the XF series. And if you were raised on soft synths, these synths will show you exactly what well-engineered hardware has to offer.
Features & Specs
Equivalent of a 741MB sound set, with two new pianos
Non-volatile flash memory expandable to 2GB
128MB of sampling RAM built-in
Dual-mode sequencer can trigger digital audio as well as MIDI
Extensive set of signal processors
Category search and browse functions
Tight computer integration, including control surface, bundled version of Cubase 5 AI, song import, use of the XF7 as a VST plug-in, etc.
Motifator.com is an outstanding online support and instructional resource—it's almost like another synth feature
Tags: Keyboards Harmony Central Yamaha