Hands-On Review: Roland Gaia SH-01 Synthesizer
Putting the "fun factor" back into synthesis
By Craig Anderton
Editor in Chief, Harmony Central
I was raised on analog synths—and no matter how many digital whiz-bang synths hit the market, I've always had a soft spot for those drift-prone, fragile monsters. It wasn't just about the sound, but also the "one function, one control" philosophy; I think musical instruments are for playing, not programming. Synths are also for making your own sounds, not just calling up preset #1 and saying "okay, I'm a synthesist."
Apparently someone at Roland fondly remembers realtime control and playability—what's interesting about Gaia isn't necessarily the lower-than-expected price point, or the higher-than-expected sound quality: it's the fact that it shouts "play me!" So I did—and here's what I found.
Overview
Gaia is a "virtual analog" synthesizer, which means it uses digital technology to create sounds that recall analog synths. Does it sound exactly like an analog synth? Well, the pitch doesn't change when the refrigerator kicks in, so it doesn't in at least one respect! Seriously, you can get some very "analog" sounds out of it, but there are plenty of "digital" sounds as well. Gaia is quite "back to the future."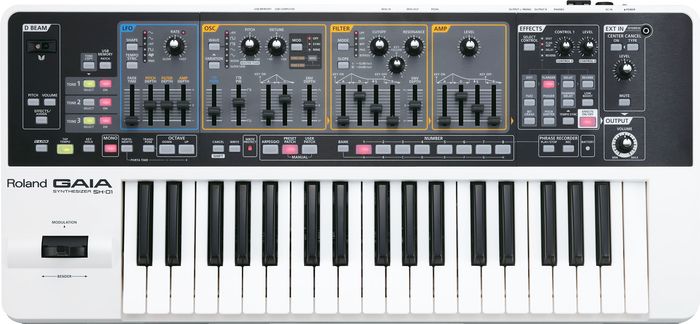 A major advantage of digital technology is that it allows 64 voices (which would be totally impractical in an analog synth), so decays don't get cut off by other sounds, and there's a richness that's hard to get through any other means. All of this is accessed with a 3-octave, full-size keyboard that offers some slight resistance compared to many unweighted synth keyboards, giving a somewhat more substantial feel.
Connectivity is basic, but functional: headphone out, stereo output (or mono), expression pedal in, 5-pin DIN MIDI in and out connectors, USB memory stick port for saving/loading data, and USB-to-host connector that provides essential audio and MIDI interfacing (plays sound into your computer through USB, records MIDI data, drive Gaia with your DAW's MIDI data, etc.). There's even a built-in General MIDI soundset.
However, what jumps out is the sheer number of faders (18), buttons (58), and knobs (11) for realtime control—along with a bunch o' LEDs, combined modulation/pitch bend level, and D-beam sensor, which lets you control some parameters by waving your hand (yes, you too can look cool onstage). Incidentally, where appropriate, the faders and knobs have a center detent so it's easy to get back to the "nominal" position. I mention this not so much because it's such an innovative feature, but because it indicates the kind of thought that went into the interface. There's even a phrase recorder that can record notes and controller moves for eight phrases (up to 99 measures each).
The sounds
The patches are biased toward electronica—for example, Bank 3, Patch 2 has the trademark Roland TB-303 acid bass sound, and if I don't hear Bank 2, Patch 3 as the intro to at least one trance song, I'll be shocked. The factory patches are like a roller-coaster ride through arpeggiated figures, "ice cave" ambience, cheesy combo organs, lush/huge pads, room-shaking sub-bass, and totally off-the-wall effects patches—which I think are cool but unfortunately, might cause some people to call up a few sounds and say, "I'm not into dance music, pass."
But that's why the controls are there—it's easy to make your own sounds. Within minutes, I made a sweet analog brass sound using all three oscillators, and a couple minutes later, a nasty hard sync patch that rivaled anything I got out of vintage analog synths. The "supersaw" waveform (which sounds like multiple oscillators in unison) is outstanding, but you also have the "big six" analog synth waveforms: sine, triangle, square, sawtooth, variable pulse, and noise. The filter is multi-mode, with highpass, lowpass, bandpass, and resonant response, and both 12 and 24dB/octave rolloff options.
Part of the sound-shaping comes courtesy of four effects categories (distortion, modulation, delay with tempo-sync, and reverb) and the simple, but effective, Low Boost button.
Conclusions
Gaia seems intended for those starting in synthesis, and certainly, the reasonable cost and ease of creating sounds—not to mention how the front panel is essentially a course on synthesis—make the Roland Gaia synth an ideal "starter" synth (it can even be battery-powered). But for synth veterans, the allure of this kind of control is undeniable. It not only reminded me why I fell in love with synths in the first place, but it's just so easy to get creative, and so fast to dial in the sounds you want. Most of all it's fun, especially when compared to creating sounds with a 2-line x 16-character LCD, calculator keypad, and sub-menus within sub-menus.
Gaia is one of those rare synths where I was making groovacious sounds within five minutes of opening the box—which to me is the most distinguishing characteristic of this clever little musical instrument.
Features & Specs
Control complement makes it super-easy to create custom sounds
Highly portable, with 3-octave keyboard
D-beam controller
Built-in phrase recorder for MIDI data
Factory presets are ideal for dance/electronica
Basic USB interface, and USB port for memory stick
External input for mixing in iPod, drum machine, etc.
Global (100-240V) power supply or battery operation
Tags: Keyboards Harmony Central Roland