Hands-On Review: DigiTech RP Multi-Effects on the iPad
Stream your multi-effects' signal directly to the Apple iPad
By Jon Chappell
Senior Editor, Harmony Central
If you're used to thinking of DigiTech as a hardware company, it's only natural. After all, they've been producing rugged, roadworthy stompboxes and multi-effects processors that have been guitarists' go-to gear on stages and in studios for decades. But DigiTech isn't only about tank-like enclosures. They are as much a player in the software arena as any maker of computer-based VST effects and amp sims. Every generation of DigiTech's effects lines brings not just a new housing with state-of-the art switches and display technology, but the software to run it. New DSP chips must have the best software running on them to complete the technological picture. And DigiTech was an early adopter of USB—always supporting their multi-effects units with online connectivity and excellent editor/librarian software.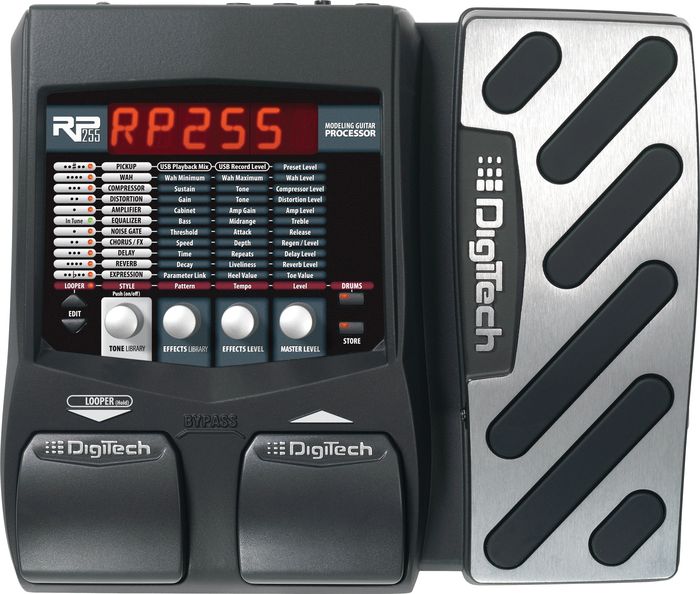 So it's not surprising that DigiTech has built iPad compatibility right into their latest generation of RP multi-effects processors. The RP155, RP255, RP355, RP500, RP1000, and the BP355 (for bass players) all stream high-definition audio to the Apple iPad and iPad 2. All it takes is the included, standard USB cable and the 30-pin connector from the iPad Camera Connection Kit ($29 from Apple). Simply hook your USB cable to the connecter, plug that into the iPad's data port, and you're good to go. No audio cables necessary. You can listen from the iPad's internal speaker or through a set of headphones for better fidelity and isolation.
DigiTech, Meet Apple
My test Gear was a DigiTech RP500 and an original iPad. Before hooking up my guitar, I made sure I had a recording program to capture my work. GarageBand has been available for the Apple iPad since March 2011, and it's a perfect app for musicians because it allows you to record instruments or microphones one at a time, building your arrangements through overdubbing. Of course, you can use any audio app that accepts USB/audio input. But for $4.99, GarageBand is an excellent way to get a bunch of sounds and performances down right away.
The first thing I noticed was there was nothing to configure. The setup process is completely instantaneous and transparent because DigiTech takes care of all the handshaking automatically. Just by plugging the RP500 into the port, the iPad knows you're giving it the input you want to record with. I simply started playing, immediately hearing my sounds directly from the RP500. You can also route the audio from any of the RP's outputs (XLR and 1/4") to mixers, monitors, etc., as the USB/audio is a two-way stream. After stepping through some choice presets, I was ready to record. I loaded up a couple loops, created a guitar track, and began jamming.
Tablet Tone
The tone emanating from my Apple iPad was full, rich, and dynamic—in other words, everything I'd come to know and expect from my high-end computer DAW. The signal loses nothing in the iPad format because the signal streams from the RP500 at better-than-CD sound: 24-bit audio at a 44.1kHz sample rate. The processing power of the RP500 is evident whether coming out of an iPad or an onstage 4x12 stack: the high-definition amp and effect models are just as smooth and clear when played back from the tracks of GarageBand. I laid down a vintage-sounding scorching lead using a preset that included the RP500's Screamer distortion (based on the Ibanez TS-9) through an 800 JCM amp model (derived from an '83 Marshall JCM 800). For a more modern, metal-based sound, I invoked the Redline (based on DigiTech's own Redline Overdrive) and sent it through a TripRect amp (a nod to the 2004 Mesa Triple Rectifier). Provided you're using a good set of headphones, the sound is big, smooth, and completely free of any tweazy-sounding digital artifacts—artifacts that you hear in many in consumer-level amp sim apps.
Keeping It Real In Real Time
Keep in mind that while there are amp sims that will work with the iPad, you don't get that RP tone, nor that realtime vibe and performance dynamic unless you're physically using your RP multi-effects processor. With the RP500, and others in that series, you're using the same controller on your iPad in a portable setup that you would onstage. There are no translation issues, and this is especially true if you use the Expression Pedal, which is built in to most RP units. There's just no way to get a wah-wah part down correctly unless you're working that treadle with your foot. Ditto for effects like the DigiTech Whammy and volume-pedal manipulations, or any effects that use the onboard Expression Pedal to intensify a single effect in real time or to blend two effects continuously. By using your RP in the sketchpad stage, the moves you created on the iPad sketches will more efficiently transfer to the studio or stage.
Conclusion
The tablet is already recognized as an established media platform. With over 15 million iPads sold in 2010 alone, there's no question that mobile musicians and media producers will be recording, performing, and writing on the iPad. Why not make the transition from tablet to stage or studio that much easier? The RP series provides a true, professional-level signal processor to meet the needs of performing and recording guitarists and bass players. And now that you can mate your RP to your iPad, you can enjoy the benefits of great guitar sound and realtime performance in a sleek and stylish mobile recording environment.
For great guitar sound and the ability to hook directly into an Apple iPad, check out the RP multi-effects series from DigiTech.