Hands-On Review: ZT Amps Lunchbox and Lunchbox Acoustic
Packing an amplifier feast into a takeout-size package
By Tom Foster
Contributor, Harmony Central
In electronic technology, the quest for miniaturization is a fact of life—we carry computer power in our pockets that 40 years ago required an entire room of equipment. Yet for years this "smaller is better" concept has passed guitar amplifiers by—transistors enabled small, powerful combos, but to produce a sound that could fill a large room still required at least a 12" speaker, and a heavy one at that. It seemed that amp technology was missing the miniaturization boat—until now. Word is spreading about the ZT Lunchbox: a 200-watt amplifier, smaller than the average handbag, that can compete with the big boys.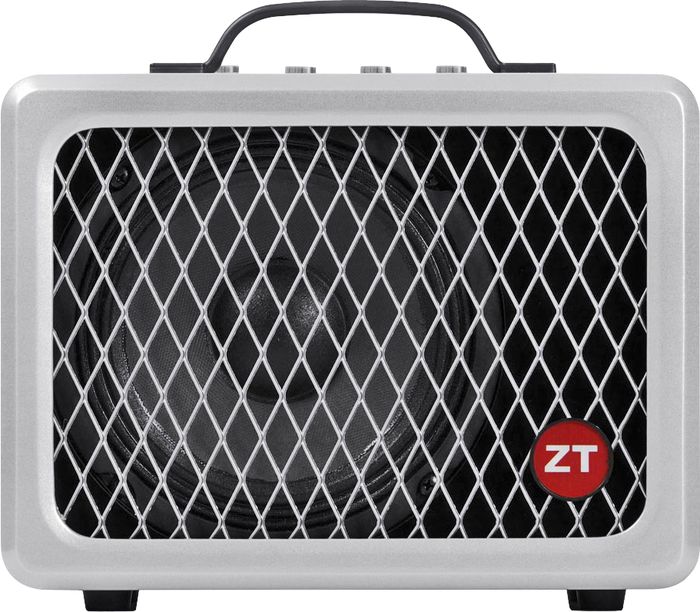 Combo to go
At 7.5" x 9.8" x 4.4" the Lunchbox amp is smaller than my Orange Tiny Terror head, and at 9.5 lb., lighter as well. This, despite the fact it is a full combo with a built-in 6.5" speaker. It quickly becomes apparent that ZT hasn't reduced size by skimping on features. The Lunchbox offers Volume, Gain, and Tone controls, and an Ambience effect that simulates an open-backed cabinet (the actual back is closed). Also on hand are a Headphone/DI Output with its own level control, an extension speaker jack (8 ohms), a 115V/230V voltage switch for overseas touring, and an 1/8" stereo input jack. There is nothing flimsy about the construction either, which features a solid MDF composite wood casing covered in a shiny metallic-looking vinyl and a sturdy plastic handle. If you need more sound, you can always add the Lunchbox Cab as an option—a passive extension cabinet also housing the custom-designed 6.5" driver.
Tasty bits
So how do ZT Amps do it? As with most equipment size reduction, the answer is "digital." The guitar sends the signal through the input to the gain section—an analog overdrive. Then it is converted to 24-bit PCM digital at a 44.1kHz sampling rate and processed by a DSP section that controls the interaction of the amp's components. This part handles dynamics and tone control. The Tone knob is neutral at noon, boosting highs when turned clockwise and cutting them counterclockwise. It affects mids as well as highs and lows, much like the tone controls in vintage amps. Once processed, the signal is converted back to analog, sent to a pair of class A/B output stages, and bridged across the speaker load.
Gourmet cuisine
I plugged in Fender Blacktop Jazzmaster and Fernandes S-type instruments to determine whether this Lunchbox contained a hearty meal or a baloney sandwich. It proved to resemble a picnic basket laden with meats, salads, and fine wines. There was no way I could crank it full out in my apartment without getting evicted, but even at low volume I could discern the difference between the ZT Lunchbox amp and other small amplifiers. Normally a speaker that clocks in at less than 10" offers minimal bass, and ragged, thin high end. The Lunchbox amp offered warmth and fullness worthy of a 12" combo. Part of the ZT secret is that the speaker moves back and forth farther than a normal 6" speaker—farther even than 10" or 12" models.
I couldn't wait to test this amp in a full-band context. The opportunity soon arrived in the guise of a brunch gig (somehow appropriate). There the amp easily held its own against another guitarist, upright bass, and full drum set—and I was not even pushing it hard.
The ZT Lunchbox's clean headroom and bass handling capacity make it great for jazz. It also responds well to overdrive, distortion, and fuzz pedals for more rocking occasions.
Menu options
Having achieved this much, ZT has quickly branched out into an equally small acoustic version, and a Club model sporting a full 12" speaker. The Club version is essentially the same as the smaller Lunchbox, but adds a plate-style reverb and a larger speaker while increasing the weight to just 22 pounds.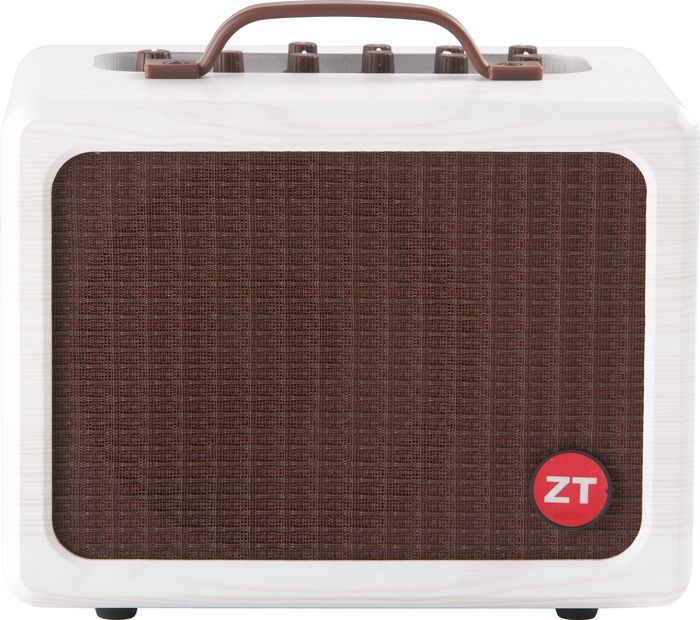 The Lunchbox Acoustic is staggeringly full-featured for an amp of its size with all the options of the electric lunchbox models plus a phantom-powered mic channel strip with 1/4" and XLR inputs. It adds a plate-style reverb that comes with independent channel controls, an effects loop, and an Anti-Clip limiting circuit. A Loar acoustic with an L.R. Baggs M1 pickup was well represented through this mini monster. I could face the microphonic pickup right at the speaker and easily eliminate feedback with the three-position Anti-Feedback Control.
Conclusion
Thanks to ZT, guitar amplifiers have finally entered the world of miniaturization. Using digital signal processing, making small amps is not that difficult; the trick is making small amps that sound good. I think you will find this West Coast manufacturer has fully mastered this feat.
Tags: Amplifiers Harmony Central