Hands-On Review: Pigtronix Philosopher Effects Pedals
Squeeze boxes - Pigtronix offers two radical takes on compression
By Jon Chappell
Senior Editor, Harmony Central
Compression is probably the least sexy effect in the world of sonic manipulation, but remains one of the most important. By squashing down loud peaks and lifting quieter audio, it regulates the dynamic range of much of the music that you hear. Whether it is used by producers to increase the impact of a track during mastering or by guitarists to tame picking transients and add sustain—compression is everywhere. Always pushing the leading edge of analog effects technology, the folks at Pigtronix have taken this ubiquitous sonic wallflower and turned it into the life of the party with two very cool new pedals.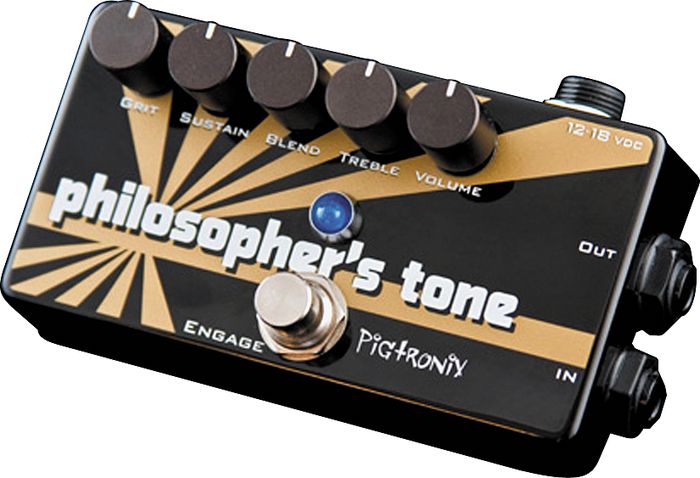 Audio alchemy
The Philosopher's Tone is a diminutive metal box that can bring a dead-sounding instrument to life and turn a live one into a sustaining monster. To the typical Sustain, Tone (called Treble here), and Volume controls found on stompbox compressors, the PT adds Grit and Blend. Blend lets you add in your uncompressed signal, restoring the attack that is often lost with compression, while Grit adds smooth, diode-clipping distortion.
I plugged a Danelectro Dead On 67 through the Philosopher's Tone into an Eganter Rebel 30. Normally, notes on the Dano have lots of character but rarely linger. With the pedal's sustain cranked all the way, the notes and chords now sat out there as long as I needed them—the Pigtronix pedal offered more sustain than any other pedal compressor I have encountered. Between manipulating the sustain knob and adding in the original signal, I could achieve any type and amount of compression I sought with virtually no added noise. Its transparent sound and versatility jump the Philosopher's Tone to the top of my compressor list.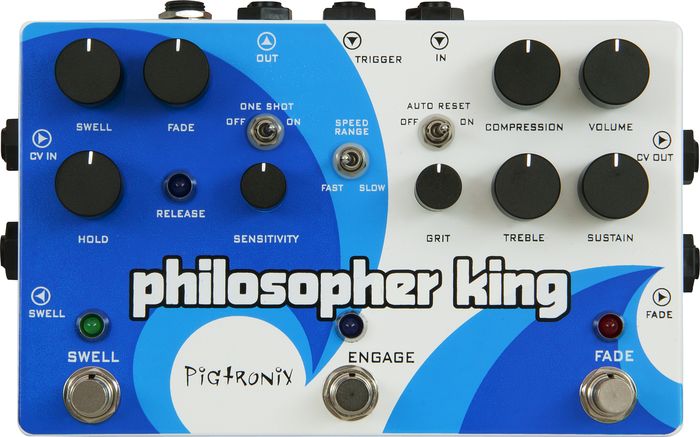 Compression rules
Compression is commonly used to limit the range between soft and loud sounds, but in the hands of "royalty," this jurisdiction over volume can be put to many tasks. The right side controls of the Philosopher King offer the same transparent optical compression as the Philosopher's Tone, but befitting its majestic title, this version's extra knobs, switches, and CV controller capabilities add an empire of additional effects. The left side controls—Swell, Fade, Hold, and Sensitivity—let you replicate various tremolo waveforms and many of the effects created by the Attack, Decay, Sustain, Release (ADSR) sections of synthesizers.
Plugging in my 1965 Fender Stratocaster, I engaged the effect and stepped on the Swell switch. This let me emulate gradually raising the volume with my guitar knob or a footpedal to create violin, cello, and flute effects. The timing of this "slow gear"-style effect is controllable from extremely fast to very slow.
Turning off Swell and stepping on the Fade switch produced a range of square and triangle wave tremolo/stutter effects. Combining Swell and Fade led to a softer tremolo and other effects unavailable on most tremolo pedals—not to mention a deeper, richer sound than your average stomp trem. The depth of these effects could be modified with the Hold knob. CV in and out allows you to match trem/chop tempo with drum machines, your other effects, or someone else's. Space doesn't permit going through all of the possibilities inherent in this pedal—did I mention backward guitar effects? Suffice it to say that if you want compression and synth effects in one great-sounding unit, this monarch makes it.
Conclusion
It is hard for pedal manufacturers to keep coming up with something different. Philosophy is about ideas, and the Philosopher's Tone and Philosopher King demonstrate smart, novel, and innovative ideas applied to one of the oldest effects around.
Features & Specs
Philosopher's Tone:
Adjustable threshold and ratio controls
Blend control for parallel compression
Smooth, diode-clipping distortion
Treble boost/cut
Ultracompact design
Circuit design by Howard Davis
Pigtronix 15VDC adapter included
True bypass
Philosopher King:
Optical compressor with outrageous sustain
ADSR envelope generator for guitar
Polyphonic (works with chords)
Grit control for F.A.T. distortion
2K treble cut/boost
Expression pedal jacks for swell and fade times
Pick triggered volume swell
One shot mode & Auto reset
CV in/out
Trigger input for external rhythm source
Pigtronix 18VDC adapter included
Circuit design by Howard Davis
True bypass