Hands-On Review: Orange TH30 Combo Guitar Amplifier
Orange expands its low-wattage family with a sweet amp for stage and studio
By Craig Anderton
Editor in Chief, Harmony Central
Reviewing the Tiny Terror for Musician's Friend made me a fan—it wasn't just the tone but also the wide range of tones you could get out of it with a limited set of controls. So when offered the opportunity to check out the Orange TH30C Combo Amp, I was curious to hear exactly what would happen if you took a not-quite-as-Tiny Terror and put it in an open-back cabinet with a 12" Celestion G12H speaker. Not only did it meet expectations in a live setting, but the TH30C is a wonderful recording amp—not just a way to kick out big tones live.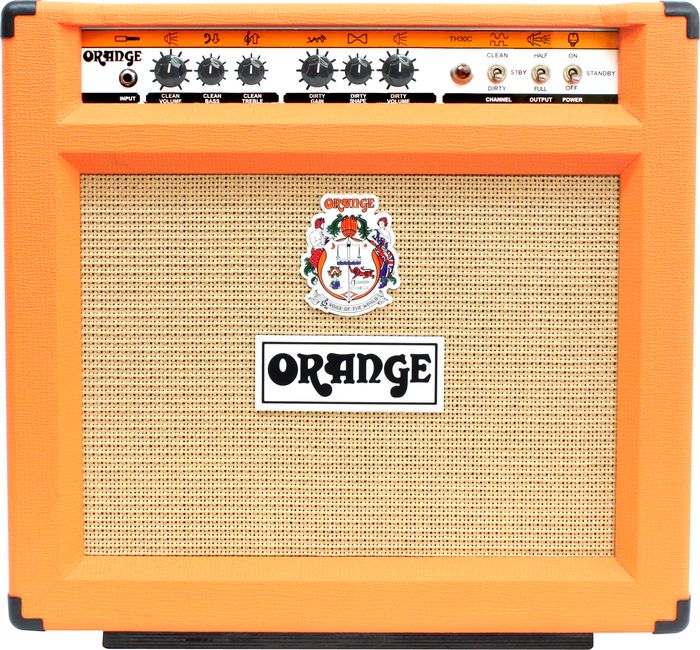 Overview
The TH30C has an all-tube signal path with four 12AX7 preamp tubes and four (switchable to two—more on this later) EL84 power amp tubes. Even when overdriven, the residual noise is unexpectedly low; this characteristic coupled with versatile tone are part of what makes the TH30C a worthy contender for recording.
Controls
This is a two-channel amp, switchable using either a front-panel toggle switch or a latching footswitch (not included) that plugs into a rear-panel 1/4" jack. The Dirty channel has three controls: Volume is overall channel level, like a master volume, but when turned up you can overload the power amp; Gain determines how much you overload the preamp; and Shape gives a "midrangey" tone when fully counterclockwise, while notching out midrange as you turn the control further clockwise. This is not an "on/off" type of tone control; there are many useful sounds as you go from minimum to maximum. Like the Tiny Terror, it's impossible to dial in a "bad" sound—only sounds that are more or less suitable for what you're playing.
The Clean channel offers Volume, Bass, and Treble controls, but the Bass and Treble interact somewhat; and when fully clockwise, the Bass control ducks midrange a bit. Despite being the "clean" channel, you can overload the output with the volume control although this only happens at high volumes (and wattage ratings notwithstanding, this is one loud little amp).
The rear panel
The amp back is about more than just a place to park the line cord, as there are three speaker jacks (for 16-ohm, 8-ohm, or dual 16-ohm cabs; the internal speaker patches into the 16-ohm jack) and more unusually, a two-tube/four-tube switch that switches between two EL84 output tubes or four. In conjunction with a front-panel Half/Full switch (which chooses between lower or higher tube plate voltages), this allows four discrete output options: 7W (half/two tubes), 15W (full/two tubes), 15W (half/four tubes), and 30W (full/four tubes). This isn't just about volume differences, but subtle timbral shifts that make the TH30C even more versatile.
You'll also find a tube-driven effects loop. I tried it with both guitar-level and line-level effects, and it worked with either one despite the lack of any level control. As expected, the loop connects between preamp and power amp. I also used the loop send in the studio to feed an audio interface, and run the TH30C preamp signal through an amp sim cabinet (but not a preamp). Layering this with the miked amp sound was pretty amazing, producing a huge stereo image with a lot of character.
Power play
Playing through the TH30C is extremely satisfying. The Dirty channel gives the thick, commanding, bright tone for which Orange amps are perhaps best known; but using Shape to nuke the midrange can also yield a more modern, scooped tone. You don't need to turn up the gain much to get great crunch.
The Clean channel is far from a "Well, let's give them a clean channel too." It can deliver sparkling tones, but if you push the level there's a pleasing breakup quality. Balancing levels when switching between the two channels is a bit of a challenge, but not impossible—particularly because the complement of controls is so simple, making it easy to tweak sounds for the best match.
Conclusions
My conclusion to the Tiny Terror review said, "I expected the Tiny Terror to sound good, but what I didn't expect was that you could make it sound good in many different ways." That's true of the TH30C as well. Far from having just a few standout tones, this is a versatile performer that's at home onstage or in the studio. Beyond the facts there's also a certain vibe to the TH30C sound that I find extremely appealing; if you want, it can bring a modern shading to vintage sounds or a vintage shading to modern sounds.
Sure, it's built well. Yes, it gets lots of different tones. For me though, the coolest feature is one that doesn't show up on a spec sheet: a high "fun factor." This is the kind of amp that puts a smile on your face when you play through it.
Features & Specs
All-tube signal path (4 - 12AX7s, 4 - EL84s, 1 - 12AT7)
Switchable operation among four output configurations
Two footswitchable channels—Dirty and Clean
Extremely effective set of controls for both channels
Drives a single 8-ohm cab, single 16-ohm cab, or dual 16-ohm cabs
Compact, with single 12" Celestion G12H speaker
Tube-driven effects loop
Can give both vintage and modern sounds
Tags: Amplifiers Harmony Central