Hands-On Review: Line 6 M5 Stompbox Modeler Effects Pedal
A single stompbox holding over 100 full-featured effects
By Jon Chappell
Senior Editor, Harmony Central
Line 6 has been rolling out a lot of big guns in multi-effects lately. The M13 and M9 grouped together the company's excellent Modeling series. Then came the trio of POD HDs that offered unprecedented audio quality, comprehensive looping, and versatile programming. But now Line 6 has taken the opposite tack, introducing a Derringer into its arsenal of Howitzers. The M5 Stompbox Modeler is a single-effect stompbox with a twist: It can assume the role of a modeled delay, modulation, filter, distortion, or reverb stompbox drawn from both Line 6's M and POD HD series. Over 100 separate stomps are onboard, modeled on vintage and classic effects from all eras and manufacturers, with features such as tap tempo, expression pedal input, and a tuner, plus a few decidedly "non-stompbox" extras like dual-mode operation, true vs. DSP bypass, five-pin MIDI jacks, and more.
Overview
The M5 is a single-effect-at-a-time stompbox, though it's a "double-wide" to comfortably accommodate two side-by-side footswitches. Its all-metal black chassis is ruggedly built and features a bright, multicolor backlit LCD readout plus six rotary encoders under it for changing effects types and editing the effects themselves. All parameters are visible in a single screen and can be accessed instantly by one of the six knobs.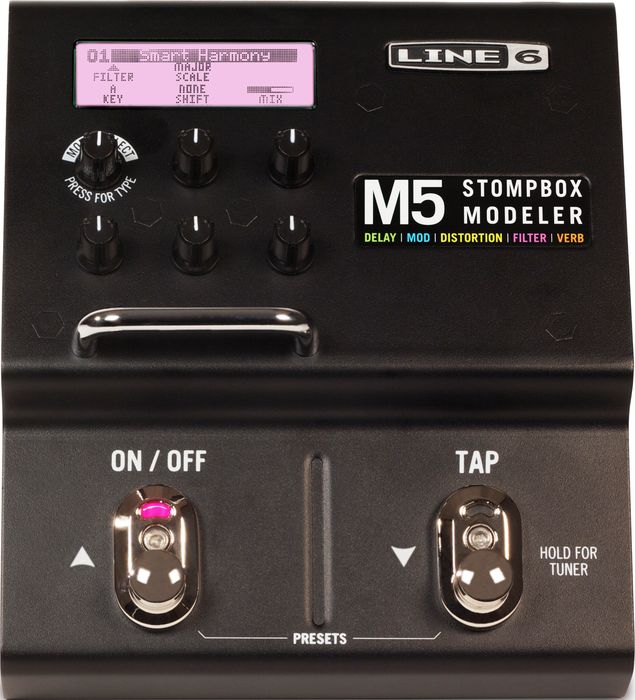 Line 6 didn't skimp on the I/O just because the M5 is a single-function stomp either. On the back panel are four 1/4" jacks for true stereo in and out, two five-pin MIDI jacks, and a 1/4" expression pedal input. There's no USB jack, but as far as MIDI, if you have to choose between the two configurations, the five-pin jacks are definitely the way to go.
Operation
Getting around the effects is a breeze, largely due to the M5's dual operation (preset selection vs. effect on/off). The footswitches are the familiar high-quality type used on both of Line 6's higher-end multi-effects, and are well positioned: You can't hit both by accident, but when you need to change operation modes, it's easy enough to press them simultaneously with the wide part of your shoe. I found the quickest way was to place the toe of my foot on the guard (giving me an easy target while protecting the knobs immediately above it), and using the ball of my foot to depress the switches. Good ergonomic design here.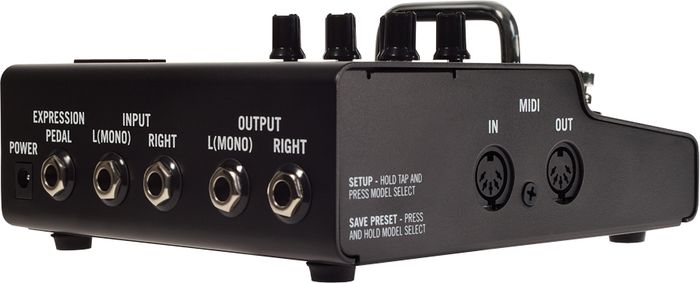 When the Line 6 M5 Stompbox modeler is in "preset" mode, the footswitches step up or down through the 24 presets, so you can easily step from, say, the Chandler Tube Driver to the Red Comp to the Deluxe Memory Man to the VOX AC Tremolo. When in "stomp" mode, the left switch toggles between effect on and off (bypass) of whatever model you have dialed up, while the right switch sets the tempo rate. Tap tempo is applicable to all delay effects, most modulation effects, and some filter effects. In either mode, pressing and holding the right switch invokes the tuner—which can selectively mute or output the audio in bypass mode. Slick!
Five on the floor
Navigating the M5 is easy because the backlighting is color-coded. You always know you're in the Distortion section if the background is yellow, Modulation if it's blue. When editing within an effect, the number of parameters and their types change according to the effect modeled, even if they're within the same category. Another nice touch: The M5 allows you to globally select whether an effect stays altered when you switch presets (as if it were a physical stompbox) or returns to its saved state (handy for quick A/B'ing). Once edited, you can assemble any 24 of the five different effects into one of the preset slots.
A pentathlon of effects
The Line 6 M5 may deliver one effect at a time, but it holds over 100 in all, divided among the five types as follows: 19 Delay models; 29 Distortion, EQ, and Compressor models; 23 Modulation models; 26 Filter models; and 12 Reverb models. The allocation of different effects is quite well chosen: You just don't need as many delay and reverb models as you do mods and filters. A bonus "effect" is the Gate—with adjustable threshold and decay—that's accessed as a system-level function, but whose settings are saved as part of the preset. This is handy for sounds featuring high-gain distortion or more experimental effects that can be noisy or contain unwanted artifacts when idle.
I'm betting that most people will choose the M5 for its delay, mod, and filter effects—and these are excellent—but several of the distortion programs were also among my favorites. Whether playing my PRS Single Cut or American Standard Strat, the Chandler Tube Driver, Ibanez Tube Screamer, and Arbiter Fuzz Face were all incredibly realistic. Once I had my basic overdrive character—chosen from the model name by its inspiration—I could tweak the parameters to get just about any distortion sound I heard in my head. The EQ section is also quite extensive, including graphic, parametric, and some hybrid-type schemes. For modern metal, I've always liked Line 6's own brand of distortions, and they are here in force as well. Other impressive effects included the Fender Deluxe Reverb Tremolo, Line 6 Ring Modulator, Z-Vex Seek Wah, Line 6 Voice Box, and Song Bird/DyTronics Tri-Stereo Chorus.
Take five
The M5 Stompbox modeler borrows the best elements of its older and bigger brethren—namely, the high-quality footswitches, rugged housing, versatile I/O, and distinctive chrome footguard (that doubles as a convenient handle). I like the fact that it boasts the dual-mode capabilities of a multi-effects. The M5 can be any effect, allowing you to tailor your pedal setup up with great efficiency. For example, if your permanent, always-in-tow stomps are an overdrive and a delay, the M5 can be your wah, phaser, verb, or pitch shifter—or even a second delay. If you have need for unusual pedals, but only use them occasionally, the M5 is for you. Advanced tweakers will get two M5s and hook them together via MIDI so that they can step up a preset on one pedal and have a Tube Screamer and a '63 Deluxe Reverb, then on the next press, a ProCo Rat and an MXR Phase 90. With the excellent sounds available on the M5, this isn't a gimmick—it's an easy and inexpensive way to get a stunning variety of quality effects in a reduced footprint.
For the great sound of Line 6's best modeled effects housed in a compact, single-stomp format, check out the M5 Stompbox Modeler.