Hands-On Review: Line 6 DT50 Amp and POD HD Multi-Effects
An unbeatable amp & multi-effects system for shaping your guitar tone
By Jon Chappell
Senior Editor, Harmony Central
Line 6 has several successful product lines that aid guitarists in their quest for the ultimate guitar tone. There are the POD multi-effects, Stompbox Modelers and ToneCore pedals, POD Farm and Amp Farm plug-ins, and Line 6's amp lines—all of which boast the best in modeling, signal-processing, and amplifying technologies.
But the new DT50 amp is something different. It has more of a "tube amp vibe" to it than any previous Line 6 offering. Designed by legendary amp designer Reinhold Bogner in collaboration with Line 6, it seems the DT50's top priority was to rate as a straight-up tube amp first and foremost, capable of standing alongside other boutique amps, and passing muster with the most discerning of tone freaks and knob tweakers. Once that was accomplished—and only then—were the other features brought onboard.
But being Line 6, these more high-tech enhancements perfectly integrate the core tone-shaping engine of the amp with the benefits of DSP versatility. Just as important, you can connect the DT50 to the POD HD for a system that becomes something well more than the sum of its tube and DSP parts. We'll explore both the DT50 and its unique connectivity options to the POD HD.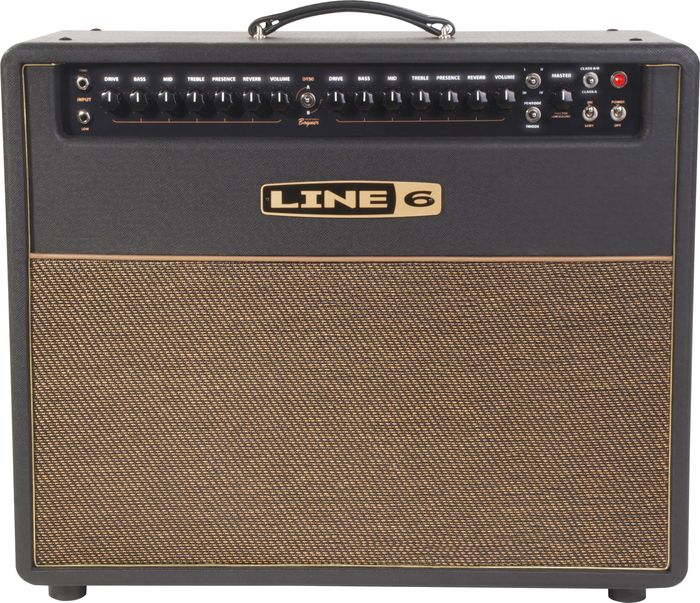 DT50 overview
The DT50 is a 50W powered by two 12AX7 preamp tubes and two EL34 power tubes. It's available in three configurations: the DT50 112 combo, the DT50 212 combo, and a DT50 HD head only. There's also the DT50 412 Celestion cross-loaded cabinet. All DT50s can operate either as straightforward two-channel guitar amplifiers, or as part of a multifunctional system when connected to a POD HD. My review model was the 212 combo, sporting two 12" Celestions—one a custom G12H90, the other a Vintage 30. Common to all three configurations are ins and outs galore, plus a full complement of front-panel controls. To save space, we'll skip the tour, except to say it looks and feels like an amp—devoid of the LCD and other gizmos that make it "high tech." This amp's easy to drive. Check out the controls and their functions in detail by visiting Line 6's product page.
Tops in topologies
The standout feature of the DT50 is its multi-mode operation, where you can select among four voicings (or topologies) that actually physically reconfigure the analog circuitry, depending on the selected mode. What's cool is that switching modes doesn't just change the gain, but also the negative feedback loop, B+ voltage, speaker damping characteristics, and other properties. Other reconfigurable analog components also include Class A/Class A/B power and Pentode/Triode power-tube operation.
Modes are selected via a four-way front-panel switch (or a footswitch or your POD HD, described later). Mode I is the "American" sound—with the deep, punchy bottom and sparkling highs of a vintage Fender; Mode II has a pronounced mid-range presence and the crunchy quality typical of the British sound found in Marshalls, Parks, and Hiwatts; Mode III produces zero negative-feedback to create the chimey, early-breakup sound of the VOX AC30; and Mode IV is the super-high-gain sound of boutique amps like Engl, Bogner, or Mesa, favored by classic and modern metal guitarists. Line 6's brand new HD amp modeling technology is the engine that drives the preamp and tone stack characteristics. Separating the preamp, tone stack, and power sections is what makes this highly configurable amp a great-sounding and great-feeling hybrid amp—probably the first that can credibly hold its own among all-tube designs.
Channeling classics
Channels A and B can be any combination of mode or power configuration, so you're not restricted to the conventional clean/dirty paradigm anymore. For example, you could set up Channel A as Mode I/Triode/Class A, and Channel B as Mode IV/Pentode/Class A/B. Setting up a sound is a completely organic process, with the front-panel controls all working brilliantly to further shape the tone of the primary power and output configurations. My '52 Tele reissue sounded as authentic through a Mode I '59 Bassman setup as my Jackson Bloodline did when subjected to Mode IV Dual-Rectifier distortion.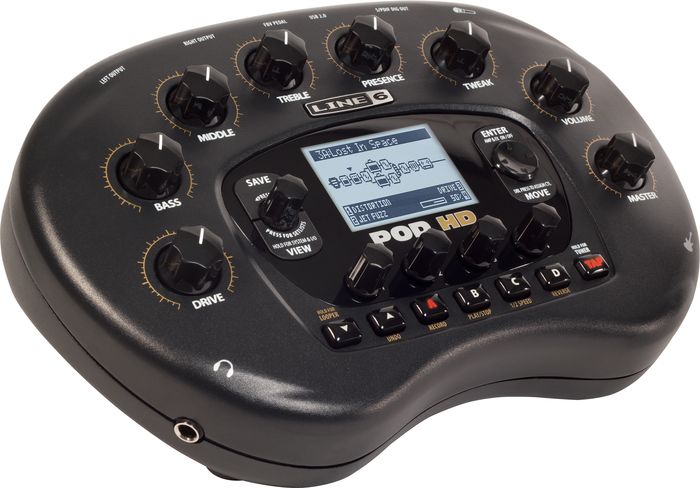 LINK-ability with the POD HD
Things really get exciting when you mate Line 6's flagship amp with its flagship multi-effects. The back-panel L6 LINK enables the DT50 and POD HD series to link together for bidirectional communication. This simply involves hooking your POD HD to the DT50 using a standard XLR cable. You then plug your guitar into the POD HD the normal way. That's it. Two cables and you're done with no additional setup. The POD HD passes both your guitar's audio and control signals (preset changes, etc.) to the DT50 through the XLR cable.
As soon as I connected the cables, I realized the power of this system—even before I knew what the heck I was doing. Full sound came roaring out of the speakers, momentarily surprising me, as I didn't even have a cord going into the DT50's input jack. Changing programs on the POD HD also switched modes and settings on the DT50. Stepping through the POD HD presets gives you a great introduction as to how the two rigs work together because Line 6 has taken care to match its POD HD programs with the appropriate settings on the DT50. L6 LINK is a super-clean, clutter-free way to integrate your multi-effects with your amp: No more "four-cable method." No more even going into the amp's input or effects return in the back. It's simple and it rocks!
Conclusion
The DT50 walks the walk and talks the talk of a tube amp by putting the tube-amp operation up front—you select the channel, choose your topology mode based on very intuitive and iconic characters (American, British, chimey, high gain), opt for pentode (clean, powerful) vs. triode (warmer, earlier breakup), and tweak the controls to taste.
The tube-driven sound through Celestion speakers reaffirms and rewards your efforts and, should you never go beyond this aspect of the amp, you will still be one happy tone seeker.
Once you're stoked by the great sounds and versatile operation of the DT50, you can begin appreciating the other features—like peeling back the layers of a technologically rich onion. When combined, the DT50 and POD HD put multi-effects, looping, tube-amp output, and the complete re-configuring of your rig under your foot in a convenient clutter-free environment. Together they create a seamless tone-shaping environment with a very cool vibe to boot.
Tags: Amplifiers Effects Pedals Line 6