Hands-On Review: Epiphone Masterbilt DR-500MCE AE Guitar
An affordable and well-crafted beauty
By Jon Chappell
Harmony Central Senior Editor
For those of us old enough to remember the bad old days of guitar buying—when "affordable" meant "unplayable"—these are truly wondrous times. Guitarists on a budget can find instruments with great action, good intonation, a cutaway, and electronics, while still having enough left over for a tuner or amp. Unfortunately, many of these lower-cost guitars fall short in one very important area: tone. The modern laminates and automated construction that keep these instruments affordable don't measure up to the age-old combination of great materials shaped by the hands of skilled artisans.

Epiphone's solid wood Masterbilt DR-500MCE stands out from the low-cost crowd by delivering rich, complex, and warm acoustic tone in a playable, stable package. In fact, its combination of traditional craftsmanship and advanced electronics should be enough to make some "premium" guitar makers worried.
Wood you know
Right out of the case, the DR-500MCE oozes vintage vibe with a touch of modern flair. The solid Sitka spruce top—supported by hand-scalloped Sitka spruce braces—sports a rich, warm finish that gives the guitar an aged look. The solid mahogany back and sides look equally elegant with six-ply body binding adding an air of understated class. Other lovely traditional touches include Epiphone's historic offset headstock with "stickpin" inlay and vintage-style Grover Sta-Tite 18:1 ratio tuners that operate very smoothly; a bone nut; and a rosewood bridge with pin-style stays and a bone string saddle.

The hand-shaped mahogany neck joins the body via a glued dove joint at the 14th fret. The 25.5"-scale rosewood fingerboard has 20 well-dressed medium frets. The fretboard is adorned with mother-of-pearl split diamond inlays and one-ply binding. The SlimTaper™ neck, with its comfortable D profile and a 14" radius, offers a broken-in feel; the setup was spot-on, with low, buzz-free action and accurate intonation. I found the guitar very fluid for both rhythm and lead playing. Still, it was nice to know that should conditions warrant a tweak or two, the neck is reinforced by an adjustable truss rod.
Overall workmanship on the test guitar was very good, and as a package, the guitar is very well made. I played it in standard, drop, and open tunings, and it remained stable each time—something that can't always be said for guitars costing five times as much as the Masterbilt.
Nano technology
Epiphone deserves praise for the way it incorporates sophisticated electronics into the guitar without scarring the DR-500MCE's vintage visage. There are two Shadow pickups: a NanoFlex™ under the bridge and a NanoMag™ at the end of the fingerboard just above the sound hole. These feed into the eSonic2™ stereo preamp, that is mounted in the bass side of the instrument for easy access. The pickups can be split to two mono 1/4" outputs (one in the end pin, the other nearby at the bottom of the body) or mixed together by using the end pin output in mono (the preamp automatically senses which outputs are active). Controls include a master volume knob, a slider that governs between the two pickups, separate EQ knobs for each pickup, an onboard tuner (which mutes the output when activated), and a phase/anti-feedback switch. The preamp runs on two easily accessible three-volt #2032 long-lasting, eco-friendly lithium batteries.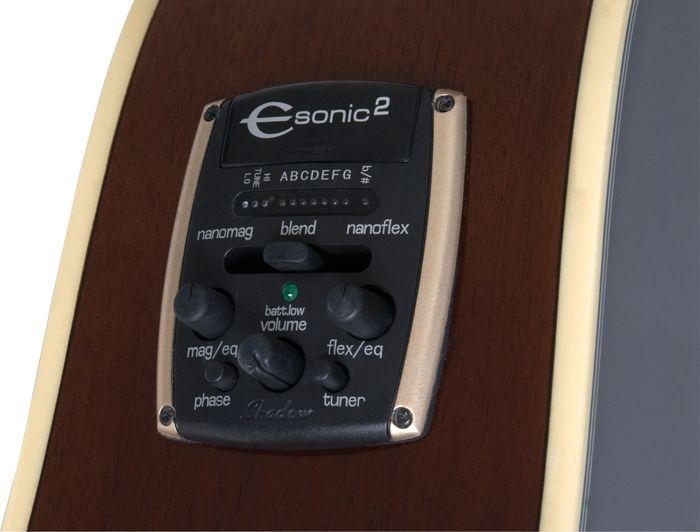 Bilt for tone
Mahogany has always been one of my favorite tone woods because of the distinct sweetness it imparts to an acoustic guitar's sound. Notes seem to bloom after the attack; highs sound clear without being strident; the bass comes through with punch without being too boomy.
These qualities make the DR-500MCE especially versatile for both fingerstyle and flat picking. Chords sound big and lush, enhanced with an abundance of rich overtones you'd normally expect from a guitar costing much more, arpeggios are warm and woody, single notes bold and strong.
When you start with such a solid sonic foundation, the electronics' job is made easier. Although it's only one knob, the bridge pickup's EQ did a nice job of taking some of the bite out of the tone. It would be a fine pickup for most applications, but the addition of the NanoMag takes the DR-500MCE's electronics to another level. Relatively mellow on its own, the NanoMag adds warmth and depth when mated to the piezo, Because each pickup has its own EQ, you can really refine the blend between the two.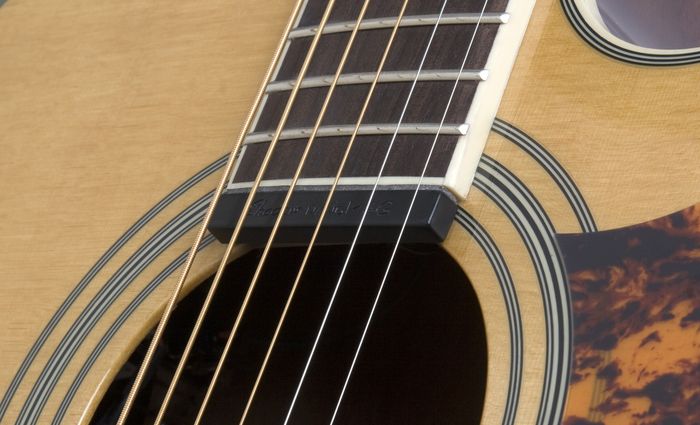 In fact, the relative simplicity of the controls proved to be a real asset. With a couple of knob moves, I was able to dial up a tight bright sound ideal for rocking with a band; a deep, full-bodied tone that would work well for the solo singer-songwriter; and a mellow, intimate sound perfect for jazz.
Class act
The Epiphone Masterbilt DR-500MCE may look pretty enough to adorn a fine music room, but it's also a hard working tool backed by Epiphone's limited lifetime warranty (Shadow offers a five-year warranty on the electronics, as well).
Based solely on the quality of the materials and features, this guitar is a bargain. But ultimately, value can only be measured by the music you can make with an instrument. And the more I played the Epi, the more it revealed that this value went way beyond any price-per-feature ratio. I regularly perform solo acoustic material that puts a premium on tone and technique. With the gig on the line, I wouldn't hesitate to leave some of my costlier guitars in the case in favor of the DR-500MCE.
---
For an affordable, solid-wood acoustic-electric guitar with great playability, outstanding tone, and a vintage look, check out Epiphone's Masterbilt DR-500MCE.