Hands-On Review: DigiTech RP70 and RP90 Pedals
Highly capable, affordable amp modeling/multi-effects stompbox processors
By James Gault
Musician's Friend Staff Writer
In recent years the market has been flooded with inexpensive stompbox effects processors that promise the guitarist a lot but often deliver little. DigiTech's new RP70 and RP90 Modeling Guitar Processors are a different breed. They deliver everything they promise and more at remarkably affordable prices.
A bevy of sexy models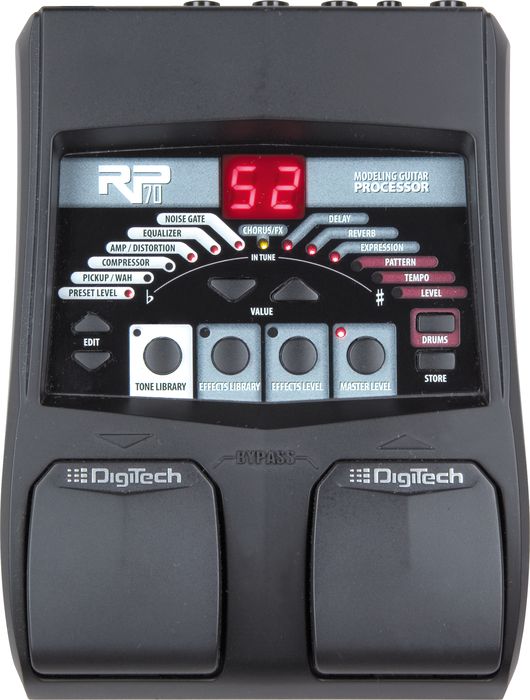 At the heart of the RP modelers is DigiTech's proprietary chip, which they've dubbed AudioDNA2 and which was created specifically for guitar processing. With this technology, DigiTech has stuffed its gig-friendly stompbox chassis with a fantastic array of vintage and modern amps, cabs, and effects. The models have clearly been selected to give you an awesome range of choice in shaping tone, accessible either as presets or as selections from Tone and Effects libraries. Whether you're looking for the mellow ambience of an after-hours jazz joint or the cutting-edge sonics suited to a punk club, you'll easily find the right sounds inside the RP70 and RP90. The new RPs are hot-rodded with plenty of aggressive sounding presets that appeal to many of today's modern players.
Selecting an amp model is just the beginning. With its awesome array of studio-quality effects and the ability to use 10 of them at once, the RP70 and RP90 offer practically limitless choices. With nearly 40 programmable effects and up to three adjustable parameters for each, you get the versatility and flexibility to dial in just the sound you're looking for. Despite all this capability, the user interface is elegantly simple in design. You'll quickly be up and running, easily shaping your sound with a degree of control and flexibility undreamed of up to now.
The DigiTech people have spared no effort in creating these effects, and it shows. Aside from the finely crafted amp, pickup, and acoustic models, "garden variety" effects like Chorus, Flanger, and Phaser all demonstrate DigiTech's abiding concern with achieving sonic realism.
Freak to the beat
The RP's onboard drum machine is an especially useful feature. It's a great tool for improving your timing, rehearsing different musical styles, or just jamming with your buds. The Trainer plays sampled drum beats in an infinite loop allowing you to choose from 40 different patterns, change tempos, and adjust the volume level. Whether you're practicing alone or the drummer didn't show up for rehearsal, the drum machine will become an indispensable part of your musician's toolkit.
DigiTech clearly had the working musician in mind when they outfitted the RP70 and RP90 with a chromatic tuner. With it, you can quickly tune and don't need to depend on a separate tuner and its batteries when heading out for gigs. As in so many other ways, the RPs have got you covered.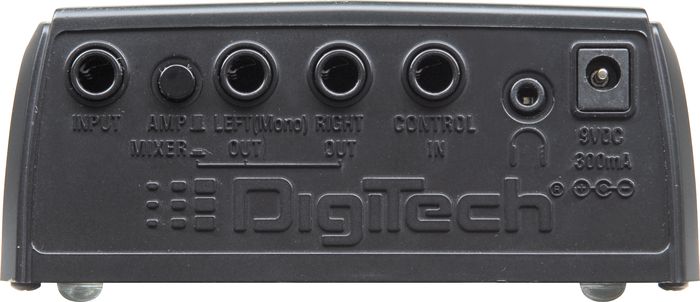 With their robust set of features and nearly limitless range of sound-shaping choices, the RP70 and RP90 could have been tough to learn and use. But the DigiTech people have harnessed all of their amazing capabilities by creating a simple, clear, and intuitive user interface. The two-digit display provides legible indications for all presets and parameter values. Control knobs interact with the status display so that you always know where you're at. One glance confirms all your settings.
The RP70 and RP90 come ready to boogie with 50 great Factory Presets while accommodating an additional 50 User Presets so you can preserve and readily retrieve your custom settings.
The RP70 and RP90 rear panels equally reflect DigiTech's concern for functionality. Each has a single 1/4" input, a 1/4" TRS stereo output, a 1/8" stereo headphone output for late-night practice or for connection to your favorite amps, and finally, an expression pedal input (on the RP70; the pedal is built in on the RP90) for realtime control of the RP's parameters. There is also an Amp/Mixer switch so you can switch your output for recording purposes.
It's not just about the numbers
Though a strictly-by-the-numbers comparison of the RP70 and RP90 with the competition reveals that DigiTech is the one to beat, that doesn't tell the entire story. Ultimately, the real test of a modeling processor lies in the quality as well as the quantity of the effects offered. And it is here that the RPs triumph spectacularly. One audition of its models and effects will convince you of its sonic superiority. Each amp model has an authentic, analog-like feel. Play with the Mic Placement Modeling effects and discover the incredible spatial qualities this compact box can render. Sample any of the dozens of more common effects like Auto Swell, Tremolo, and Reverb, and get ready to be wowed by their authentic sounds. DigiTech has done a remarkable job creating a collection of models and effects that offer the guitarist a fully loaded musical toolbox. It's hard to imagine a less expensive or more comprehensive way to put an entire palette of sound choices at your fingertips.
Features & Specs
0.1 cent accuracy (within 1/1000th of one semitone -1/10th of one cent)
20 Tone and 20 Effects Libraries (for over 400 combinations of tones and effects chains)
100 presets (50 factory, 50 user)
12 amp/8 cabinet models
6 distortion stompbox models
32 effects models
5 seconds of delay time
Onboard drum machine with 40 patterns
Separate 1/4" left and right outputs
Amp/Mixer Switch
Headphone output
Expression pedal input (RP70 only)
Onboard expression pedal (RP90 only)
Easy-to-read illuminated 2-character LED display
Sturdy construction
2 large footswitches for up/down preset selection, accessing tuner, and bypass
Onboard chromatic tuner
Included power supply
Tags: Effects Pedals Digitech