Hands-On Review: DigiTech RP500 Guitar Multi Effects Pedal
Professional multi-effect control with stompbox simplicity
By Darius Van Rhuehl
Musician's Friend Staff Writer
What's the first thing you do with an effects pedal? If you said, "Read the manual thoroughly before attempting to use it . . ." well, let me say on behalf of all humankind, "Welcome to earth!" (You may not want us to take you to our leader, however.) The first thing anyone does with an effects pedalboard is step through the presets. That's what I did with the RP500, the biggest and baddest sibling of the RP lineage. How does it sound? Need you ask? It's DigiTech, of course it sounds great. And this model has features and control capabilities that will plant your feet firmly on the path to RP500 ownership—or the upgrade path if you have one of the other RP series siblings.
It's a party, who's got the chips?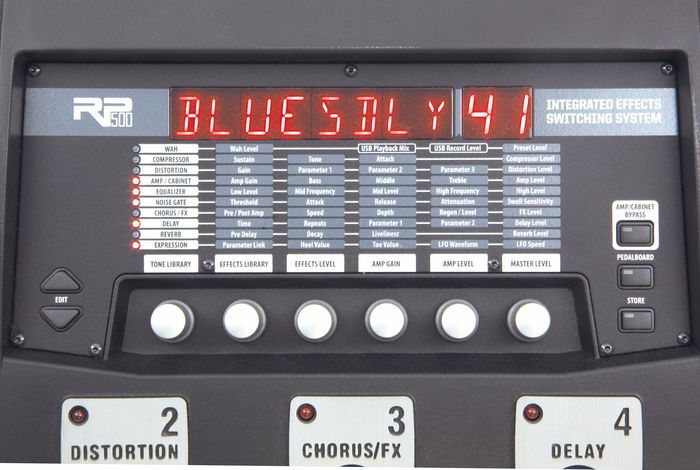 The sound of the PR500 is courtesy of DigiTech's patented AudioDNA2 audio DSP chip, which is 400% more powerful than its predecessor and the basis for the sound of DigiTech's award-winning Artist series pedals. For customizing presets, the RP500 offers a library of 40 genre-spanning tones comprising compression, distortion, stompbox, amp/cabinet, EQ, and noise gate. There's also a library of modulation effects, reverbs, and delays. Editing sounds is a breeze thanks to a row of knobs that eliminate the phantom menus that plague our galaxy. If you wish to delve deeper into sound design and unlimited preset storage, you can use the included X-Edit Editor/Librarian software with drivers for Windows Vista, XP, and compatibility with PPC and Intel-equipped Macs running OSX 10.4 and 10.5. For the recording guitarist, DigiTech has thoughtfully included a Mac/PC version of Cubase LE4. For practice purposes, a 1/8" input jack and headphone output jack let you connect an MP3 or CD player and jam along silently.
Putting the metal to the pedal
Nancy Sinatra's boots were made for walking, but the RP500 was built for stomping. Its cast metal casing plays host to nine vacuum-style footswitches that are spaced far enough apart to ensure that you don't hit more than one simultaneously. Nor do you have to hit more than one in order to access various functions. The RP500 has an incredibly clever way of handling preset switching.
Just like a normal pedal array, you can step from one to five to switch patches while two switches change patch banks. But here's where it gets clever. There's no A/B switch. Stepping on the same button brings back the previous sound. If you have a song where you switch among four sounds, you don't have to look like Mr. Ed stomping out his age. This feature lets you toggle back and forth between any two sounds in the selected bank with one footswitch (no more staring at your feet to switch between lead and rhythm).
Now let's say you're a tube-sniffing tone snob and don't want modeled amp and cabinet sounds sullying your point-to-point, hand-wired tube amp that was built to royal specifications in a level-five clean room by Santa's elves. No problem. The RP500 grants you access to the pure, angelic tones of your precioussss—just engage the Amp/Cabinet Bypass button and make it so. The RP500 globally shuts off all the amp and cabinet models on all presets, turning it into a straight multi-effects box, and the five footswitches control compression, distortion, chorus/FX, delay, and reverb. You also have access to wah and the noise gate in this mode. There's an analog bypass that gives you a clean signal to send to other effects pedals in your stable.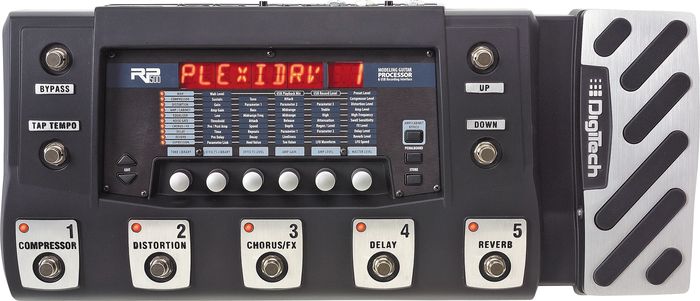 Taking the SAT (Saturday Afternoon Test)
Testing the RP500 was like showing up to an unmonitored SAT exam with cheat sheets and a calculator . . . "aced that one." I just swapped it out with my RP350 and picked up as though nothing had changed. Well, a few things. Using the RP500's control capabilities and two sets of stereo outputs (balanced XLR and 1/4"), I was able to incorporate some classic analog stomps that I have along with a miked amp and DI. I happily switched and combined pure analog tones, modeled sounds, and special effects for huge-sounding tracks with minimal effort.
As an aside, on one particular song I'm working on, I wanted the sound of an acoustic guitar—so I went out and bought one. The irony is, I've found that the acoustic guitar presets on the RP500 worked better in the mix than the acoustic and didn't require all the setup time. I just went stereo line in to the 1/4" DIs of my preamp, and there were all the dimensionality and presence I thought I'd get from miking the acoustic. Another nice discovery is the Whammy effect. I prefer 24-fret guitars with their full octave above the 12th fret, but sometimes I use false harmonics to go higher than third octave E when my improvisation calls for it. Of course, the harmonics do slow you down a bit. Using it on a lead sound, I was able to extend the range of my guitar yet another octave, and thanks to DigiTech DSP, they sounded like actual harmonics and were totally usable.
A one-box-wonder
I've been a huge fan of DigiTech products since the days of my 2112 guitar processor and Studio Vocalist. Currently, along with my RP350, I've also got the Hendrix Pedal and the Vocalist Live Pro (I said I was buying a VL4 in a previous Hands-On Review, but I held out for the rackmount version). So, when I tell you that I'll be adding an RP500 to my tonal toy box, you know it'll happen. The RP500 does it all. I unreservedly recommend it for the multi-effects freak, as well as the aforementioned tube-sniffing tone snobs who still pay homage to the old ways, but would welcome a little secret sauce on their meat-and-potatoes effects. Well done as usual, DigiTech.
Features & Specs
Effect switching system controls internal stompboxes and effects
Changes into 5 individual stompboxes and effects in pedalboard mode
Amp/Cabinet Bypass globally removes internal amp and cabinet effects
40 tone and 40 effects libraries
200 presets (100 factory, 100 user)
Over 125 effects
Up to 5 seconds of delay time
24-bit 44.1kHz sample rate
Heavy-duty metal switches for stompbox response
Amp/Mixer switch optimizes 1/4" outs for amp or mixer
Stereo 1/8" headphone output
Stereo 1/8" CD/MP3 inputs
Built-in expression pedal
All-metal construction
Cubase LE4 software included
X-Edit Librarian software included
2 x 2 USB audio streaming
Power supply included
Tags: Effects Pedals Digitech