Hands-On Review: The Hohner Hoodoo Hand & Hoodoo Box
Conjure some harp mojo with these cool tools!
By Marty Paule
Musician's Friend Staff Writer
When Junior Wells cut his funky 1965 Delmark album, Hoodoo Man Blues, it was a definitive demonstration of the hard-edged Westside Chicago blues sound. Counterpointed by Buddy Guy's stinging guitar lines, Wells' smoking harp simmered with the fat tongue-blocked chords, powerful first-position notes, and lip-smacking sounds that were the hallmarks of his technique. Like most of the electric blues harp players of his day, Junior often used a bullet mic, treasured for its wonderfully dirty sound. The challenge with these bulky mics was getting a really tight seal around them with your hands in order to produce cupping effects such as trills, tremolos, and the "aw-wah" notes that give the harp its uncannily human vocal-like sound. If Junior were around today, I suspect he would really love Hohner's Hoodoo Hand—the first wireless mic system designed specifically for harp players.
Cut the Cord
The most innovative part of the Hoodoo Hand system is the Hoodoo Ring microphone. It's a tiny lavaliere mic that's been tweaked to produce the low-fi, overdriven sound most blues players crave, while still being capable of producing relatively clean output when the music or your style requires it. The mic nestles in a clip with two finger holes that slip over your middle and ring fingers. Hohner includes two clips with different finger hole diameters to fit a wide range of finger sizes. The beauty of the design becomes obvious the moment you begin playing. Without a bulky mic occupying most of the cavity formed by your cupped hands, an acoustic space is created for producing a wide range of effects like flutters and tremolos. And because it's easy to create a tight seal between your hands and mouth, your sound has all the punch and dynamics you could hope for. By adjusting both my hand technique and the sensitivity switch on the transmitter, I found that I could create everything from raucous, filth-laden Chicago blues sounds to crisper, cleaner Sonny Terry-style riffs. Another nice benefit of this setup is its feedback resistance; simply closing your hand around the mic when you're not playing keeps any howls at bay.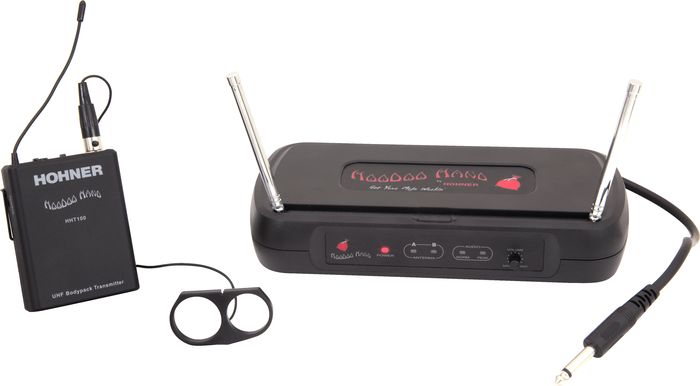 The mic connects to the bodypack transmitter via a slender 40" wire that can be routed through your clothes for near invisibility. With the transmitter attached to your rear waistband, the crowd will be mystified, wondering what the heck you're blowing into. The transmitter looks pretty much like other wireless units with a small built-in antenna. It has a three-position sensitivity switch, On/Standby/Off switch, and a compartment that holds two AA batteries with a jack for recharging them.
Steppin' Out
The dual-diversity UHF-band receiver has both 1/4" and balanced XLR outputs so you can send your signal to either an amp or the PA. The front panel has a convenient rotary volume knob for fast onstage adjustments and indicators for power, normal and peak signal levels, and lights that indicate which antenna is in use. Setup and operation is simple and I found that even when I strayed a substantial distance from the receiver, my signal was consistent and noise-free. If you're into animated performances, like to roam the entire stage, or maybe even get right into the audience, you're going to love the Hoodoo Hand.
The Mojo-Riffic Hoodoo Box
Hohner has designed this five-watt, all-tube Class-A amp from the ground up to deliver what harp players want: thick and greasy tone that sticks to the ribs. Cosmetically, it has a look all its own that blends retro and modern elements with white piping and a big "H" on the grille. The cabinet is ruggedly built, covered in Tolex, and fitted with rubber feet and a sturdy handle.
The hand-wired circuitry includes a single EL84 power tube that drives a Celestion 8" Super 8 speaker selected for its harp-friendly voicing. There are two preamp tubes: a 12AX3 and a 12AU7 that help produce the nicely saturated distortion this little combo generates. A real spring reverb adds air and drama to your sound.
On the top-mounted control panel, there's a standard 1/4" input and an XLR out that's handy for sending your signal to a mixer in live and studio situations. This setup also offers the option of close-miking the combo while sending output to a PA when playing in larger venues. The knurled Gain, Tone, Volume, and Reverb knobs have cool little red gem position markers that should prove helpful on dark stages and the power indicator has a big retro-looking red jewel light to match.
The Tone control is a continuous pot with three markings: Dark, Bright, and Scooped that EQ the combo as you might expect. The Scooped setting tends to deliver the most obviously distorted sound but I found satisfying combinations of mic and harp at pretty much every point on the dial.
I gave the Hoodoo Box a thorough workout using a range of mics including an original old Astatic J-30, another J-30 with a tweaked element, a modern Shure Green Bullet, an Audix Fireball V, and a Shure SM58. I played a variety of diatonic and chromatic harps through the Box and was able to dial in solid sounds with every combination. It produced nice and chunky chords in the mode of George "Harmonica" Smith and Little Walter when using a G chromatic. With diatonics I found I could get anything from tightly focused wailing riffs on the higher D and F harps to fat, resonant tones when blowing G and A harps. I came away impressed—Hohner has come up with an amp worthy of its centuries-long association with the harmonica.
Musician's Friend also offers the Hohner Hoodoo value pack.
Features & Specs
---
Hoodoo Hand Wireless System
Transmitter
Wireless mic system optimized for harmonica
Special lavaliere mic tuned for harmonica
Unique Hoodoo Ring mic clips (2 sizes supplied)
Supports and enhances cupping techniques
Offers complete freedom of movement
Powered by 2 AA batteries
Rechargeable battery jack
3-position sensitivity switch
Bodypack dimensions: 2-5/8"W x 3-5/16"H x 7/8"D
Receiver
UHF band dual-diversity receiver
Operates at 630.200MHz
1/4" unbalanced output
XLR balanced output
12V DC input (adapter included)
Dual antennas
Rotary front-panel volume knob
Indicator lights for power, antenna, normal and peak signal
Receiver dimensions: 9-1/4"W x 2"H x 4-1/2"D
Includes molded case, accessory pouch, 48" - 1/4" cable, 40" mic cable
Hoodoo Box Harmonica Combo Amplifier
Hand-wired 5W Class A amp designed specifically for harmonica
1 EL84 power tube
1 -12 AX3 preamp tube
1 - 12 AU7 preamp tube
Celestion Super 8 - 8" speaker
Spring reverb
Gain, Tone, Volume, and Reverb knobs
Roadworthy cabinet covered in Tolex
Distinctive retro cosmetics
15-1/2"W x 13-1/2"H x 8"D
19 lbs.
Tags: Harmonicas Amplifiers